Aftermath of WW1:
Council housing and 'homes for heroes'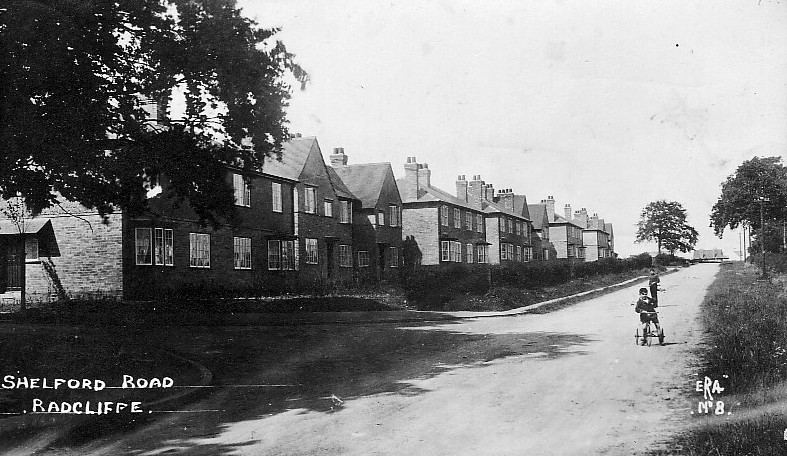 Radcliffe's first council houses, Shelford Road
When the First World War ended the country was facing a housing crisis. Most people were living in properties rented from private landlords; much of this housing was sub-standard. On returning home ex-servicemen were often obliged to live with their parents or in-laws in overcrowded conditions. There was an acute housing shortage. Inflated building costs plus a scarcity of materials meant rents for any new builds by private developers would be out of reach for the average working class family.
The government had anticipated post-war housing problems in 1917. It commissioned Tudor Walters to write a report setting out standards for a building programme to commence once hostilities ceased. Furthermore, Prime Minister Lloyd George said he wanted to provide 'habitations fit for the heroes who have won the war' when they came home. The Housing and Town Planning Act 1919 (the Addison Act) was a major step forward in instigating affordable corporation (council) housing. Local councils were legally obliged to build council houses according to Tudor Walters' specifications, supported by generous government subsidies. The subsidy arrangements involved sharing the costs between tenants, local rate payers and the Treasury. The ambitious national programme set out to build 500,000 houses in three years.
Radcliffe's first council houses
It was apparent that new housing was needed in Radcliffe on Trent. Some houses were slum dwellings: closing orders were approved, for instance, in 1921 in respect of eight houses on Water Lane found to be unfit for human habitation. Others, like the 'two up two down' houses on Mount Pleasant were too small for families. Many returning servicemen married shortly after the end of the war and would have wanted a new home: records have been found for 120 marriages of Radcliffe ex-servicemen before 1925.
The post-war council house programme in Radcliffe on Trent exemplifies how the Addison Act was implemented. Bingham Rural District Council (RDC) discussed providing council housing in June 1918 and indicated they would build a hundred homes. In April 1919 their housing committee recommended sixty houses should be erected in Radcliffe as part of the national programme. The houses would be built to the high standards set down by Tudor Walters with ample land around them and would meet the government's requirement for small, low density estates.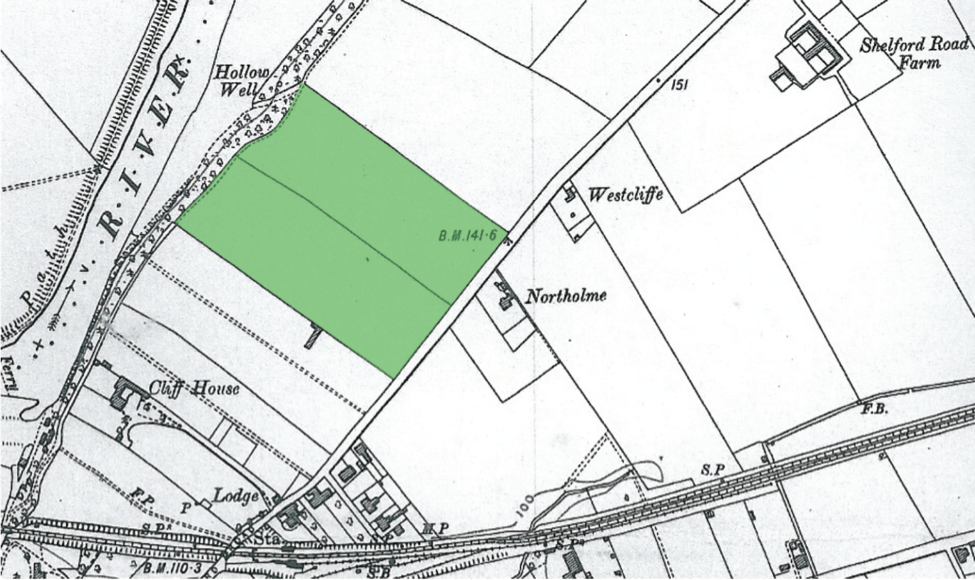 Map showing land, shaded green, purchased in Radcliffe for council houses
Bingham RDC signed provisional contracts in December 1919 with Earl Manvers to buy twenty acres of his land on the north-west side of Shelford Road for £1400. The land extended to the cliffs above the River Trent; the large acreage provided opportunities for future development after the initial phase had been completed.
Building began in May 1920. The contractors were Mr. C. S. Tomlinson of South Normanton who submitted a tender of £2,757 for the street and sewage works and Mr. Henry Walker from Radcliffe, who tendered £13,269 for the erection of the first sixteen houses. These were built on Shelford Road, numbered consecutively from 1-16. Twelve more houses were built behind them on the north-west side of Cliff Crescent, numbered 17-28. Each house had a scullery with a gas stove and coal-fired wash boiler for laundry, a sitting room with a black leaded range supplying hot water by means of a back boiler and a smaller room downstairs. There were three bedrooms upstairs, a bathroom and separate W.C.  The houses were lit by gas light, electricity being installed in 1931. Tenants for the Shelford Road houses, including eleven ex-servicemen, were approved in November 1920. The new council houses were all occupied by 5th July 1921. The twelve houses built on Cliff Crescent were occupied by October 1921. Weekly rents for all the new houses were fixed in November at 10/- and 11/- and the tenants paid the rates. They were offered the use of unoccupied land at the back of the houses as allotments in plots of approximately 1200 yards charged at £1 per year. Some tenants applied to the Housing Committee for permission to keep poultry, which was granted under certain conditions.
Radcliffe council house tenants, 1922–23
Shelford Road
The following sixteen tenants have been identified from the Spring 1922 Electoral Register as living in the Shelford Road council houses. Most of them were married with young children.
Ex-servicemen: John Hainsworth Barry, Winton John Keble Beckett, Henry Bell, Joseph Travis Berry, William Bernard Boyle,  Frederick Cuthbert, William Alfred Ecob, George Kavanagh, Francis Edward Robinson, Arthur Stanley, George Francis Toon, Horace George Wesson
Reserved occupations: Walter Bainbridge, railway signalman
Status in WW1 unknown: George Bradwell, John William Reynolds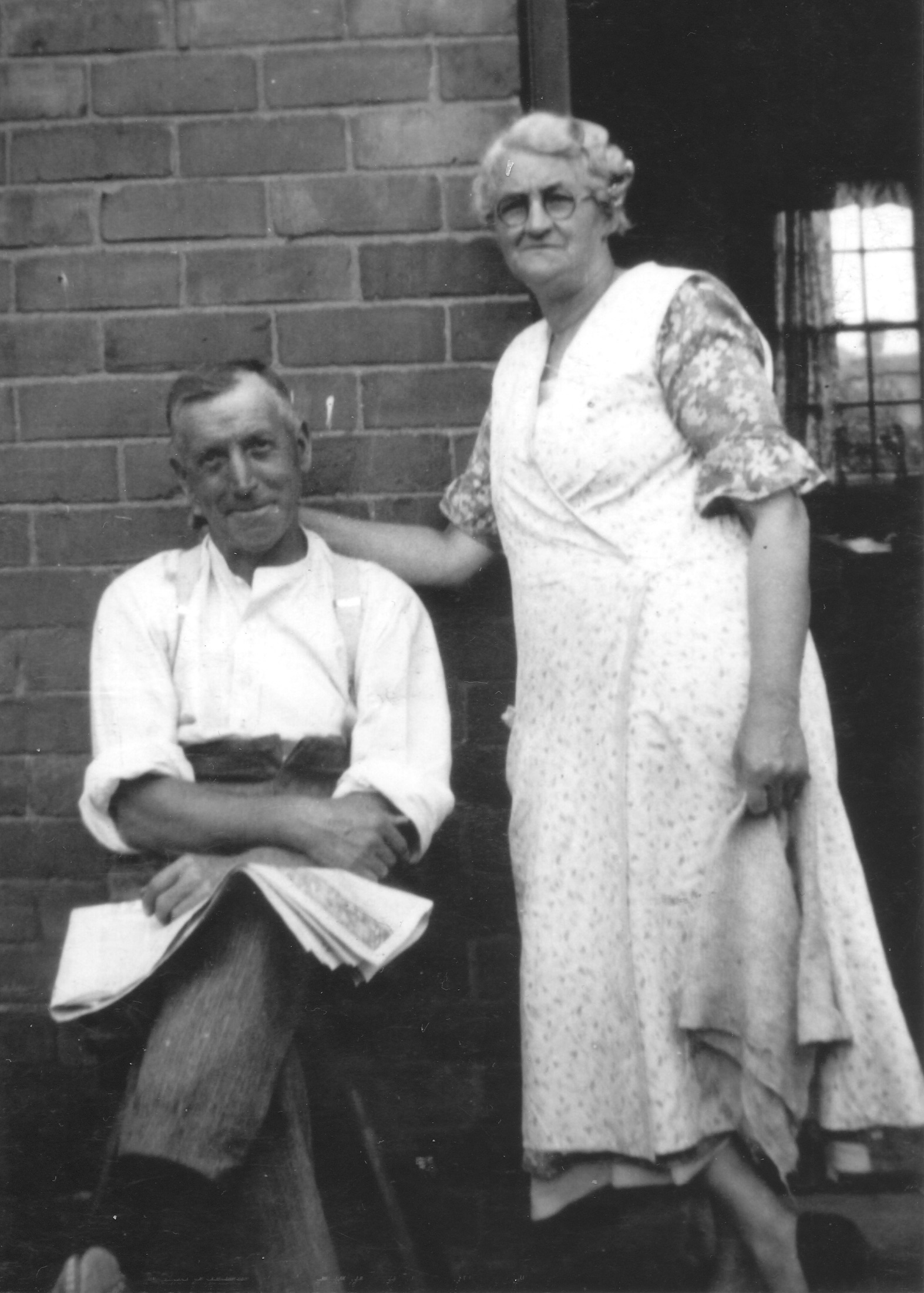 Arthur and Mary Stanley
No 8 Council Houses
Shelford Road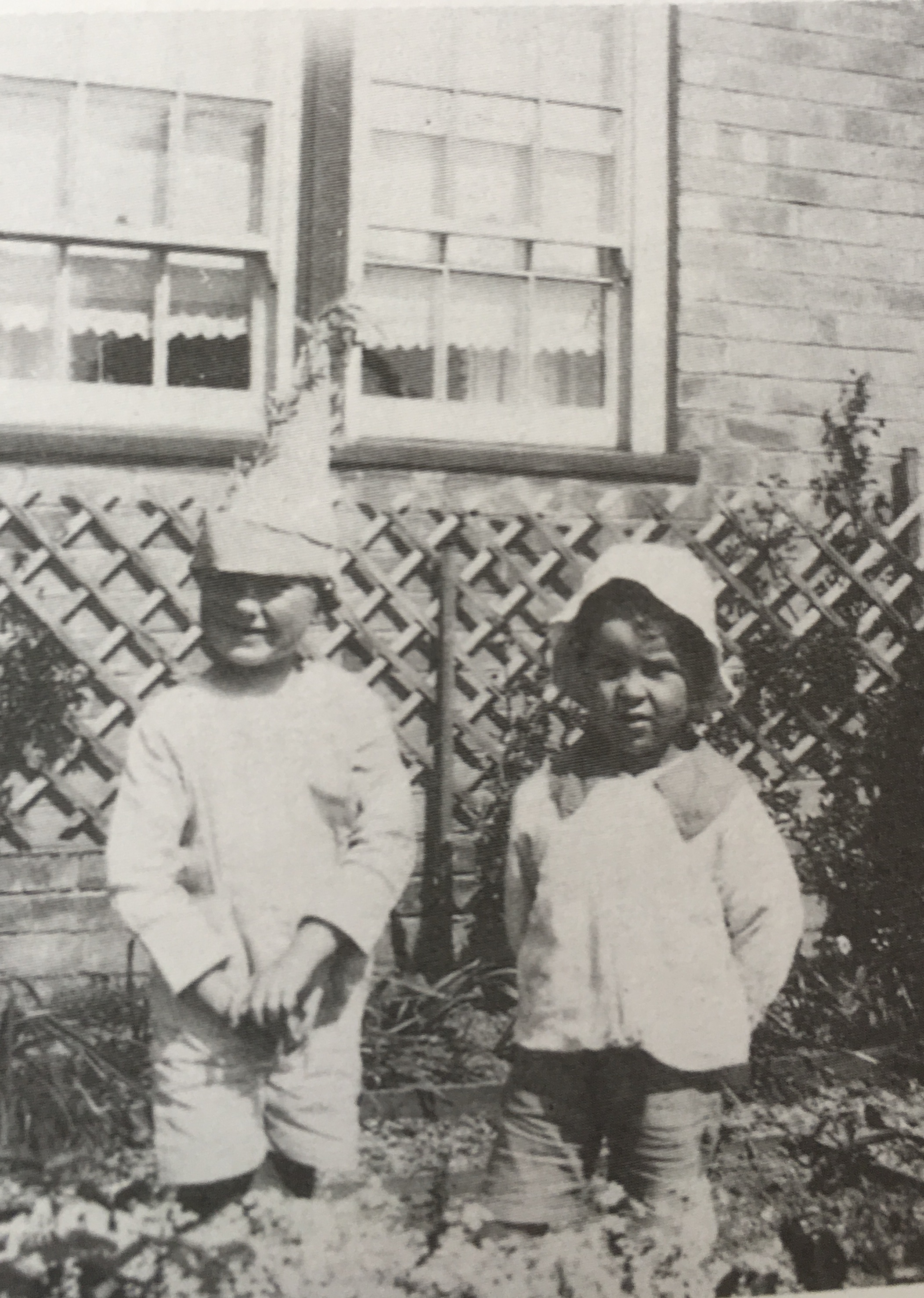 Ken Kavanagh and Laurie Bainbridge
Nos 14 and 11 Council Houses
Shelford Road
Cliff Crescent
The following nine tenants have been identified from the Spring 1923 Electoral Register as living on Cliff Crescent:
George Clarke, Tom Lygo (builder), Alfred Charles Sault (schoolmaster), Arthur H Powell (chauffeur), Florence May Bemrose, C. E. Preston, Henry King, James A. Abbott (bookbinder), and C. H. Sands.
Council housing, 1922–1939
The economy weakened in the early 1920s, funding for council houses was cut and only 213,000 of the 500,000 houses planned under the Addison Act were built. Bingham RDC decided in 1921 not to enter into further contracts until there was a reduction in costs. A pause in the building programme meant that tenants of the twenty-eight new houses in Shelford Road and Cliff Crescent could enjoy large areas of outside space. They were also affected by the national decline in the economy. Shortly after the new tenants moved in all bar one signed a letter addressed to Bingham RDC asking for a reduction in rent, owing to reductions in wages. Their request was refused. In practice the new council houses cost more to build than envisaged by Bingham RDC and turned out to be more expensive to rent than perhaps the tenants had anticipated.
Although there was a set-back in the early 1920s, further Acts during that decade extended the duty of local councils to address the acute housing shortage. Substantial grants were given to local authorities under the Housing Act of 1924 and more council houses were built.  A further Housing Act of 1930 obliged local councils to clear all remaining slums and re-house the residents. In Radcliffe the vacant land on the south-east side of Cliff Crescent was filled with a further fourteen council houses (nos 29-40) in the 1930s. Nine ex-servicemen resided in Cliff Crescent by 1939: Francis Duke (no.17), Lewis Scrimshaw (no.18) and Charles Cook (no.22) lived in the houses built in 1921. George Clarke (no.29), Edward Harris (no.30), Samuel Stafford (no.33), William Vickerstaff (no.31), Arthur Rushton (no.37) and George Bradley (no.38) lived in the houses built in the late 1920s/early 1930s (the houses in Shelford Road and Cliff Crescent have been renumbered since and do not correspond today to the original designation). Grantham Road acquired a row of council houses in 1934 and a small number were built at the end of Sydney Grove, on Bingham Road and Main Road. Ex-servicemen Bertie Bakewell, George Woolley and George Graves were tenants of the Bingham Road council houses by 1939 as were Tom Daniel and John Caunt on Main Road and Robert Vickerstaff on Sydney Grove.
Tenancies of the first council houses on Shelford Road had changed by 1939. Eight houses were still occupied by the original tenants: Beckett (no.4), Toon (no.7), Stanley (no.8), Boyle (no.10), Bainbridge (no.11), Wesson (no.13), Kavanagh (no.14) and Barry (no.16). The remaining eight houses had new tenants. The previous occupiers had moved on, usually because the male wage earner took a new job. William Ecob and Francis Robinson, for instance, left to take up professional jobs in other parts of the country. Joseph Berry left to become a postmaster in Nottingham then moved back to the village when he retired. Alfred Sault moved to a new teaching post in Nottingham. Other tenants such as James Abbott moved into recently built private homes in Radcliffe.
Twenty-six ex-servicemen have been identified as tenants of the inter-war council house built in Radcliffe, representing 8% of village men who survived the war. The percentage suggests that the post-war vision of 'homes for heroes' was overshadowed by insufficient funds and resources. During the inter-war years local councils built 1.1 million new homes in total. It wasn't until the 1950s that council house building expanded rapidly, largely in response to damage inflicted on four million homes during the Second World War. One and half million new council houses were built between 1945 and 1955, including a substantial number in Radcliffe on Trent. Building began soon after the war around Wakefield Avenue and ended with bungalows and flats being built on Queen's Road in the 1960s and 1970s. Council house building programmes were curtailed nationally under the Thatcher governments of the 1980s.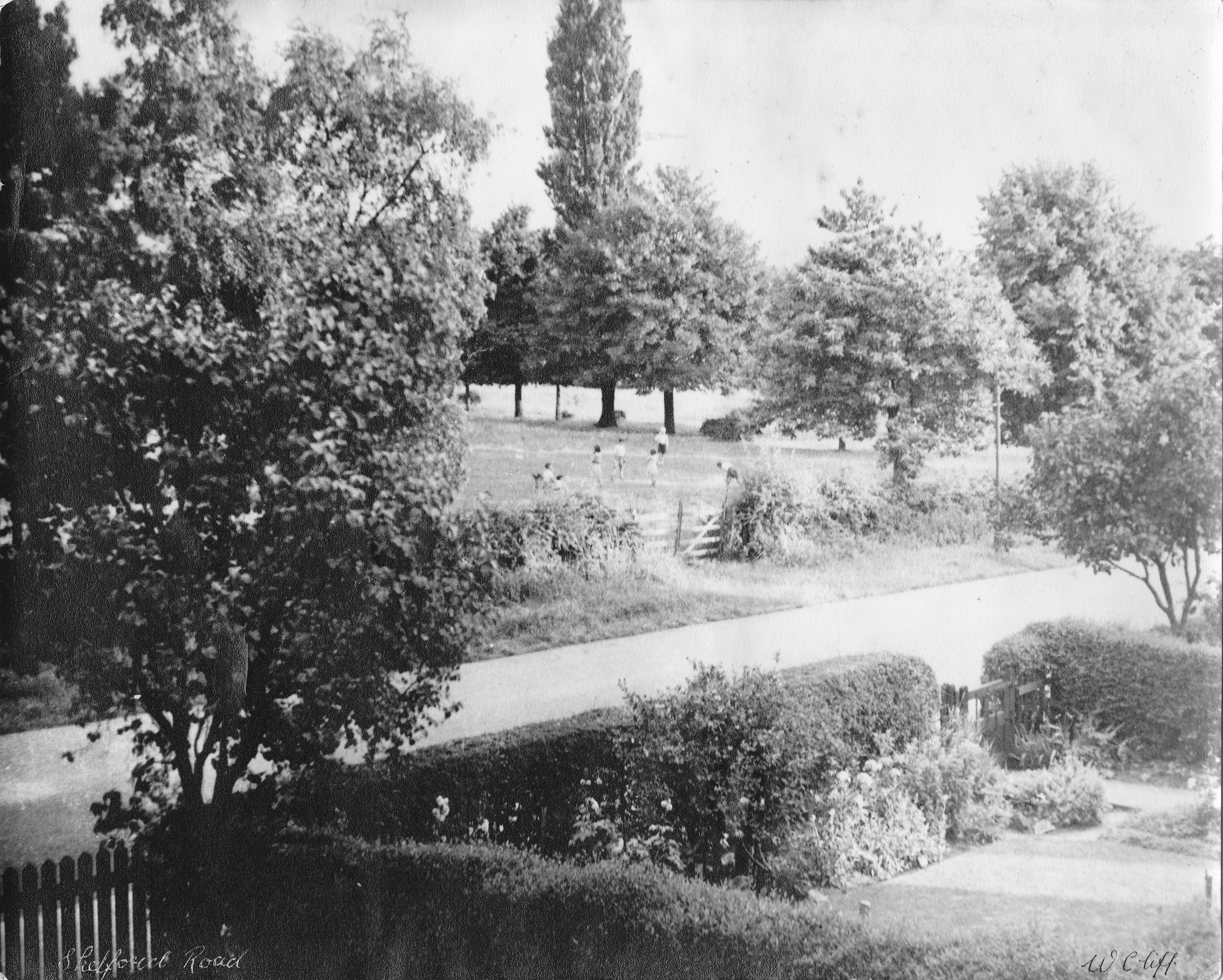 View from 87 Shelford Road (originally no.10 Council Houses) of land on the opposite side
subsequently developed as a council estate in the 1950s.
Photo courtesy of Bill Cliff