EDWARD HARRIS 1890–1958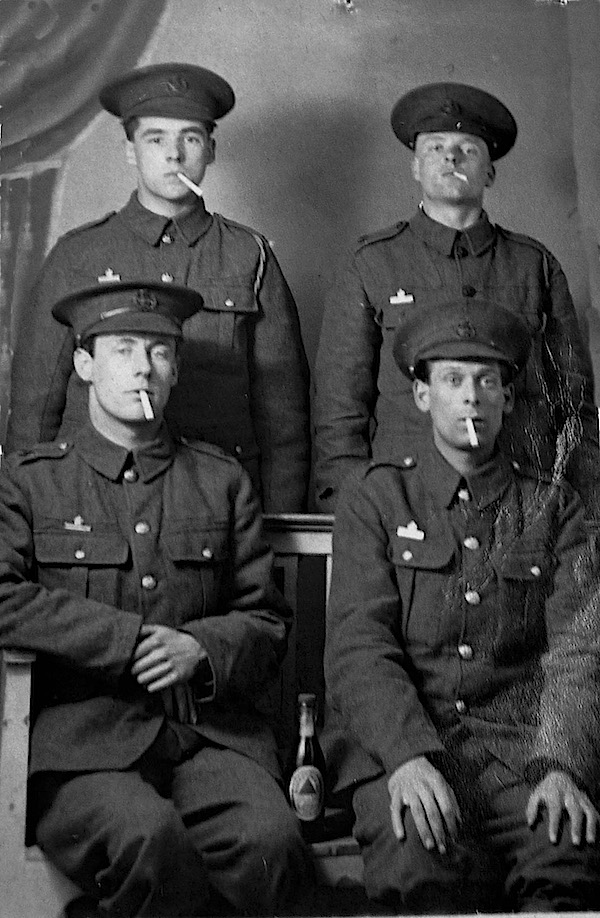 John Nowell, A. Rushton, A. Vickerstaff, Ted Harris (bottom right). Photograph from Cutler collection
Brother of Walter
Born 13th May 1890 in Radcliffe on Trent
Baptised 24th August 1890 at St Mary's Church, Radcliffe on Trent (baptismal name Edwin)
Married June 5 1915 to Annie Sarah Sewards, (died 1961) at St Mary's Church Radcliffe on Trent. Children Charles Edward born 1919 and Rosa born 1924, at Radcliffe on Trent
Date of death unconfirmed, possibly 1958
On the birth register and in the 1891, 1901 and 1911 censuses his name was recorded as Edwin.  By the time he served in WW1 and in later life he used the name Edward.
1891 Census
Eleven month old Edwin was living in Radcliffe with his mother Sarah age 32, lace worker, sister Mary 11 and brother Richard 7. His father was absent on the night of the census.
1901 Census
Age 10 living on Mount Pleasant, Radcliffe on Trent with father, Charles 47, farm labourer, mother, Sarah, and brothers Herbert 15, cow boy, and Walter 7.
1911 Census
Age twenty living with family on Mount Pleasant. Edwin and his brother Walter were domestic gardeners and their father was a roadman working for the County Council.
Military Service
Rank: Private
Service Number: 266070, formerly 3580 (1st/7th Battalion)
Military Unit: A Company, 2nd/7th Battalion, Sherwood Foresters, formerly 1st/7th Battalion
Theatre of War: France; date of entry 28.6.15
No military service record has been found apart from his medal cards. The following information is from his medal cards, Forces War Records and the International Red Cross Committee POW records.
Private 266070 Edward Harris, 2nd/7th Battalion, The Sherwood Foresters was listed as missing on 16.5.18 then found to be a POW.
He was released and returned to England on 31.12.18.
His POW record dated 6.6.18 when he was in Dülmen POW camp states that he was in 'A' Company, Sherwood Foresters and was born on 13.5.90 at Radcliffe on Trent.
His address was given as Bennington Lodge, Cotham, near Newark.
He was captured at Bullecourt on 21.3.18 and received a bullet wound.
He was previously held in Münster I POW camp which was outside the city in open farming country.
On 21st March 1918 Bullecourt village was defended by the 59th Division, but the Germans broke through and the village remained in German hands until September1918.
Medals Awarded: 1915 Star, British War and Victory
Other Information
The marriage register in June 1915 gives his name as Edward, stating that he was a Private and that his father was Charles, occupation roadman.
1921 Census
Address: Main Road, Radcliffe
Employment: gardener, Lt Col Birkin, Lamcote House, Radcliffe
Household: wife Annie, son Charles
1922 Register
Address: Main Road, Radcliffe on Trent
1939 Register
Address: No. 30 Council Houses, Cliff Crescent, Radcliffe on Trent
Occupation: jobbing gardener, heavy worker
Household: living with wife Annie, charwoman, daughters Mary L born 1921, embroidery machinist, Doreen born 1926 and a visitor Mary Sheldon born 1927, both at school. There are two other people in the household whose records are officially closed.
Reasons for inclusion on Radcliffe on  Trent Roll of Honour
Born and lived in Radcliffe on Trent.