JOHN HAINSWORTH BARRY 1895–1968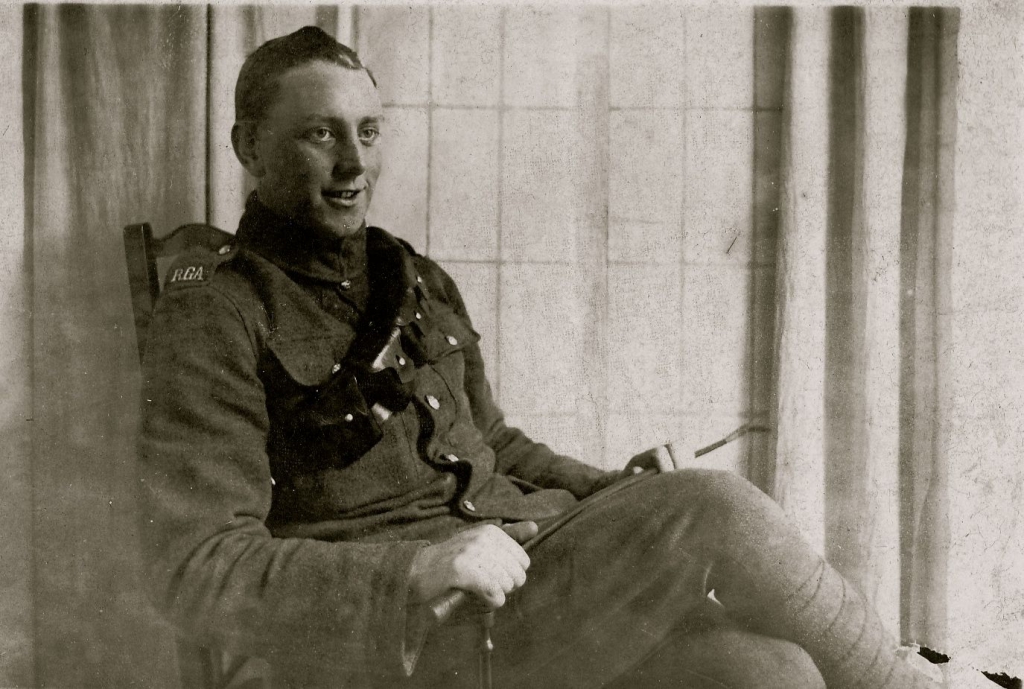 Photograph from family collection
Brother of Richard and Frederic
Known as Jack
Born 3rd July 1895, Radcliffe on Trent
Baptised 4th August 1895 at St Mary's Church, Radcliffe on Trent
Married in 1921 to Hilda Collins.  One daughter Margaret, born 1923
Died 4th March 1968, age 73, Bingham district
1901 Census
Age 5, living on Bingham Road, Radcliffe on Trent with his parents Hainsworth and Rosa Barry and siblings Richard, 5, Frederic, 2 and Violet who was born in 1901. His father Hainsworth Barry was a water works contractor from Wales.
Local Hero
In 1910, when he was fifteen, Jack rescued Oswald Bolton, brother of Cecil (see their biographies) after he had fallen into the River Trent. An item in the Nottingham Evening Post of 27th July 1910 praises Jack's courageous rescue and hopes that his actions will be brought to the notice of the authorities.
RESCUED FROM THE TRENT: Radcliffe Youth's Pluck in Saving a Comrade from Drowning
A number of Radcliffe youths were congregated together at the Trent bank late last evening when by some mishap one of them, Oswald Bolton, who lives in Radcliffe, fell into the water. It is not quite clear how it happened but it is thought that he must have overbalanced himself while looking into the stream, which runs deep and strong at this point.
It was seen that he was in difficulties, twice going under and crying for help. 'I'm done' he exclaimed.
Without hesitation Jack Barry, who was one among those present, plunged in without even taking his cap off and at once brought him to the surface.
Fortunately, Barry has had experience in life saving and this came in good stead, otherwise both might have been drowned as Belton struggled hard and both were once drawn under by Bolton dragging the neck of Barry, but eventually, after some exciting moments, Barry was successful in landing him to a place of safety and hoisting him out of the water on to a boat landing. As it happened, neither of them were afterwards much the worse for their immersion.
Great credit is due to Barry for his plucky assistance and it is hoped that his courageous rescue will be brought before the notice of the authorities.
It is probable that the rescue took place in the Wharf Lane ferry area as the item mentions a boat landing. Jack was awarded the Royal Humane Society's Certificate for saving Oswald's life.  He was also presented with a gold medal subscribed for by people in the village.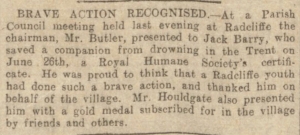 1911 Census
John was working as a lace manufacturer's assistant. Father was working as a public works contractor (sewage works). The family lived on Bingham Road, Radcliffe on Trent
Wrights Directories
His father, Hainsworth Barry, is listed in Wright's Directories for 1910-1911, 1913-14, 1915, 1920
Military Service
Rank: Gunner
Service Number: 42144
Military Unit:  14th Heavy Battery, Royal Garrison Artillery, 16th Brigade, 26th Division
Theatre of War: France and Flanders, date of entry, 20.5.15
Military attestation: 13.8.1914
Age at enlistment, 19
Wounded
Wounded in action at La Boiselle 24.6.1916, during the run up to the Battle of the Somme. Serious injury to foot. Returned to U.K. and was a patient at No.3 War Hospital, Reading, for some months.
Copy from medical case sheet No 3 Reading War Hospital
July 6th 1916
Disease. S Wd (shell wound) right foot
14 months B.E.F. in France June 27th wounded shell burst at La Boiselle
Large gaping suppurating wound through metatarsals in right foot. 2nd, 3rd, 4th and 5th metatarsal, bones pulverized. Wound very foul.
Aug 11th
Wound has gradually cleared. No operation performed. A few pieces of dead bone have separated and been removed. Extension and flexion of foot not best but probably some extensors of latter tendons of toes have been divided.
Aug 19th
Anaesthetic and operation
Wound explored and several pieces of loose bone removed. Wound plugged and drainage tube put through.
Sept 19th
Doing well. Some foot drop and inversion splint applied to correct position.
Oct 17th
Wound in division of foot healed, play left out of plantar wound
Later discharged from military due to injury. Total Military Service 1 year, 10 months.
Family information: he limped for the rest of his life
Letter
Click here for letter, medical report and photograph of his time in hospital
Medals Awarded: 1914-1915 Star, British War and Victory. Silver War Badge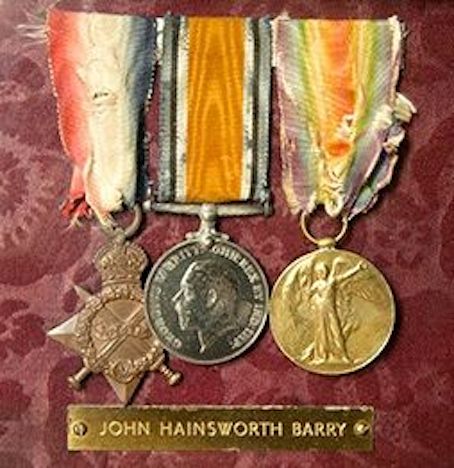 Photographed from family collection
Pension record card
Jack Barry was in receipt of a pension from 29th July 1917. He was further assessed and awarded a 40% disablement pension from 27th October 1920 due to gunshot wound in right foot.  His weekly pension was 16 shillings (80p). On 6th October 1921 he was reassessed with permanent disability of 30% providing him with a weekly pension of 12 shillings (60p).
1921 Census
Address: Lorne Grove, Radcliffe on Trent
Employment: Lace Warehouseman, A H Woolley and Co.
Household: father Hainsworth, Public Works contractor, mother Rosa, brother Frederick and sister Violet
1922 Electoral Register
Address: Shelford Road, Radcliffe on Trent
He was a tenant of one of the first council houses built in Shelford Road in 1921. Several of these houses were specifically intended for ex-servicemen.
1939 Register
Address: No.16 Council House, Shelford Road, Radcliffe on Trent
Occupation: Poultry farmer
Special Constable
Household: living with wife Hilda May
Other information
The Barry family has reported that John (Jack) limped for the rest of his life. He was a founder member of the Radcliffe branch of the Royal British Legion, remaining an active member from 1931 to 1968. He held a number of offices in the Radcliffe Branch. Following his death in 1968, Margaret Barry gave a 'Chairman's Chair' to the Radcliffe on Trent branch in remembrance of her father. The chair sits in the alcove in the dining room of Radcliffe Hall, home of the Legion. His medals were also donated to the local branch where they remain today. 
Reasons for inclusion on Radcliffe on Trent Roll of Honour
Born and lived in Radcliffe on Trent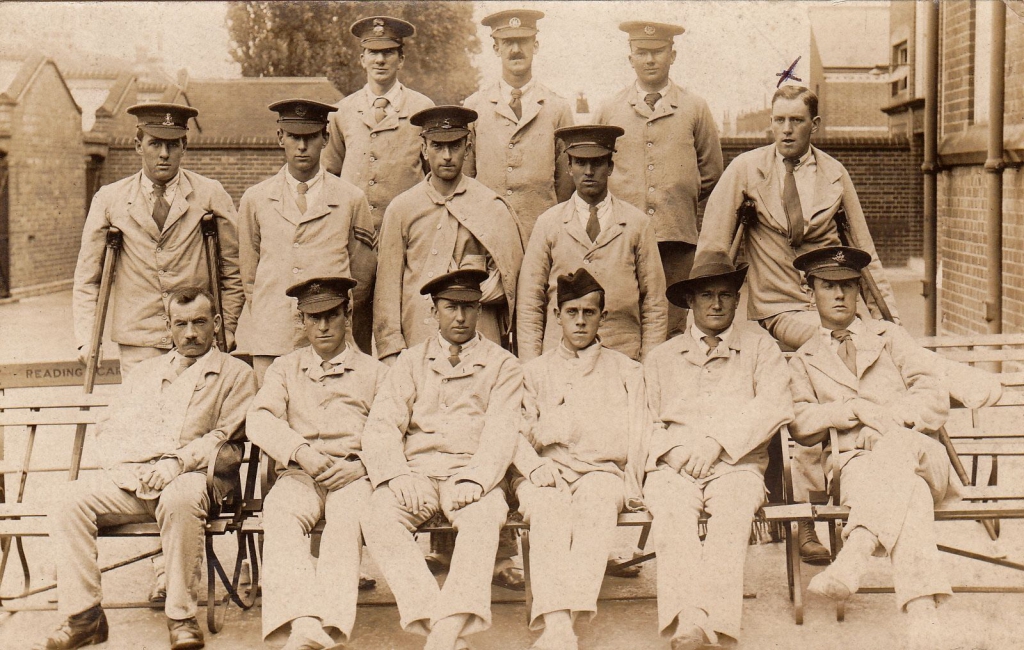 No 3 War Hospital, Reading. Jack Barry middle row to the right marked with a X

No 3 War Hospital, Reading, where John Barry was a patient Photographs courtesy of family