LEWIS PHILIP SCRIMSHAW 1895–1978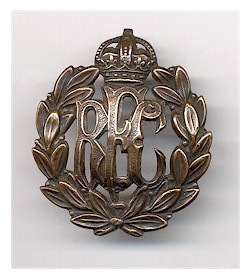 Born 13th May 1895, Radcliffe on Trent
Baptised 9th June 1895 St Mary's Church, Radcliffe on Trent
Married December 22nd 1917 to Mary Dudley Foster, age 22. Son Philip born October 16th 1918,  baptised December 14th 1918. Mary was sister of Agnes, Owen and Frank Foster.
Died 22nd December 1978, age 82,  address 4 Brielen Road, Radcliffe on Trent
1901 Census
Age 5 living at Lamcote Nurseries, Radcliffe on Trent with father Thomas, mother Elizabeth and sister Gladys Ada 1, stepbrothers Thomas Howard 27 and Harry Howard 24 (disabled from birth). Father a nurseryman and florist on own account.
1911 Census
Age 15 an engineering draughtsman living at Lamcote Nurseries, Radcliffe on Trent with parents and sister Ada Gladys 11, brother Edward 8 and stepbrother Harry Howard 24.
Military Service
Rank: Flight sergeant in 1918, formerly Chief Mechanic
Service Number: 3127
Military Unit: Royal Flying Corps then Royal Air Force
Theatre of War: Unconfirmed. It appears from his service details that he remained in the U.K. and did not enter a theatre of war.
15.1.15: Enlisted in Royal Flying Corps. Occupation motor engineer. Height 5ft 6ins, chest 30 ins, hair brown, eyes grey, complexion sallow. He was located at 2 I.S. (instruction school)
Civilian employment Motor Engineer
1.9.16: Promoted Corporal
1.1.17: Promoted Sergeant
1.4.18: Transferred to RAF, Sgt Mechanic
2.4.18: Appointed Chief Mechanic, classified as engine fitter from Oct 1918 to March 1919
26.8.18: Transferred from 2 I.S. to 29 Training Depot Station then to 95 Squadron (a coastal command station at Shotwick)
4.1.19: Reclassified as Flight Squadron Fitter
9.7,19: Reinstated as Flight Sergeant. Provisionally placed in Group 3
28.3.19: Transferred to RAF reserve
11.4.21: Awarded first Good Conduct Badge, also transferred to Shotwick Reserve Pool (near Chester)
4.6.21: Relegated to E reserve
11.5.21: Study Leave
14.1.23: Discharged: address Lamcote Nurseries. Total years of service 8.
His marriage certificate describes him as a sergeant with the RFC, stationed at The Aerodrome, Ruislip. Described as a Chief Mechanic in the RAF on his son's baptismal record
Medals Awarded: no details found
Other information
From Forces war Records : before his transfer from the Royal Flying Corps to the RAF, his trade was a fitter (Eng.). Air force pay was 6 shillings (30p) Terms of enlistment were open engagement.
Telephone directories until 1978 record him as living at 23 Cliff Crescent, Radcliffe on Trent.
Charles Tytherley, on war memorial, was billeted with Thomas Scrimshaw (Lewis's father) at some point during the war.
From the 1922 Electoral register
Address: Lamcote Nurseries, Water Lane, Radcliffe on Trent
From the 1939 Register
Address: No. 18 Council Houses, Cliff Crescent, Radcliffe on Trent
Occupation: mechanical engineer and draughtsman
Household: living with wife Mary and son Philip, a joiner.
Reasons for inclusion on Radcliffe on Trent Roll of Honour
Born and lived in Radcliffe on Trent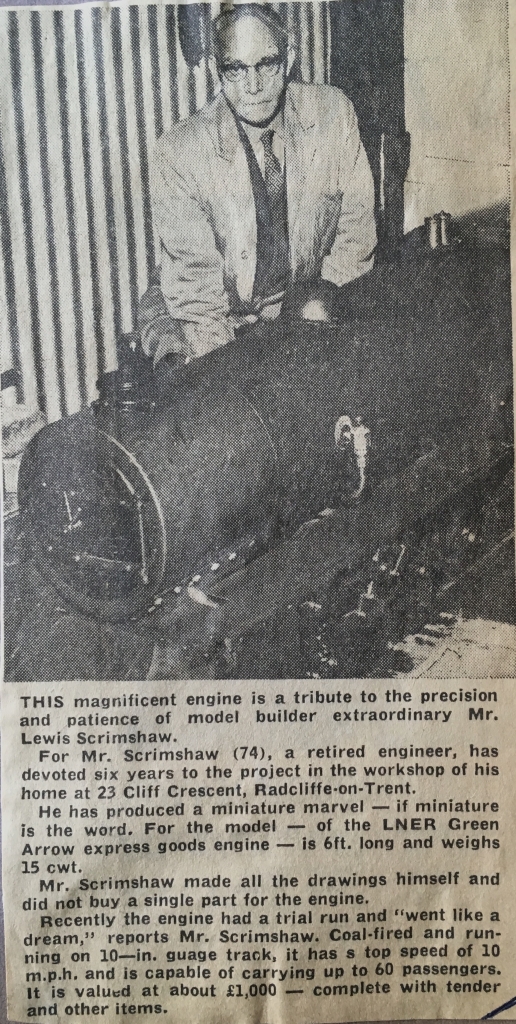 Nottingham Evening Post 3rd March 1971