JOSEPH TRAVIS BERRY 1886–1964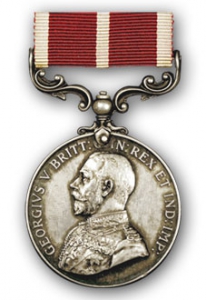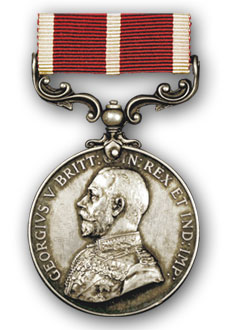 Meritorious Service Medal
Born: 17th October 1886 in Oldham
Married: 4th September 1918 to Hilda Parr
Children: Louie M. born 1920, John born 1921, Harry Parr born 1926, William Edward born 1929
Died 15th October 1964, ashes interred Radcliffe Cemetery (L13, no headstone).  Address at date of death 2 Grandfield Avenue, Radcliffe on Trent. Survived by wife Hilda.
1891 Census
Age 4, living in Barnsley with paternal grandparents, William and Harriett Berry.
1901 Census
Age 14, living in Oldham, with widowed mother Matilda, sister Annie and brother William. Working as an Errand Boy.
1911 Census
Age 24, living in Oldham, with widowed mother Matilda, brother William and sister Annie. Working as a cotton cop packer.
Military Service
Rank: Colour Sergeant by end of war, Private on enlistment
Service Number: 14006
Military Unit: 24th Battalion (Oldham Comrades), The Manchester Regiment, 91st Brigade, 7th Division
Theatre of War: France and Flanders, date of entry 9.11.15; Italy, date of entry November 1917
Date of enlistment:  6 Nov 1914, Oldham, Lancashire
Age at enlistment: 28 years and 20 days.
Height 5 ft 3ins, weight 116lbs, chest 35 ins expanded – range of expansion 2.5 ins. Eyes brown, hair  brown, complexion fresh
Religion:  Church of England
 Additional information from David Berry (Joseph's grandson)
Joseph joined the B Company, 24th (Service) Battalion of the Manchester Military Unit on 6 Nov 1914 for a 3 year short service engagement.  His address at enlistment was recorded as 105 Cottam St, Oldham and next of kin was initially his mother Matilda Berry of that address.  On his marriage in 1918 he changed his next of kin to his wife Hilda who lived in Bailey Lane, Radcliffe on Trent, Nottinghamshire, probably with her parents.  His prior occupation was 'Cop (bobbin) Packer' in a cotton mill.
While the Manchester Military Unit itself was known as the 'Manchester Pals, in keeping with the custom of naming locally raised Military Units 'Pals', the 24th (Oldham) Battalion, displaying their individuality, referred to themselves as 'Comrades'.  The 24th was the last of the Manchester Regiment battalions formed for the Great War.  Service numbers for the 24th started at 14001 and extended to approximately 15500 by June 1915.  Joseph was one of the first to enlist and is mentioned by name on the Army Service numbers website.  The 24th (Service) Battalion was formed by the Mayor and town on 24 October 1914.  The town struggled to meet a target of 1,150 men but finally did by January 1915.
23 Dec 1914: Promoted to Lance Corporal.
1 Jan 1915: Battalion moved to Chadderton Hall Farm training camp in Burnley Road, Manchester for basic training.
8 Mar 1915: Battalion moved to Llanfairfechan to continue training.
4 May 1915: Battalion moved to Grantham to join the 91st Brigade, 30th Division.
12 Sep 1915: Battalion moved to Larkhill Camp, Salisbury Plain.
3 Nov 1915: Promoted to Corporal.
3 Nov 1915: Battalion landed at Le Havre and were entrained to the front, where they trained with the Leicester Military Unit in the Albert and Arras sectors.
20 Dec 1915: The 91st Brigade moved to the 7th Division.
22 May 1916: The battalion became the Pioneer Battalion for the 7th Division and moved to the village of Aumont, near Amiens and later moved to Morlancourt near Albert. The first casualties were suffered here as they carried out the duties of pioneers in the front lines and behind them. During the actual Battle of the Somme the 24th were engaged in converting captured German trenches around Fricourt into strongpoints and helped to consolidate the gains made by the 7th Division.  Compared with other units the 24th suffered only light casualties of eight men.
14 July 1916: The battalion followed up the attack on Bazention le Petit, to build a strongpoint in the village, suffering 52 casualties.
20 July 1916: Attack on High Wood.
21.7.16: 7th Division relieved and moved to rest and training area north-west of Amiens.
30 Aug 1916: The 7th Division made its attack on the disputed village of Guinchy.  The 24th were employed building the support trenches.  The attack was unsuccessful. The 24th suffered a further 38 casualties.
Sep 1916: The 24th moved away from the front to Steenwerck near Armentières where part of the battalion was attached to a tunnelling company while others were involved in building projects.
Nov 1916: A working party of 400 Oldham Comrades constructed an 800 yard new trench with strong points in one night. The year continued in much the same way as the Germans retreated to the Hindenberg Line.
3 May 1917: Promoted to Colour Quarter Master Sergeant.
Jun 1917: The 7th division was moved up to the Ypres and then on to Hazelbrouck, then to Wizernes, to Ridge Camp near Ouderdoom.  During the battle of Third Ypres the battalion was working in the Sanctuary Wood area, preparing the access for the attacking troops under shell fire from the German lines and providing guides. Three Military Medals were won by them in this time.
30 Oct 1917: The 7th Division was moved from the forward areas.
Nov 1917: The 24th entrained for Italy.
19 Dec 1917: The 24th arrived at Paderno where they were used in wiring and defence building along with morale building actions with Italian troops.  They later moved to Casa di Foraro on the Asiago Plateau, where again the pioneers continued their work.
Oct 1918: The battle of Piave saw the 24th employed as guides, bringing the troops up to the bridges and as pioneers preparing the ground.  Assisting the Royal Engineers, they kept the bridges repaired and passable bringing up supplies and in general support.
31 Oct 1918: The division crossed the Piave.  By the 3rd November, they had progressed 28 miles to the Tagliamento river.
4 Nov 1918: The 24th finished the war as the Pioneer Battalion of 7th Division, Italy near Udine.
11 Jun 1918:  Joseph Berry was awarded the Meritorious Service Medal. London Gazette 17 June 1918
20 Sep 1918: Severely reprimanded for overstaying leave by 34 hours between 16-17 September and was fined 1 day's pay
24 Mar 1919: Demobilised and transferred to Class 2 Army Reserve.  He left the army with the trade of clerk.
Medals Awarded: Meritorious Service Medal, 1914-1915 Star, British War and Victory
Military Personnel Address on 1918 Electoral Register
Home address: Bailey Lane, Radcliffe on Trent
Other information
He saw Hilda Parr (future wife) on a train from Nottingham when he was billeted at Belton House, near Grantham. He returned to Radcliffe on Trent the next day and was waiting for her at Radcliffe on Trent church when she came out of evensong. They were married in 1918 and  became one of the first tenants of the new council houses, Shelford Road, Radcliffe on Trent.
1921 Census
Address: Shelford Road, Radcliffe
Employment: Clerk at W Lawrence, Furniture Mfg., Colwick
Household: wife Hilda, daughter Louise Margaret
1922 Electoral Register
Address: Shelford Road, Radcliffe on Trent.
Household: Joseph is the only person registered.
1939 Register
Address: Grange Road, Arnold
Occupation: Sub-postmaster, grocer and confectioner
Household: living with wife Hilda and son William
Reasons for inclusion on Radcliffe on Trent Roll of Honour
Married a woman from Radcliffe on Trent and then resided in village.

Photograph from Family Collection Joseph Berry is front row, first from left B Coy, 24th (Service) Battalion c1915