WILLIAM ALFRED ECOB 1893–1981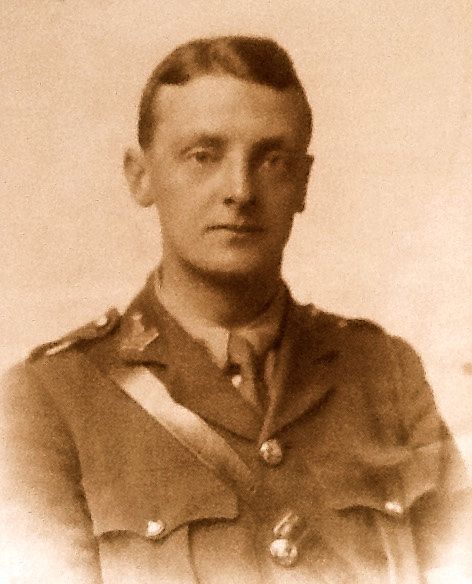 Photograph from family collection
Born 12th November 1893 in Nottingham
Married 6th October 1917 to Ada Gertrude Newbury at the Methodist Chapel, Radcliffe on Trent
Sons Alvin Keith Newbury Ecob born 9.3.1919, Gordon Sydney Newbury, born 1924, both named after Ada Newbury's  brothers Alvin and Sydney, killed in WWI, David, born 1926 and Michael born 1930.
Died 4th January 1981 at Edgware General Hospital, age 87
1901 Census
Age 7 living with father Alfred Pickard an insurance superintendent, mother Annie Elizabeth, sister Annie Eleanor and a boarder Gwilym Evans, 25, an assurance agent. They lived at 25 Radcliffe Street, The Meadows, Nottingham.
Secondary education
He attended Heanor Technical College from September 1906 until July 1910.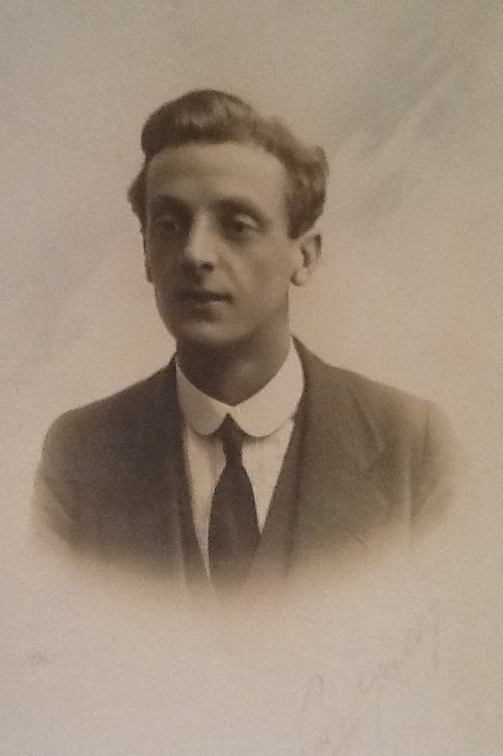 1911 Census
Age 17 living in Ilkeston and working as a pupil teacher in an elementary school
Higher education and Officer Training Corps
He was a student at University College, Nottingham from 1912-1914 and received a teaching qualification.
Special qualifications, knowledge of topography for Royal Air Force (passed geology in Inter B.Sc. London).
He was a member of the University of Nottingham Officers Training Corps (OTC).
In July 1914 he was one of 1200 officer cadets who attended training at Salisbury Plain camp. The 2nd battalion consisted of cadets from provincial universities and William was one of them, the 1st battalion comprising cadets from the University of London. The camp was prematurely broken up on 3rd August 1914 due to the outbreak of war. There was a call for OTC cadets as officers; William Ecob was appointed temporary 2nd lieutenant on 24 November 1914. During the war over 1600 cadets from the University of Nottingham Officers Training Corps served, of which 229 were killed and over 500 wounded (source: Nunn, D. (2010) Britannia Calls Nottingham schools and the push for Great War Victory).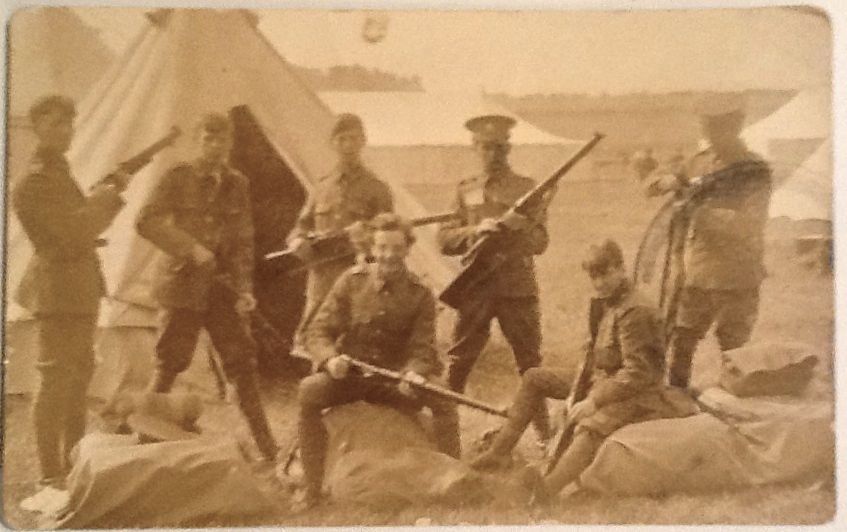 Bill Ecob centre front
Photographs courtesy of the Newbury-Ecob family
Military Service
Rank: Captain, previously 2nd Lieutenant
Military Unit: 9th Battalion, Alexandra, Princess of Wales's Own (Yorkshire Regiment) ("Green Howards"), 69th Brigade, 23rd Division until 1917.  He was transferred to RAF No.55 RAR Cadet Wing.
Theatre of War: France and Flanders, date of entry 26th August 1915
The 9th Battalion (Green Howards) were in action at the Battle of Loos, Vimy Ridge and  throughout the Somme offensive where they were heavily involved at the Battles of Albert, Bazentin Ridge, Pozieres, Flers-Courcelette, Morval and Le Transloy. In 1917 they were in action at the 3rd Battle of Ypres.
William Ecob returned to England in September 1917 when he was declared unfit for general service.
A letter from Dr J. Thompson, 'Erinholme', Victoria Embankment written 29.9.17. states:
I have today seen Cap. W. A. Ecob. He is nervy and complains of fatigue and insomnia. In my opinion he is need of a few weeks of complete rest.
1.11.17: He was diagnosed with Neurasthenia due to his prolonged service with the expeditionary force. The report of the Medical Board includes the following comments:
He complains of sleeplessness, frequent dreams and general lassitude  which has been gradually increasing  during the twenty five months that he has been active, France. He is told that he twitches … .  He is slightly tremulous and his knee jerks are somewhat exaggerated. He has been instructed to report for duty with his reserve Unit at West Hartlepool.
In December 1917 Dr Thompson wrote:
'Captain W. A. Ecob has consulted me three times during the last few weeks. He has lost weight slightly, complains of insomnia and general fatigue. He does not appear to me to have a physical complaint but is suffering from nerves and debility, probably caused by prolonged active service. ' 
His descendants recall that he was greatly affected by the deaths of his wife's brothers, Alvin and Sydney Newbury who were killed in action in 1916 and 1917. He  requested a period of duty in England; he married Ada Newbury in October 1917.  William was transferred to Royal Flying Corps Cadet Wing, Hastings as an instructor and served in England from August 1918 until after the end of the war. His descendants recall that while in Hastings he used to play tennis with the future King George VI who was also stationed there at the time
26.2.18: Medical board – Unfit GS (general service) 6 months. Unfit labour or garrison duty abroad 3 months.
29.4.18: official date of commencement of service with RAF
16.5.18: Medical board – Fit for home service, ground duty only
24.8.18: Proceeded to Hastings 6 School of Aviation, rank Captain, Squadron Officer. A note on his service record states 'Knowledge of topography for RAF, (passed Geology in inter BSc London). Lecturing and teaching qualifications. Civilian occupation, university student'.
30.8.18: to 5 Cadet Wing at Hastings
3.9.18: Date of his last medical board where he was granted permanent home service and ground duties.
23.1.19: transferred from RAF Cadet Brigade 5 Cadet Wing to the Ministry of Labour
24.1.19: transferred from Ministry of Labour to Cadet Unit Flight Squadron, Gresham House
10.10.19: transferred to reserve list
Medals Awarded: 1914-1915 Star, British War and Victory
From medal card: C Cadet Brigade, RAF forwards nominal Roll of officers eligible for the 1914-15 Star. Address in 1921: Tenedos, Cropwell Road, Radcliffe (address of wife's parents).
1921 Census
Address: Shelford Road, Radcliffe
Employment: Analytical Chemistry Student, University College, Nottingham
Household: wife Ada, son Alvin
1921 Electoral Register and 1922 Electoral Register
Address: Shelford Road, Radcliffe on Trent. He lived in one of the thirty new council houses built in the village in 1920-1921. Ten of the houses were tenanted by ex-servicemen.
 Other information
In 1920 William was one of ninety-one new students admitted to the Council of the Institute of Chemistry of Great Britain and Ireland: Ecob, William Alfred, Tenedos, Cropwell Rd, Radcliffe-on-Trent, Notts. (Journal and Proceedings 1920 Part III).
In October 1921 William was awarded a B.Sc. Hons degree at University College, Nottingham. After graduating he worked for a short time as a teacher and then as a chemist for British Cellulose Lacquer at Slough until 1931 when the company was taken over by ICI. Following a period of unemployment, he worked as an advertising manager.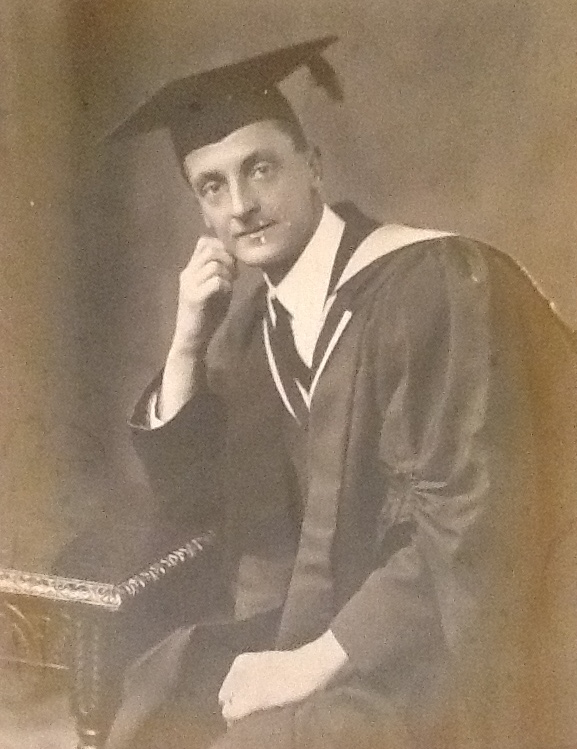 1939 Register
Address: 3 Lawrence Court, Hendon, Middlesex
Occupation: Advertising Publicity Director Travel, Banking & Shipping
Household: wife Ada, born 11.11.1894 and four other people whose records are officially closed (presumably his sons).
William Ecob was redeployed in the chemical industry during WWII where he remained until his retirement. Note – the entry for his occupation in the 1939 refers to a temporary job which is unrepresentative of his subsequent career.
Ada Ecob née Newbury died 27th February 1990 at Harpenden. She was a Red Cross Auxiliary Nurse from 1913-18 (source: 1939 Register entry). Her sister Grace Daisy Newbury was also a Red Cross nurse. Grace's V.A.D. record shows she  was stationed in Hastings at the time William Ecob was serving there with the RFC. Ada Newbury's Red Cross record has not been found.  The Newbury brothers Alvin and Sydney were killed in action in 1916 and 1917 respectively.
Reasons for inclusion on Radcliffe on Trent Roll of Honour
William Ecob married a woman from Radcliffe on Trent in 1917 and then lived in the village.