ARTHUR STANLEY 1878–1945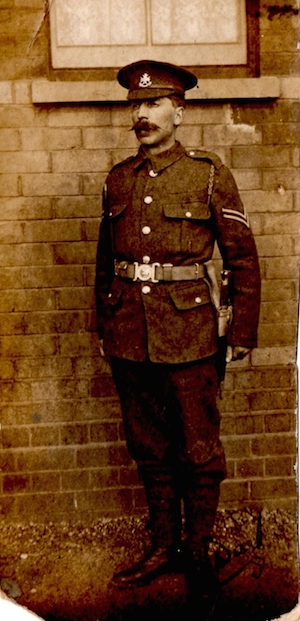 Photograph from family collection
Father of Walter, who also served in the war
Born 11th February 1878 Wilsthorpe, Derbyshire
Married 25th December 1897 to Mary Elizabeth Stead at Swayfield Parish Church, Lincolnshire
Eight children: Walter born 1898, Cissy born 1901, Samuel born 1909, Edward born 3rd February 1913, Gwendoline born 1914, Kathleen born 1917, George born 1920 and Jack born 1923
Died 15th May 1945 in Radcliffe on Trent, age 67. Buried in Radcliffe Cemetery, grave reference L175
1881 Census
Age 3, living at 3 Ebenezer St, Ilkeston with father William, married sister Elizabeth Gamble, sisters Eliza 16 and Sarah 11, brothers William 13, coal pit pony driver, Henry 9 and Edward 7. Mother absent.
1891 Census
Age 13 at school living on Nottingham Road, Radcliffe on Trent with his father William (agricultural labourer born in Radcliffe 1836) and mother Hannah.
1901 Census
Living alone (although married) at 7, Grass Street, Ilkeston as a 'colliery banksman above ground'. His wife Mary Elizabeth was living on Nottingham Road, Radcliffe with Arthur's parents.
1911 Census
Age 33 living in Back Lane, Radcliffe on Trent working as a self-employed fishmonger, married to Mary Elizabeth 34 (assisting in business). Three children: Walter, age 12, Cissy May, age 10 and Samuel, age 1.
Military Service before 1914
Rank: Private
Service Number: 5280
Military Unit: 1st Battalion, Derbyshire Regiment
27.12.95:  Attestation at Nottingham. Age 18 years 10 months.Trade: farm labourer. Height 5 ft 4 ins, weight 118 lbs, chest: minimum 33, maximum 35 ins; physical development good. Next of kin: father William, mother Hannah, Nottingham Road, Radcliffe on Trent.
30.12.95: Joined at Dublin
11.3.96: Admitted to hospital, Curragh with perforated membrane tympanum. Severe: complete deafness. Both ears affected. Proposed for invaliding
21.5.96: Medical report from Medical Officer in Charge, Station Hospital, Curragh Camp:
'4th April, suffering from deafness and a profuse discharge from both ears. On examination both Membranae Tympani were found to be perforated. He has at times suffered considerably from pain, especially in the left ear. On examination with the auroscope there is a large perforation of the right Tympanic Membrane present. The left membrane is covered by a mass of granulation tissue. Is not the result of service or climate and has not been aggravated by vice, intemperance or misconduct. Disability is permanent – will prevent his earning a livelihood to some extent. Treatment given: Politzerization, insufflations of Alum, Boracic acid, Iodoform; syringing with Boracic acid solution; diet, tonics etc. Recommended for discharge on account of permanent unfitness.'
17.7.96: Discharged from hospital
28.7.96: Discharged medically unfit for further service
Military Service after 1914
Rank: Acting Corporal
Service Number: 20806 and 92431 (The Sherwood Foresters) then 642304 (Labour Corps)
Military Unit: 4th (Extra Reserve) Battalion, The Sherwood Foresters, then 500 HS Employment Co.,  Labour Corps
Theatre of War: France and Flanders, service abroad 1 month
Attestation: 14.12.14 Nottingham. Address: Main Rd, Radcliffe on Trent. Age: 38. Occupation: bricklayer's labourer
30.12.14: Posted
5.1.15: Appointed Lance Corporal
30.9.16: Promoted Acting Corporal
14.12.16: Granted Proficiency pay Class II
8.8.17: Expeditionary Force France.
Wounded
13.9.17: Wounded by gas shell and admitted to 7th Canadian General hospital at Etaples, then sent to War Hospital at Sunderland
25.12.17:  Inflammation middle ear, severe. Admitted No 3 Canadian Stationary
19.1.18:  To No 6 Convalescent Depot
As at 25.12.17: 2nd Bn Sherwood Foresters, C Company, 2nd Div. 3 yrs service, 5 mths with Field Force (FWR)
Transferred to 500th Home Service Employment Company, Labour Corps, Nottingham
29.10.18: Discharged from the Army as no longer fit for war service
13.11.18: Awarded a pension of 27 shillings 6d (£1.37) from 30.10.18 to be reviewed in 39 weeks
His pension record card show his address as Hogg Lane, Radcliffe on Trent and a disability as deafness (double otitis media) in both ears (permanent). He was assessed at 50% disability and received a weekly allowance from 26.1.21 of 20 shillings (£1) for himself with an additional 17 shillings 9d (89p) for his wife and 4 children.
Medals Awarded: British War and Victory, received in 1922. Silver War Badge.
Military Personnel Address on 1918 Electoral Register
Home address: Hogg Lane, Radcliffe on Trent.
Other information
He was a tenant in one of the first council houses on Shelford Road. His son Walter also fought in the war.
1921 Census
Address: Shelford Road, Radcliffe
Employment: Builder's labourer, W J Simmons Builders
Household: wife Mary, daughters Cissy, lozenge maker, Boots Chemists, Gwendoline, Kathleen, sons Samuel Aaron, Edward and George.
1922 Electoral Register
Address: Shelford Road, Radcliffe on Trent
Household: living with wife Mary Elizabeth
1939 Register
Address: No 8 Council Houses, Shelford Road, Radcliffe on Trent
Occupation: general labourer
Household: living with wife Mary, sons George 19, a joiner's improver, Jack 23 a steel fixer and Costa J Thompson, age 29 and a general labourer.
Reason for inclusion on the Radcliffe on Trent Roll of Honour
Lived in Radcliffe on Trent.