VIOLET MARY BISHOP 1890–1968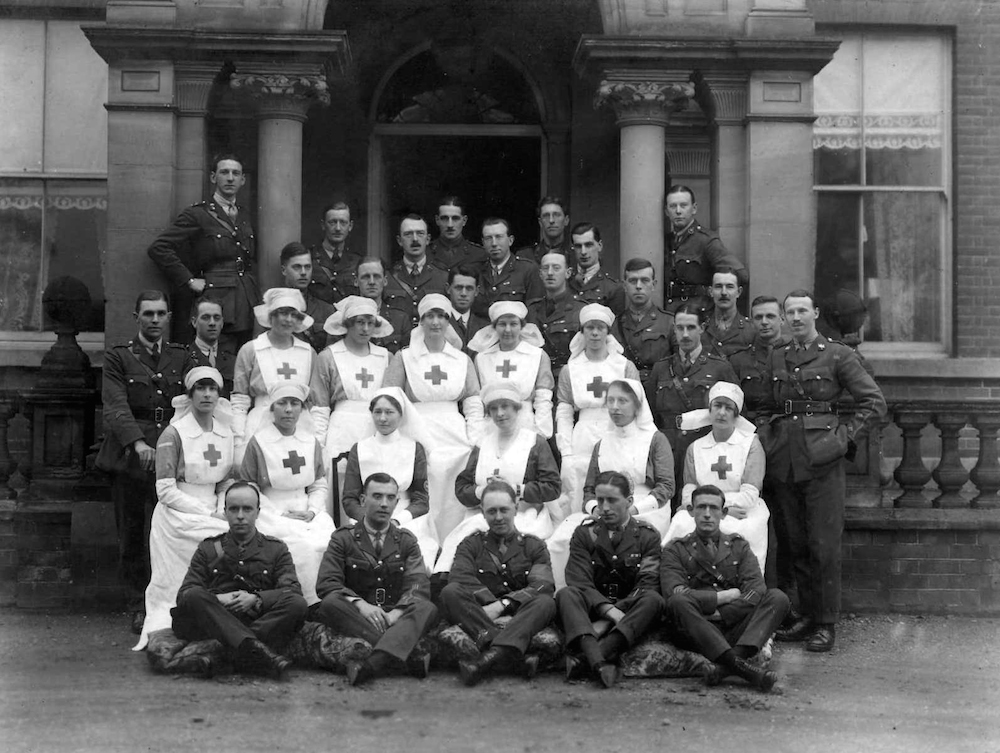 Lamcote House Auxiliary Hospital staff and patients, taken between 1918 and 1919.
 Born 20th December 1890 and baptised 27th January 1891 at St Pauls Church in Nottingham
Marriage: remained single
Died: 8th January 1968, age 77
Before the War
In 1891 census, age 3 months, Violet was living with her parents John Fillingham, age 32 a Lace Manufactuer and Mary Blessard, age 27, at 6 Cropwell Road, Radcliffe on Trent. Also living with them were two servants Annie Goddard a cook and Annie Dabell a housemaid.
On 31st March 1900 it was reported in The Nottinghamshire Guardian that Violet had collected 20 shillings for the Shilling Fund for Wounded Soldiers,Widows and Orphans.
In the 1901 census she was ten years old and had a brother John Fillingham born in 1892. They were still at 6 Cropwell Road but had two new servants, Emma Stabley a cook and Ethel Brook the housemaid.
Violet's father John Fillingham Bishop was a well known cricketer and rugby footballer and at one time amateur sprint champion of Nottinghamshire, as well as being a successful business man. In 1909 he became one of the directors of the new Radcliffe on Trent Golf Club on Cropwell Road. Violet played at the club and won two cups before war broke out in 1914: the Birkin Cup in 1912 and the Hacking Bowl in 1913.
In the 1911 census her father was  a cigar importer and they were all still living at 6 Cropwell Road which was recorded as having eight rooms. They had two new servants, Elizabeth Parr and Lydia Leighton.
During the War
Red Cross VAD records available at www.redcross.org.uk reveal that Violet Bishop worked for the Red Cross for a year between 1918 and 1919. She was a member of the Notts. 94th Voluntary Aid Detachment, Radcliffe on Trent branch of the Red Cross which was organised by Claire Birkin. Her record (see image below) shows that she undertook voluntary work at Lamcote Auxiliary Hospital for Officers, which was the home of Lt.Col. and Mrs. Birkin. Lamcote House was situated in Radcliffe on Trent and was temporarily converted to a war hospital in 1918. It had twenty beds for officers. Violet worked there from April 1918 when it opened to April 1919 when it ceased to function as a hospital. Officers who were patients there and are in the Radcliffe on Trent Roll of Honour include Lieutenants Douglas Blew Jones, Life Guards and James Spencer Eason, Duke of Wellington's (West Riding) Regiment. Lt. Reginald Tivey, North Staffordshire Regiment, was another patient; he came from the north-west of England.
Violet's brother John served with the 1/7th Sherwood Foresters. He was captured on July 1st 1916 during the Battle of the Somme and was a prisoner of war in Bavaria until the Armistice.
1921 Census
Address: Cropwell Road, Radcliffe
Employment: None
Household: father John Fillingham, Lace Mfg., mother Mary Blessard, brother John, clerk F Mitchells, motor car engineers, domestic servants Elizabeth Pave and Edith Murden.
 After the war
Violet's brother John came back to Radcliffe on Trent after he was released from the prisoner of war camp. The family continued living at 6 Cropwell Road. Violet's father John Fillingham Bishop died on 29 July 1924 aged 65. His estate was worth a considerable amount of money: probate was granted to his widow Mary Blessard, his son John Fillingham, gentleman, and Mr Arthur Henry Dobson a lace dresser from Nottingham. Violet was left £1000 upon trust. He also left £50 to his faithful servant Elizabeth Parr.
 It is not known whether Violet participated in any paid or voluntary employment after the war. She continued to play golf and won the Hacking Bowl again in 1921. She was a keen sportswoman and was a member of the Radcliffe on Trent Tennis Club for many years. She was recorded on the 1939 Register as living at 6 Cropwell Road with her mother and brother, performing unpaid domestic duties.
When Violet's mother died on 8 March 1954 she was granted probate along with her brother and John Henry Trease, an incorporated accountant. Effects of £846.0s.6d
Violet died on 8th January 1968 aged 77 and is buried in Radcliffe on Trent cemetery alongside her parents.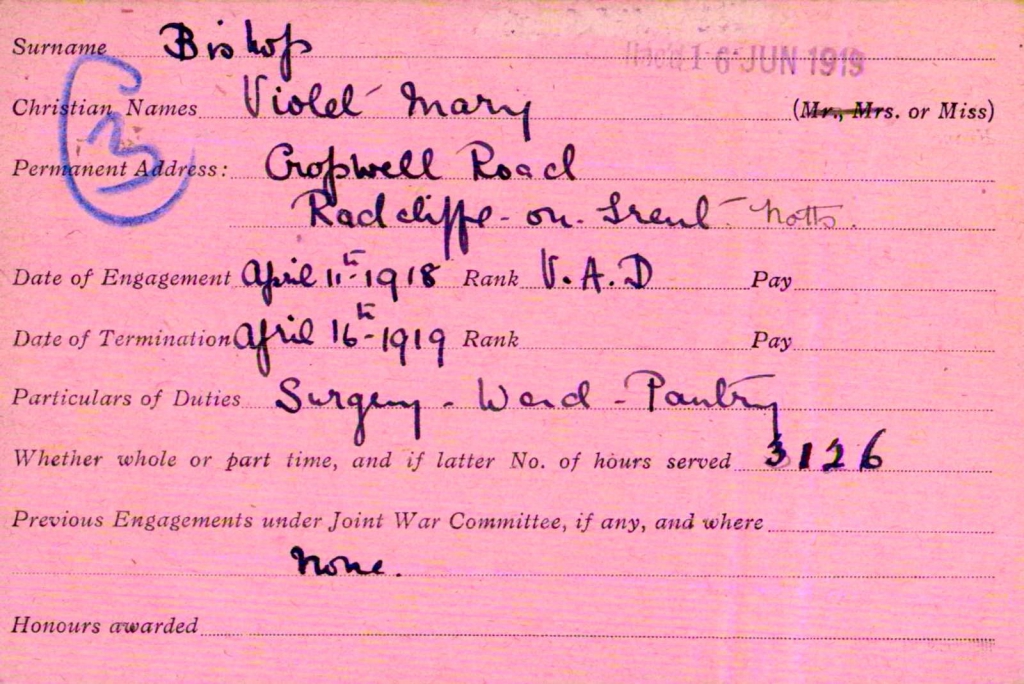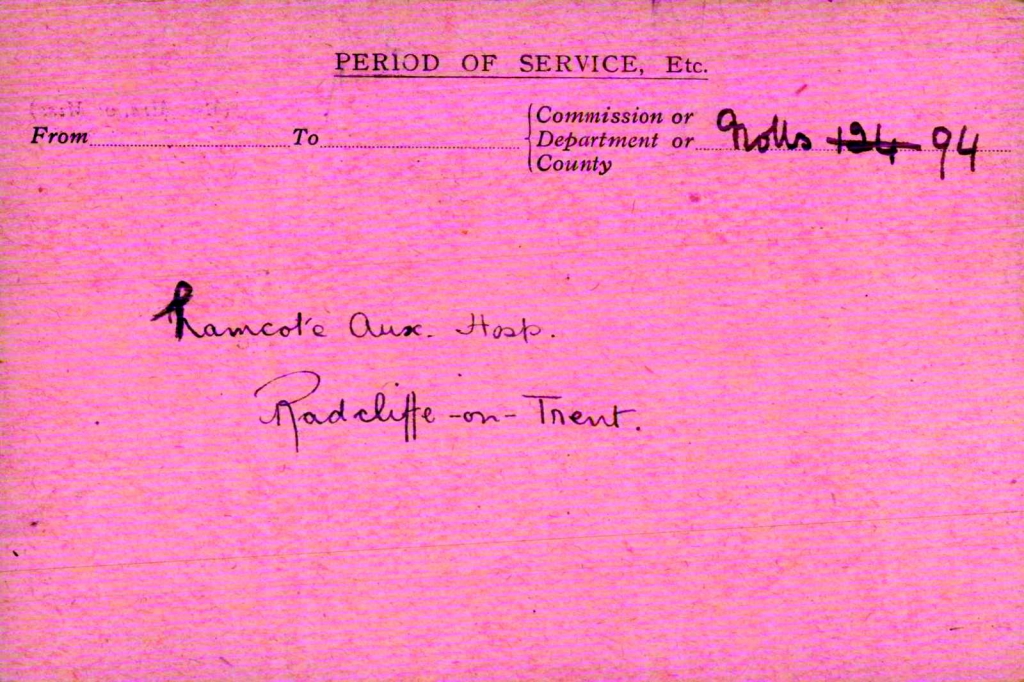 Violet Mary Bishop's V.A.D. registration card.
Author: Rosie Collins