KATHERINE DORIS HICKSON 1896–1981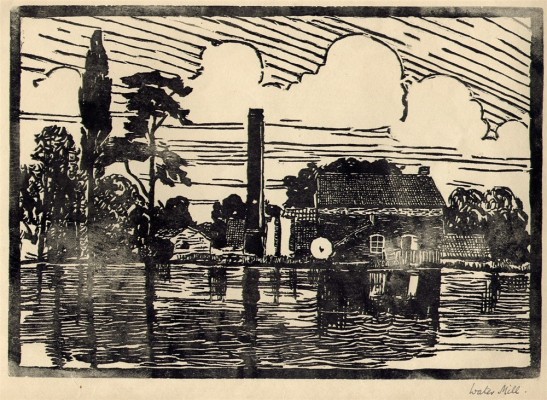 Easthorpe Mill from Bottesford Heritage Archive
Before the War
Katherine was born in Bottesford, Leicestershire on 12th July 1896 and baptised at St Mary the Virgin Church, Bottesford on 16th August 1896. In 1901 she was living at Easthorpe Mill, Bottesford with her father Arthur, miller and famer, mother Sarah, brother Arthur Bernard, 7, grandmother Elizabeth Maltby (Sarah's mother), Sarah Smith, cook and Mary Coy, housemaid. Her name is recorded as Doris K. Hickson.
In 1911 when she was 14, Katherine (known as Doris) was a pupil at the Abbey School, Malvern Wells.
During the War
The following information about Katherine Doris Hickson has been extracted from transcribed Red Cross Voluntary Aid Detachment records, available at www.redcross.org.uk
Katherine's home address was given as Easthorpe when she volunteered to serve as a Red Cross V.A.D. at Lamcote Auxiliary Hospital, Radcliffe on Trent on April 11th 1918. She served in the Notts 94 Division under the command of Claire Birkin as a Surgery, Ward and Pantry V.A.D., working a total of 2184 hours up to the completion of her employment on 16th April 1919.
Katherine's brother Arthur Bernard, who served with the 1/1st Lincolnshire Yeomanry, was killed on 3rd November 1915 on board the transport ship 'Mercian' near Gibraltar en route for Salonica. He was hit by a shell fired by a German submarine. Over one hundred men were killed in the attack.
In 1920 the Duke of Rutland sold a large amount of his land in Bottesford and Katherine's father took the opportunity to buy Easthorpe Mill where his family had been for one hundred and fifty years.
1921 Census
Address: The Mill, Bottesford
Employment: home
Household: father Arthur, flour miller, mother Sarah
After the War
In 1939 Katherine and her elderly parents were still living at Easthorpe Mill. Katherine's occupation was given as 'unpaid domestic duties'. She remained single and died on 13th July 1981, age 85. Her address at date of death was Greenway Court, Delhi Close, Parkstone, Poole, Dorset.