ALINE HOLT HALES 1900–1989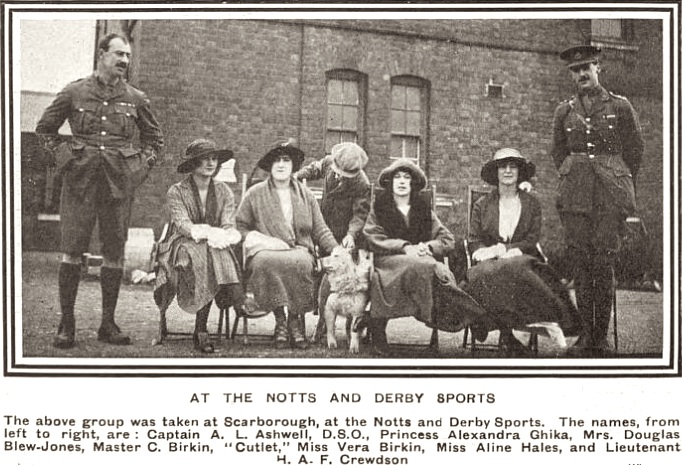 Photograph from the Tatler 8th September 1920. The woman second left is probably miss-identified as Mrs Douglas Blew-jones who was only 21 in 1920.
Before the War
Aline was born and grew up in the Rectory in Cotgrave, Nottinghamshire where her father John Percy Hales was a Church of England clergyman. She was baptised on 4th March 1900 at All Saints Church Cotgrave. In 1901 Aline was living in the Rectory with her father, mother Augusta Margaret and infant brother George.
The Rectory was recorded as having twenty rooms in 1911 and Aline, 11 was living there with her parents, brother George Frederick, 10, and sister Helen Margaret, 3. Also living in the household were a governess, nurse, cook, house parlourmaid, under housemaid and kitchen maid. Mary Browne was a visitor.
During the War
The following information about Aline Holt Hales has been extracted from transcribed Red Cross Voluntary Aid Detachment records, available at www.redcross.org.uk
When she was eighteen Aline began working with the Red Cross as a V.A.D. on 11th April 1918. She was a member of the Notts 94th Voluntary Aid Detachment led by Commandant Claire Birkin of Lamcote House. Aline served part time as a pantry maid and ward maid at Lamcote Auxiliary Hospital, working a total of 2270 hours until April 13th 1919. Her middle name is recorded as Hold on her V.A.D. card, but is Holt on the birth register.
1921 Census
Address: visitor at Brickey Ley, Nowton, Suffolk
Employment: none
Household: visiting Rowland  Holt Wilson, solicitor, and his wife Amy.
After the War
In 1929 Aline married Christopher Maddox Fordham at Gedling Parish Church, Nottingham and by 1930 they were living in South Collingham, near Newark. Their son Christopher was born in 1932 and son John in 1935. In the 1939 electoral register the family were living on Westfield Lane, Collingham, Newark. Aline's husband Christopher was a chartered land agent and surveyor, F.L.A.S., F.S.I., M.A. He was also a special constable and observer, agricultural war committee, Newark. Aline was engaged in unpaid domestic duties.
Aline died on 31st March 1989 age 89. Her address at date of death was Odsey Grange, Ashwell, Baldock, Hertfordshire.