PHILIPPA CONSTANCE HOWITT 1896–1976
Sister of Joyce Chambers Howitt.
Before the War
Philippa was born in West Bridgford, Nottingham in 1896. In 1901 she was living with her grandmother Emily Howitt at Long Acre, Bingham, Nottinghamshire. Also living there were Emily's daughters Hilda, 23, Dorothy, 20 and Maud, 16 and Elizabeth Thacker, general servant. Philippa's father Seward, fancy lace manufacturer, and mother Constance were living at 29 Fox Road, West Bridgford with Philippa's 8 month old sister Joyce.  Seward Chambers Howitt was the son of Emily Howitt (maiden name Chambers). Emily died in 1902. Her address was by then Elm House, Radcliffe on Trent.
By 1911 Philippa, 15, was a pupil at St Anne's College Church of England School for Middle Class Girls, Abbots Bromley, Rugeley, Staffordshire. Her parents and sisters Joyce, 10, and Ida, 2, were living at The Croft, Cropwell Butler.
During the War
The following information about Philippa Constance Howitt has been extracted from transcribed Red Cross Voluntary Aid Detachment records, available at www.redcross.org.uk
Philippa volunteered to serve as a Red Cross V.A.D. in the Notts 94 Division under the command of Claire Birkin of Lamcote House, Radcliffe on Trent. Philippa's home address was The Croft, Cropwell Butler. She served firstly at Arnot Hill Auxiliary Hospital, Daybrook, Nottingham (no date specified on her Red Cross card), then as a pantry maid at Lamcote Auxiliary Hospital in Radcliffe on Trent, working there part time for a total of 2009 hours from 11th April 1918 to 16th April 1919.
After the War
Philippa married Joseph William Pell in 1920 in Bingham district. He was a Lieutenant in the Sherwood Foresters during the War. His brother Harold Whitt Pell was killed at the Battle of the Somme.
1921 Census
Address: 112 Radcliffe Road, West Bridgford
Employment:  home
Household: husband Joseph William Pell, Civil Engineer, Notts County Council, servant Betsy Louth
Philippa and Joseph's daughter Fay Pauline was born in 1921 in Basford district and son Peter in 1924.
In 1939 the family were living at Bute Cottage, Hollingbourne, Kent. Joseph's occupation was that of highway surveyor. Daughter Fay was a student.
Joseph died on 22nd December 1951 in Flawborough and is buried in Holme Pierrepont churchyard.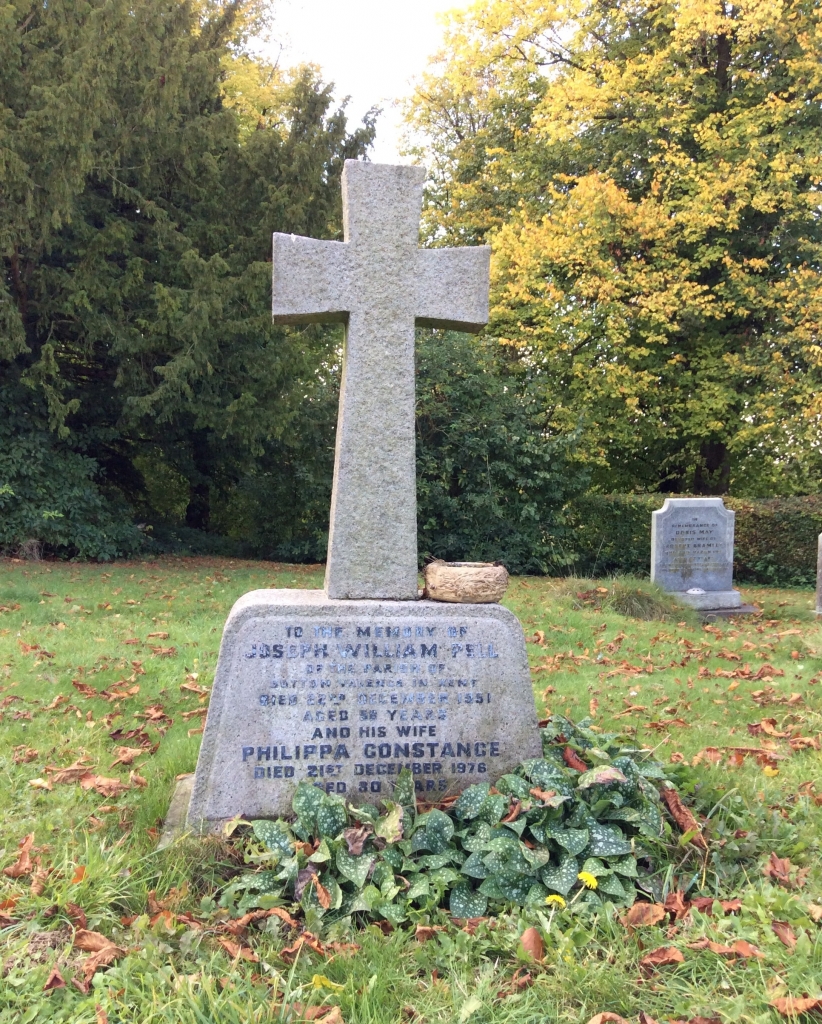 Philippa, 80, died on 21st December 1976. She was living at 'Busti', Chart Road, Sutton Valence, Kent at date of death.