JOHN FILLINGHAM BISHOP 1891–1963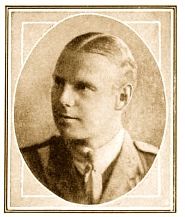 Photographs Tatler 23 November 1921
Born 21st November 1891, Radcliffe on Trent
Baptised 30th Dec 1891 at St Paul's Church, Nottingham
Married 1929 to Florence Dean, Chelsea, London
Died 14th December 1963, Hove, Sussex, age 72
1891 Census
Prior to his birth, the Bishop family were living at 6 Cropwell Rd, Radcliffe on Trent.
1901 Census
Age 9, living with parents John and Mary and sister Violet (10) on Cropwell Rd. Father, born 1859 was a lace manufacturer.  His mother's maiden name was Mary Blessard Crowshaw. The family had two live-in servants.
He was educated at Uppingham School, as was Vera Brittain's brother.
1911 Census
Age 19, he was working as an auctioneer's clerk.  Father now a cigar importer. Family were living in Cropwell Rd (opposite Albert Street) with two servants.
Military Service
Rank: 2nd Lieutenant, previously private
Service Number: R2867 (Kings Royal Rifle Corps)
Military Unit: 1st/7th (Robin Hood) Battalion, The Sherwood Foresters, 139th Brigade, 46th (North Midland) Division. Previously 9th Battalion, Kings Royal Rifle Corps
Theatre of War: France and Flanders, date of entry 21.5.15.
Height 5ft 10ins, weight 154 lbs, fresh complexion, blue eyes, fair hair. Very good physical development. Religion Church of England.
6.9.1914: Enlisted in the ranks Kings Royal Rifle Corps on  number R2867, age 22 years 11 months. Served with D Company, 9th Bn K.R.R.C , British Expeditionary Force, then as an officer with The Sherwood Foresters.
20.9.15: Commissioned as 2nd Lieutenant
29.9.1915: 2nd Lieut. 1st/7th (Robin Hood) Battalion, The Sherwood Foresters
28.6.1916: Joined Battalion at Bienvillers
1.7.1916: Reported missing at Gommecourt on the first day of the Battle of the Somme, subsequently shown to be Prisoner of War. He was wounded in the right shoulder and both legs by shrapnel from a grenade. The 1/7th Sherwood Foresters (Robin Hoods) were involved in a divisionary attack on the front line north of Albert.
The following information was extracted from "The Robin Hoods", 1/7th, 2/7th & 3/7th Battns., Sherwood Foresters, 1914-1918, by Officers of the Battalions
The village of Gommecourt is situated north of the Somme, almost mid-way between Arras and Albert. It was held by the Germans during the whole of the long period of fixed trench warfare from the beginning of 1915 until they were driven out in the Spring of 1917. The Robin Hood Rifles together with the Sherwood Foresters were allotted the task of attacking from the north.
The Robin Hoods paraded by platoons at 2 p.m. on June 30th 1916 and marched from Bienvillers to Fonquevillers. The guns, which had been active during the past ten days, now fired incessantly as the battalion plodded its way through a sea of mud. The attack was ordered in five waves, the first four waves consisting of A, B and C companies. The 5th wave was with D company, a carrying and digging company. At 7.30 a.m. (zero-hour) the first wave moved out of the newly-dug advance trench and the second wave out of the old front line. The enemy opened with a heavy and accurate shell and machine gun barrage on our front line and wire, which practically annihilated the third and fourth waves. Out of the leading waves only twelve men reached the German second line. Casualties given in the Official History of the Great War were 409 out of an attacking force of 536. The remaining men withdrew to Bienvillers area.
Lt J.F. Bishop had managed to enter the German trenches and shot four of the enemy with his revolver. He continued bombing until he was wounded and was then taken prisoner. He was identified as a Prisoner of War in the British press in August as the following extract from the Derby Daily Telegraph Aug 11 1916 shows:
Not missing but a prisoner of war:
Second lieutenant J. F. Bishop of The Sherwood Foresters, who has previously been reported missing, is a prisoner of war in Ingolstadt Camp, Bavaria. His home is in Radcliffe on Trent.
His capture was also noted by the International Red Cross.
Ingolstadt POW camp was situated in forts 8,9 and 10 of large city fortifications built in the nineteenth century. It became notorious for escape attempts among officers. The most famous prisoner attempting an escape was Charles de Gaulle; he was later moved to a fortress at nearby Regensburg on the Danube. Fort 9 at Ingolstadt was reserved for officers who had all tried to escape and been recaptured. There were only two ways out of fort 9 – across the moat or through the gatehouse. It is not known whether John Bishop participated in the many ingenious escape attempts that were made by British officers, the most successful one was by Alfred John Evans of the Royal Flying Corps.
18.11.1918: John Fillingham Bishop was repatriated
20.1.1919: Examined at 5th Northern General Hospital, Leeds
He had several subsequent medical boards regarding his wounds in the spring of 1919.
23.4.1919: Leave
26.4.1919: Discharged
14.9.1920: Resigned his commission
Medals Awarded: 1914-1915 Star, British War and Victory.
Military Personnel Address on 1918 Electoral Register
Cropwell Road, Radcliffe on Trent
1921 Census
Address: Cropwell Road
Employment: clerk, F Mitchell Motor Car Engineers
Household: father John, lace manufacturer, mother Mary, sister Violet, domestic servants, Elizabeth Pave and Edith Murdon
Radcliffe on Trent Local History Society
1922 Electoral Register
Address: Cropwell Road, Radcliffe on Trent
Living with parents
1939 Register
Address: Cropwell Road, Radcliffe on Trent
Employment: volunteer (assisting) military orders
Household: living with sister Violet and mother Mary
Other information
His sister Violet Bishop worked for the Red Cross during the war as a V.A.D. nurse. She was at Lamcote House Auxiliary Hospital for officers, Radcliffe on Trent, commandant Claire Birkin.
John Fillingham Bishop was a keen sportsman and played cricket for Notts. County and Radcliffe on Trent cricket club after the war.
Father is in Wright's directory. He died in 1924 and is buried in Radcliffe on Trent cemetery. The National Probate Calendar suggests that John Fillingham Bishop would have inherited a considerable amount of money. He is listed as 'gentleman' in the Calendar.
Reasons for inclusion on Radcliffe on Trent Roll of Honour
Lived in Radcliffe on Trent.