MARY CECILIA BETHUNE 1895–1983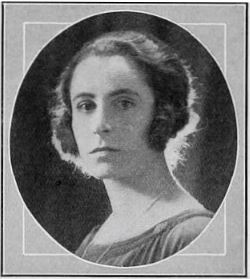 Photograph from Tatler 6th May 1925
Before the War
Mary was born on 5th April 1895 and baptised on 4th May 1895 at the Parish Church in Heslington, Yorkshire, the daughter of Edward Cecil and Mary Lilian Bethune. Edward's occupation was given as 'Gentleman, Captain in Carabiniers'. The Carabiniers were a cavalry regiment, the 6th Dragoon Guards.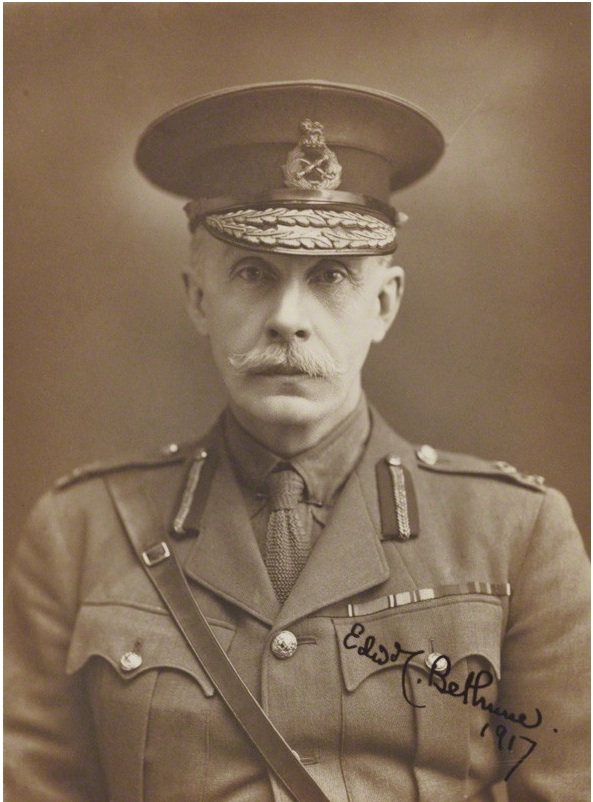 National Portrait Gallery
Lieutenant-General Sir Edward Cecil Bethune, KCB, CVO
Mary's parents married at Ootacamond, Madras in India on 25th October 1890 while Edward was stationed there. Their son Edward was born in India but died in infancy on 9th February 1894. Mary's father was a career soldier, gaining a commission in 1875 when he was 20, and serving in Afghanistan, India, South Africa and the U.K. He served throughout World War One and retired in 1920 after 45 years, with the rank of Lieutenant-General. He was appointed a Commander of the Royal Victorian Order (CVO) in 1909 and a Knight Commander of the Order of the Bath (KCB) in 1915. He became Director General of the Territorial Force in 1912.
It has not been possible to trace any record of Mary in the 1901 or 1911 censuses. Her father was serving in the Second Boer War from 1899-1902, so it is possible that she and her mother may have been in South Africa during that time.
During the War
The following information about Mary Cecilia Bethune has been extracted from transcribed Red Cross Voluntary Aid Detachment records, available at www.redcross.org.uk
Mary volunteered to serve as a Red Cross V.A.D. in the Warwickshire branch during the War, working firstly at Newnham Paddox Auxiliary Hospital, Lutterworth. Her home address was 41, Collingham Place, London. She served full time as a nurse at Newnham Paddox hospital from July 15th to July 30th 1916; September 20th to December 4th 1916; December 20th 1916 to March 7th 1917; May 24th to September 10th 1917. Mary lived in and was unpaid. The hospital was also known as Lady Denbigh's hospital. Rudolph Feilding, 9th Earl of Denbigh and his wife Lady Cecilia Denbigh lived at Newnham Paddox and opened it as a hospital on 8th February 1916. It appears to have been closed for a time during the first months of 1918, as according to an item in The Sketch on 27th March 1918, Mary was working as a V.A.D. at Chelsea Hospital 'prior to resuming her duties at Lady Denbigh's hospital when it reopens.'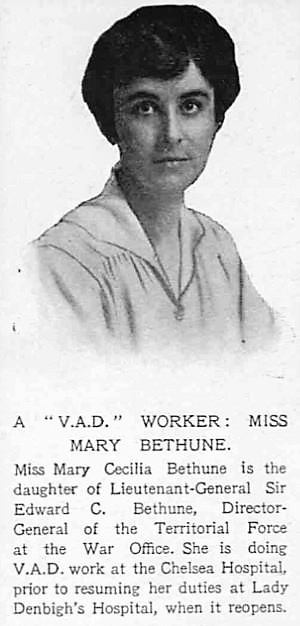 Mary Bethune, The Sketch 27th March 1918
Mary worked half days at Chelsea V.A.D. Hospital, 13 Grosvenor Crescent, London, S.W., from January 1st 1918 to 31st March 1918. From there she returned to Newnham Paddox Hospital where she served full time from April 8th to July 8th 1918.
Mary's Red Cross V.A.D. card does not give a date, but at some point after July 8th 1918 Mary came to Radcliffe on Trent to serve as a nurse at Lamcote Auxiliary Hospital for Officers, which was the home of Lt. Colonel and Mrs. Birkin. Lamcote Hospital opened in April 1918 and ceased to function as a hospital in April 1919. Mary was still serving there when her Red Cross card was completed.
1921 Census
Address: Collingham Place, Kensington
Employment: None
Household: father Edward, mother Mary and 3 domestic servants
After the War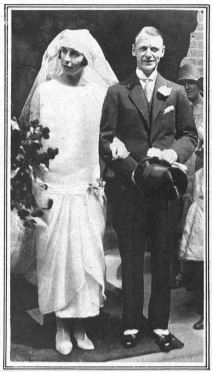 Photograph 

The Sketch, 22nd July 1925
In 1925 Mary married Dr Gerald Evan Spicer, 35, of Belair, Gallery Road, Dulwich, son of Sir Evan Spicer, paper magnate and Chairman of London County Council. Gerald served with the 107th Field Ambulance, Royal Army Medical Corps during the War. He was awarded the Military Cross in 1919. The citation was published in the Supplement to the London Gazette 4th October 1919:
'He was in charge of a detachment of bearers during the operations around Moorseele from 14th to 17th October 1918. He worked unremittingly throughout, establishing posts for the collection of wounded and going up to the regimental aid posts, and on occasions forward of these posts, frequently under heavy shell and machine-gun fire. Owing to his gallantry and tireless devotion to duty the wounded were rapidly and successfully evacuated.'
After their marriage Mary and Gerald moved to Fifield House, St Albans, Herts, where Gerald had been a general practitioner since 1921. Mary and Gerald had two sons: Bruce Evan born 1927 and David B. born 1931, both born in St. Albans.
'In 1939 Mary and Gerald were still living at Fifield House. Mary is listed as a housewife and A.R.P. (Air Raid Precautions) warden, and Gordon as a medical practitioner and A.R.P. warden. Also living there were Ronald Fraser, surgeon, and his wife Betsy, Minnie Tingey, cook, Kate Morris and Mary Goodwin, domestic workers (housework).'
Mary's husband Gerald died on 9th July 1976. The following obituary is from the British Medical Journal 18th September 1976: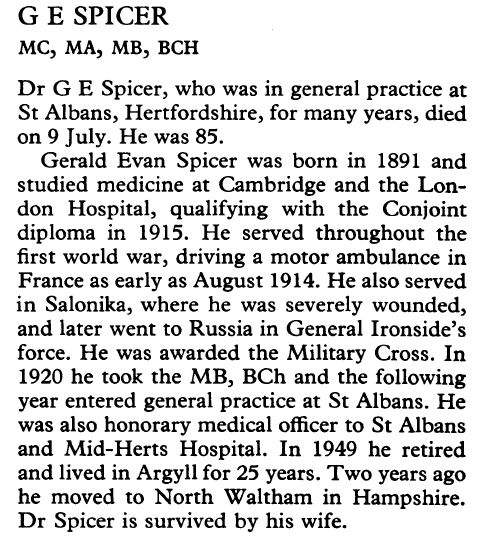 Mary died on 25th October 1983 in Winchester, age 88.