CHARLES SAMUEL WIGHTMAN PIKE
1882–1917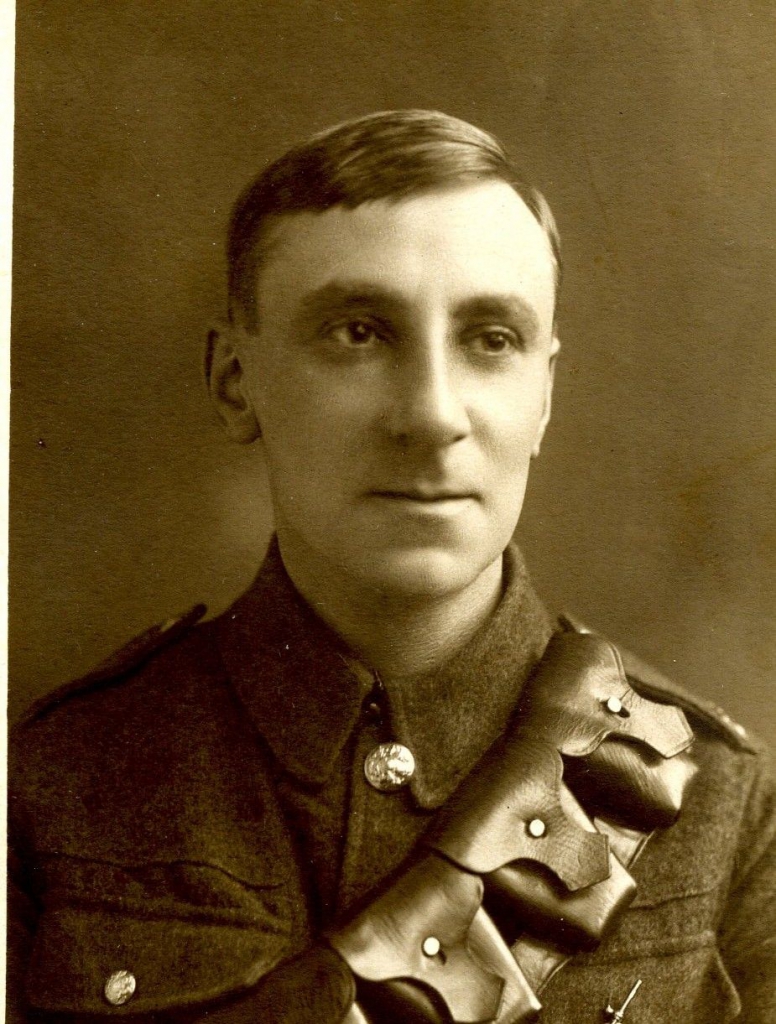 Photograph from family collection
Born 26th December 1882, Radcliffe on Trent and baptised at St Mary's Church, Radcliffe on Trent on 4 February 1883.
Married at St Mary's Church, Radcliffe on Trent on 14th March 1911 to Agnes Foster schoolteacher. She was sister of Owen and Frank Foster who both served and survived
Children Dorothy Mary, born 30th December 1911 and Richard Henry, born April 15th 1913 in Radcliffe on Trent.
Brother of Fred, John (Jack), Tom and Dorothy
Died of wounds 10th October 1917
Buried at Solferino Farm cemetery, West-Vlaanderen, Belgium. grave ref: 1.A.6.
Commemorated on Radcliffe on Trent War Memorial, plaque in St Mary's Church
Date of death, October 10th 1917, is verified officially on Charles Wightman Pike's military service records. October 10th is also the date stated on the telegram sent by the War Office Department dealing with battle casualties to R.G.A. records in Dover. However, his death is recorded as October 9th on his gravestone and on the Commonwealth War Graves Commission website .
1891 Census
Age 8, living on Cropwell Road, Radcliffe on Trent, with father Henry, a carpenter, mother Sophia and his brothers Fred and John.
1901 Census
Age 18, living on Albert Street, Radcliffe on Trent, with father Henry, a carpenter, mother Sophia and his brothers Fred, John and Tom who all served in WW1. Occupation solicitor's clerk.
1909
Appointed secretary of Radcliffe on Trent Golf Club, which opened in 1909.
1911 Census
Age 27, living on Walnut Grove, Radcliffe on Trent, with wife Agnes. Occupation, law clerk
1914 Electoral Register
Living on Albert Street, Cropwell Road, Radcliffe on Trent
Military Service
Rank: Gunner
Service Number: 113807
Military Unit: 232nd Siege Battery, Royal Garrison Artillery
Theatre of War: France and Flanders, date of entry 19.1.17. Total war service abroad 9 months.
Attested: 10th Dec 1915 in Radcliffe on Trent
Age: 32 years 11½ months
Address: Albert Road (Street), Radcliffe on Trent. Occupation: Cashier at date of enlistment. Height 5ft 7ins, chest 34½ins
11.12.15: To Army Reserve
14.8.16: Mobilised and posted
22.8.16: Posted to Royal Garrison Artillery
14.8.16: Change of rank from private to gunner
2.9.16: Posted to 232 Siege Battery, R.G.A
18.1.17: Embarked Southampton
19.1.17: Disembarked Le Havre, France
9.10.17: To 18th Corps main dressing station (wounded)
10.10.17: Died of wounds, XVIII Corps Main Dressing Station, France
14.10.17: A telegram from the War Office, London to R.G.A. Records Dover states that he died from gun shot wounds to the head. This information is also given on his army service record. Arrival reports at casualty clearing stations often described injuries as G.S.W. (gunshot wound). If the man survived, medical boards would clarify whether the wounds received were from shrapnel, shells or bullets.
15.5.19: Statement of the names and addresses of relatives of the deceased verified by Tom Pike (brother) and Rev. R. Cecil Smith.
Medals Awarded: British War and Victory. Received 19.6.22 and signed for by H. Pike.
Go to WWI Timeline to see how this man's death is part of the wider story of the war.
See also the 'Letters' page to read his letters from the front. This section also includes letters from fellow servicemen regarding his death and letters from his family.

Other Information
The 232nd Siege Battery fought at the Battle of Vimy Ridge, April 9-12th.
Charles Pike died at Elverdinghe, Belgium during the 3rd Battle of Ypres (Passchendaele).
Personal effects sent home were letters, photos, religious book, cards, wallet, photo wallet, metal cig. case, Ingersoll watch, scissors, alum, string (?) knife, electric torch, leather purse, camphor cube, hanky (?), gold pen nib, 2 coins. The effects were signed for by Agnes Pike on 2.5.18.
On 23rd April 1918 his wife Agnes was awarded a pension of 22 shillings 11 pence per week for herself and her two children.
Agnes died of influenza on 28th December 1918. Their daughter Mary was sent to live with her maternal aunts and never recovered from the death of her parents. Edith Foster, Agnes' sister received a pension as guardian of Mary until Mary's 21st birthday. Their son Dick lived with his paternal grandparents and his aunt at Lincoln House. He served in WW2 in the Royal Signals (Airborne) and was Mentioned in Despatches in 1945 for service during the Arnhem offensive.
Reasons for inclusion on the Radcliffe on Trent Roll of Honour
Born and lived in Radcliffe on Trent.
From UK DeRuvigny's Roll of Honour 1914-1924 
This account of Charles Wightman Pike's death includes quotes from a letter written by Major W. Blythe ('No words of mine …'). The original copy is held in a private family collection. The location of death is given as Pilkem Ridge which, although in the vicinity, was not the precise location of Pike's death. The original copy of the eye witness account by an officer of how he received his injuries ('At about 4 p.m. he was assisting a comrade …') has not been found.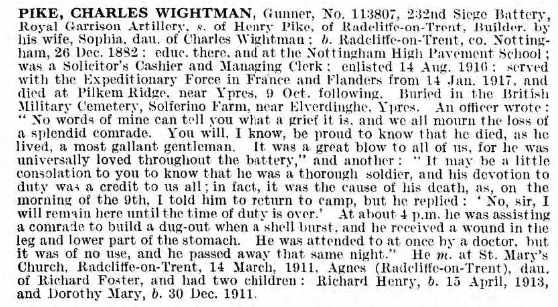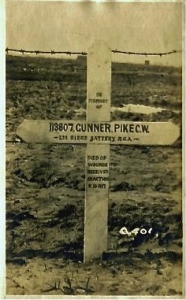 Original wooden cross marks his temporary burial site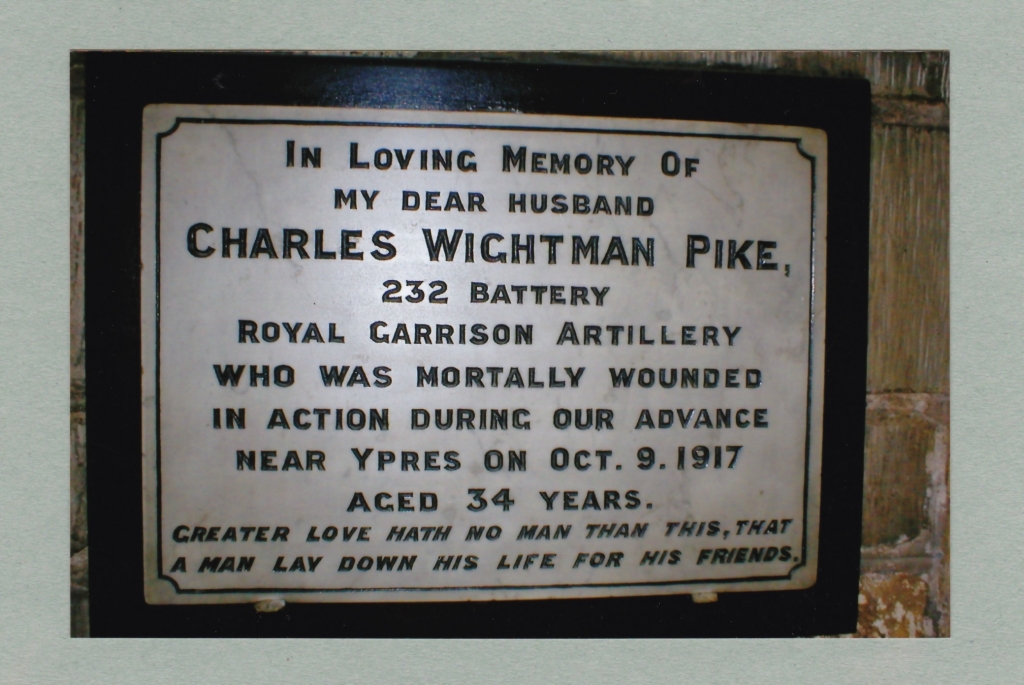 Plaque in St Mary's Church, Radcliffe on Trent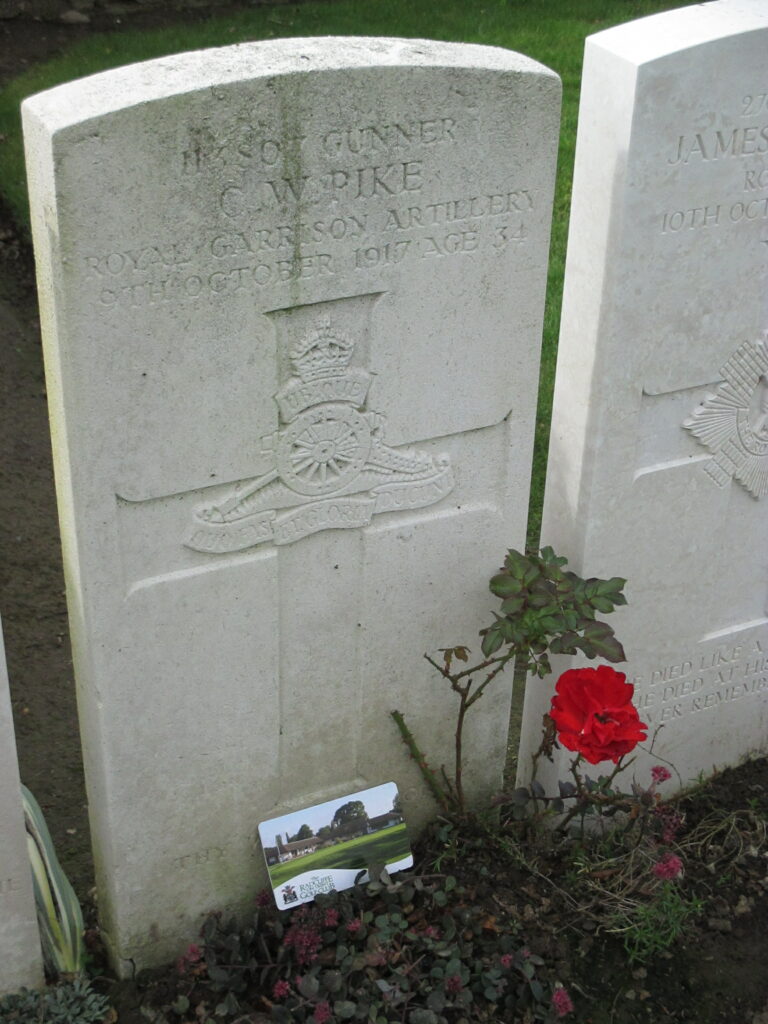 Photograph courtesy of Nigel Flower – grandson of Herbert Flower
He placed a Radcliffe Golf Club scorecard by Charles grave when he visited Solferino Farm Cemetery