JOHN HARRY PIKE 1889–1949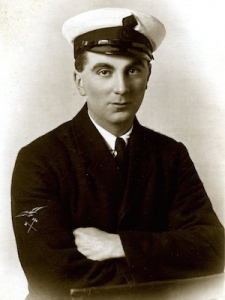 Photograph from family collection
Born 29th March 1889 in Radcliffe on Trent
Baptised 28th April 1889 St Mary's Church, Radcliffe on Trent
Married on 11 December 1912 to Kate Stafford (sister to Rosa Stafford who married Herbert Sudbury Smith) at St Mary's Church, Radcliffe on Trent, three children, Marie Elizabeth, known as Betty, born 9 October 1913, Jack Roberts, known as Bob, born 25 March 1918 and John born 1928.
Died 5 December 1949, age sixty and is buried in the cemetery at Radcliffe on Trent.
Known as Jack.
Brother of Charles, Fred and Tom Pike.
1891 Census
Age 2 living on Cropwell Road, Radcliffe on Trent with father, Henry 31, mother, Sophia 33, and brothers Charles 8 (killed in 1917) and Fred 6.
Radcliffe on Trent School Register
Admitted 21 March 1892
1901 Census
Age 12 living on Albert Street, Radcliffe on Trent with parents, and brothers Charles, Tom, and Fred. Grandfather Sam and grandmother Harriett lived next door.
1911 Census
Age 22 a joiner living on Albert Street with father Henry, a joiner and builder, mother Sophia, brother Tom and sister Dorothy 9.
Military Service
Royal Naval Air Service from 1916, then RAF from April 1st 1918
Service number: F24405, 224405 (RAF)
Enlisted:  30th Nov 1916, occupation joiner
Height 5 ft 9ins, chest 37 ins, hair dark brown, eyes brown
30.11.16: HMS President II, Crystal Palace to 14.4. 1917. The ship was an on shore establishment for training.
15.4.17: RNAS Killingholme (base for seaplanes on Humber estuary), Lincs, acting air mechanic I(c)
(According to brother Charles' letters, Kate and daughter went with him and he was considering training as a pilot and trying for commission.)
10.5.18: Transferred from Killingholme to RAF Westgate, Kent (base for seaplanes), was also transferred to the RAF, acting air mechanic 2
27.7.18: Transferred from RAF Westgate to I.(S) (instruction school) M.A.D. Reclassified as air mechanic I
24.1.19: From I (S) M.A.D. to demobilisation at Harrowby Dispersal Centre, Lincs
Medals Awarded: ineligible for campaign medals because he served in the U.K.
Military Personnel Address on 1918 Electoral Register
Lincoln Grove, Radcliffe on Trent
1921 Census
Address: Lincoln Grove, Radcliffe
Employment: Building Contractor
Household: wife Kate, daughter Marie Eliabeth (Betty), son Jack Roberts (Bob)
Other Information
Father's company in Wright's directories
1922 Electoral Register
Address: Lincoln Grove
Household: Living with wife Kate Ethel.
1939 Register
Address: 'Roberta',  Cropwell Road, Radcliffe on Trent
Occupation: Company Director
Household: Living with wife Kate and daughter Marie, known as Betty, a chemist audit clerk and son John, at school..
Reasons for inclusion on Radcliffe on Trent Roll of Honour
Born and lived in Radcliffe on Trent.