OWEN DUDLEY FOSTER 1892–1970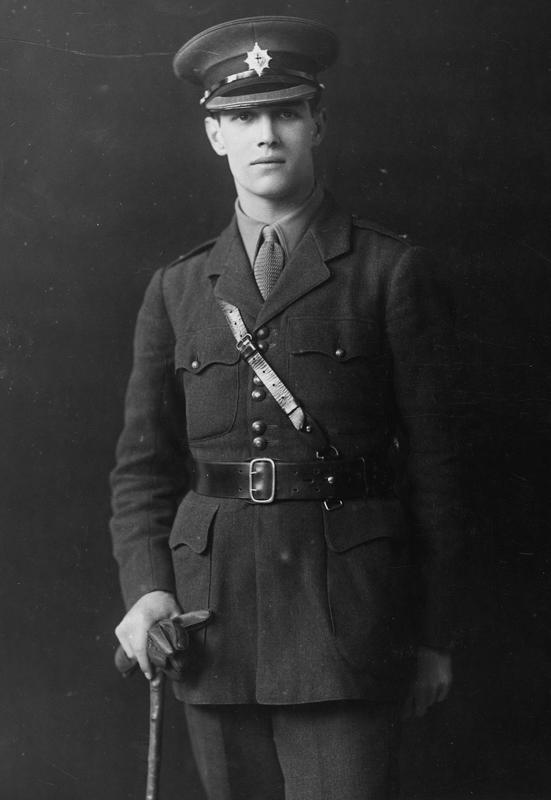 IWM Photographic collection
Brother of Frank and Agnes (married name Pike)
Born 8th June 1892 in Radcliffe on Trent.
Baptised 3rd July 1892 at St Mary's Church, Radcliffe
Married 1936 to Doris Edith Morrell at Westminster
Died 17th January 1970, age 76, London
Holme Pierrepont gravestone gives rank as Captain
Radcliffe School Register
Admitted: 13 May 1895, admission number 1260
1901 Census
Age 8 and living with father Richard, 50 a cattle dealer born in Radcliffe on Trent, mother Louisa, 40, born in Doncaster, brothers Charles 14, Frank 3 and sisters Edith 10, Mary Dudley 6, Florrie 5 and Agnes 12 all born in Radcliffe on Trent. They lived on Bolton Road (Terrace), Radcliffe on Trent.
1906 Pupil at Bedford Grammar School (public school) and a member of the school's officer training corps (OTC).
 1911 Census
Age 18 employed as a solicitor's clerk living with father Richard, 60 a cattle dealer and mother Louisa, 50, brothers Charles, 24 an insurance clerk, Frank 13 at school and sisters Edith, 20 a dressmaker's assistant, Mary Dudley, 16 domestic duties and Florrie 15 a milliner's assistant. They lived in a 6 roomed house on Bolton Road (Terrace), Radcliffe on Trent.
Military Service
Rank:  Lieutenant
Military Unit: 2nd Battalion (Special Reserve) Coldstream Guards, 1st Guards Brigade, Guards Division, formerly The Sherwood Foresters, previously Kings Royal Rifles
Theatre of War: France and Flanders, date of entry 2. 9. 1915
6.9.14: Enlisted in Nottingham. Age 22, occupation law student, height 5ft 10ins, weight 135 lbs, physical development good. Rank corporal, assigned to the 9th Bn, D Coy Kings Royal Rifles, service number R2975. He enlisted on the same day as John Fillingham Bishop from Radcliffe on Trent who was also asssigned to the 9th Bn. K.R.R.C.
14.1.15: In training at Petworth, Sussex. Applied for a commission.
8.2.15: Commissioned as temporary 2nd Lt, The Sherwood Foresters.
9.2.15:  Gazette entry re commission
2.9.15: Disembarked in France. His military service record indicates he was with the 2nd Bn, The Sherwood Foresters, although the reference to his battalion only appears on one page. Service number 61289.
6.11.15: In his application papers for a commission, states ' I have a public school education (Bedford) and was also educated privately at Versailles'.
9.11.15: Recommendation for a permanent commission approved by Colonel W. Murray Threipland, 1st Guards Brigade.
26.10.16: In command of escort No. 25 Prisoner of War Company. From 1916, the British Army used prisoners of war to work alongside the Labour Corps to unload supplies at ports, etc.
19.7.17: He puts forward an official request to be appointed to the Coldstream Guards. Reference concerning his 'good moral character' over the past ten months given by Major ? (Illegible on record), No. 25 P.O.W. Coy.
21.8.17: appointed 2nd Bn Coldstream Guards (Special Reserve). It is not clear from his service record whether he remained in France from this point or served in England.
25.10.19: Demobilised in London, dispersal unit Crystal Palace
1.4.20: Relinquished commission, retained rank of Lieutenant
1.10.20: Gazette entry announcing relinquishment of commission
Medals Awarded: 1914-1915 Star, British War and Victory, on 2.11.1921, sent to Guards Club, Brook St, London W1 (National Archive WO339/32500)
Military Personnel Address on 1918 Electoral Roll
Bolton Terrace, Radcliffe on Trent
1921 Census
Address: one of 12  visitors at Heatherden Hall, Iver Heath, Bucks
Employment: Army officer
Household: House owned by Lt. Col. Walter Grant Morden, a Canadian financier, and Member of Parliament, 12 visitors and 12 servants
After the War
Travelled 1st Class to Tangier in March 1924 with Cecil Charles Norman Colborne Higgins (1856-1941), a brewer and collector, who was involved in food distribution during WWI. Owen Dudley Foster and Cecil Higgins gave the same address in London – 9 Queen Anne Street, Cavendish Square which was Higgins' home. Cecil Higgins made several more trips abroad after 1924, his destinations included Egypt, Argentina and Jamaica. He was usually accompanied by a male valet.  Owen Foster's movements are not known following the trip to Morocco until he arrived in London from Brisbane, Australia on 8th February 1935. The London Electoral Registers show him living in rooms at 31 Berkeley Street, London W.1 in 1935 then phone directories show him at 3 Connaught Square, London between 1937 and 1941. In 1935 he travelled to Colombo, Ceylon (Sri Lanka) then in 1937 Owen and his wife Doris travelled to Kingston, Jamaica. Doris died 30th January 1941 at Evelyn Nursing Home, Cambridge, age 42 and is buried in Cambridge. Her address at the time of burial was 3 Connaught Square, London.  Cecil Higgins also died in 1941. The bulk of his money was used to establish the Cecil Higgins Art Gallery, Bedford Museum and Bedford Gallery – see http://www.thehigginsbedford.org.uk
Owen Foster was living alone at 2 Oxford Square, London between 1950 and 1960. By 1961 he had moved back to Connaught Square but was now living at number 24. His title in the telephone directory of 1966 is Captain. Connaught Square today remains a prestigious address; Owen Foster came from an average income middle class family in Radcliffe on Trent. Our research has not yet established whether he had an occupation after the war.
From the 1939 Register
Address: Upper Berkeley Street, Marylebone (an earlier address. Phone books show him living at 3 Connaught Square, London in 1939)
Occupation: living on private means
Reason for inclusion on Radcliffe on Trent Roll of Honour
Born in Radcliffe on Trent and had a home address in the village until after WWI.