FRANK FOSTER 1897–1986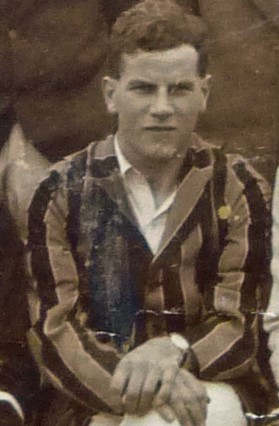 Photo from Cutler collection showing Frank as a member of Radcliffe Cricket Club, 1922
Brother of Owen
Born 17th November 1897 in Radcliffe on Trent
Baptised 6th February 1898, St Mary's Church, Radcliffe on Trent
Married 3rd September 1930 to Milbra C. C. Devey – no children
Married 1938 to Doris Marjory Stray, two sons: Michael born 1940, Richard born 1942 in Nottingham.
Died October 1986, age 88
1901 Census
Age 3 and living with father Richard, 50 a cattle dealer born in Radcliffe on Trent, mother Louisa née Dudley, 40, born in Doncaster, brothers Charles 14, Owen 8 and sisters Edith 10, Mary Dudley 6, Florrie 5 and Agnes 12 all born in Radcliffe on Trent. They lived on Bolton Road (Terrace), Radcliffe on Trent.
Radcliffe on Trent School Register
Admitted to local school 2 June 1901, admission number 1582.
1911 Census
Age 13 at school living with father Richard, a cattle dealer, mother Louisa, and brothers Charles, an insurance clerk, Owen, a solicitor's clerk and sisters Edith, a dressmaker's assistant, Mary Dudley, domestic duties and Florrie a milliner's assistant. They lived in a house with six rooms on Bolton Road (Terrace), Radcliffe on Trent.
Military Service
Rank: Signaller
Service Number: 165708
Military Unit: C Battery, Royal Field Artillery, 277 Brigade (from 4.3.17), previously 3rd Reserve Battery
Theatre of War: France and Flanders, date of entry 15.2.17. Total war service abroad 1 year 8 months
Enlisted: 18.11.15
Age on enlistment: 18. Occupation: Insurance Clerk. Next of kin: Richard Foster, father,  Bolton Terrace Radcliffe on Trent. Height, 5ft 6¾ins, weight: 131½ lbs, girth 35ins, R of Exp 2½ ins. Distinguishing marks, mole on left cheek. Religion: Church of England.
4.9.16: Mobilized at Newcastle upon Tyne
6.9.16: Posted no.1 Depot RFA, Newcastle on Tyne, Gunner
8.12.16: Tonsillitis 4 days
25.1.17: Qualified as first class signaller
15.2.17: France
4.3.17: Posted C/277 AFA Brigade
5.1.18: 15 days leave to UK
Wounded
26.3.18: Admitted ICT (inflammation of connective tissue) legs and buttock
4.5.18: Discharged to Base
13.5.18: Admitted 2 General Hospital, Havre, with tonsillitis
26.5.18: Admitted 4 Convalescent Depot
11.6.18: Discharged to Reinforcement Camp, Havre
7.7.18: Joined from 2nd Army Reinforcement Camp and posted to Field
7.10.18: Home. In 3rd Western General Hospital with suspected dysentery
Letter from Mrs Pike, Cropwell Road, Radcliffe on Trent dated 19 June 1917
Dear Sir,
Can you give me any information concerning my brother Signaller Frank Foster, 165708, C Battery, 277 Brigade RFA from whom we have not heard lately,
Yours truly,
Mrs C W Pike. (wife of Charles Wightman Pike, see his biography).
Wounded and illness: Medical record
Great Western General Hospital Cardiff 7 October 1918 – 2 December 1918 with dysentery. Pain in abdomen – some diarrhoea with some blood present. Has had an attack of tonsillitis- now fit clinically. Wounded 26 March 1918 but remained on duty.
Medals Awarded: British War and Victory, which he received October 27 1921.
Military Personnel Address on 1918 Electoral Register
Bolton Terrace, Radcliffe on Trent, with brother Owen and father Richard
1921 Census
Address:  Bolton Terrace, Radcliffe
Employment: Insurance clerk, Northern Assurance, Victoria Street, Nottingham
Household: father Richard, retired, sisters Edith and Florrie, shop assistant, Skinner and Rook, Long Row, Nottingham and orphaned niece Dorothy Pike.
1939 Register
Unable to find
Reasons for inclusion on Radcliffe on Trent Roll of Honour
Born and lived in Radcliffe on Trent.