FRED WIGHTMAN PIKE 1885–1953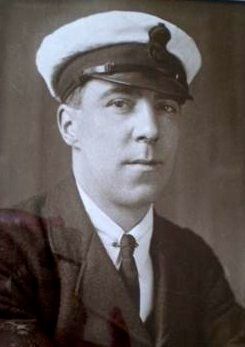 Photograph from family collection
Born 3rd July 1885 in Radcliffe on Trent
Baptised 26th July 1885  St Mary's Church, Radcliffe on Trent
Married 24 August 1910 to Harriett Kirkham at St Mary's Church, Radcliffe on Trent. Three children, two daughters, Kathleen Mary born 13 July 1911 and Frida Joan born 29 May 1913 and still alive in 2022 and son Samuel Edward Pike born 28 January 1920 killed 1942 in WW2 (on Radcliffe on Trent memorial).
Died 25 November 1953 and is buried in the cemetery at Radcliffe on Trent
Brother of Charles, John (Jack) and Tom Pike.
Radcliffe on Trent School Register
Started school 11.6.1888
1891 Census
Age six, living on Cropwell Road, with father Henry thirty-one, mother Sophia thirty-three and brothers Charles, eight, and Jack, two.
1901 Census
Age 16 a carpenter's apprentice living on Albert Street, Radcliffe on Trent, with father Henry and mother Sophia, brothers Charles (killed in war), John (known as Jack), and Tom. Grandfather Sam and grandmother Harriett live next door.
1911 Census
Age 26 living on Albert Road (Albert Street) with wife Harriett, working as a joiner with family contracting business.
Military Service
Service number: 225344
Military Unit Royal Naval Air Service, then RAF from April 1918
9.1.17:  Entered Royal Naval Air Service as air mechanic
Height 5ft 6ins chest 37½ins, hair dark brown, eyes brown, complexion fresh
Trade classification:  Rigger (Aero)
30.1.17: HMS President II Crystal Palace
26.2.17 from President 11 to RNAS Chingford Aerodrome, from Feb to May 1917
3.5.17: Transferred from Chingford  to Eastbourne.  Address 48 Fairlight Road, Eastbourne.
When he was at Eastbourne, he was living with his wife and two daughters. One daughter only died 2022 and remembers their "digs". It is likely that he worked at the Eastbourne Aviation Company (EAC), which was a RNAS training centre for pilots and a seaplane factory. The EAC was situated between Eastbourne and Pevensey Bay.
1.4.18: Transferred to Royal Air Force, acting air mechanic I(c) remaining at Eastbourne.
9.1.19: From Eastbourne to demobilisation at Clipstone Camp, Notts.
7.2.19: Transferred to R.A.F. Reserve
30.4.20: Discharged
Medals Awarded: ineligible for campaign medals because he served in the U.K.
Military Personnel Address on 1918 Electoral Register
Albert Road (Street), Radcliffe on Trent
1921 Census
Address: Albert Street, Radcliffe
Employment: Builder and Contractor, London Road, Nottm
Household: wife Harriett, daughters, Kathleen and Freda Joan, and son Samuel Edward (Ted)
Other Information
When he returned from WWI, he built his house and several others in Radcliffe on Trent. He named his home and the road, Brielen, after the village in Belgium where his brother Charles was buried.
Father's company in Wright's directories
1922 electoral register
Address: Albert Street, Radcliffe on Trent
Household: wife Harriett
1939 Register
Address: Brielen, Bingham Road, Radcliffe on Trent
Occupation: Managing director, joinery manufacturer
Household: Living with wife Harriet and daughter Kathleen Salkeld, occupation shop assistant, shoe fitter and book-keeper.
Reasons for inclusion on the Radcliffe on Trent Roll of Honour
Born, lived and worked in Radcliffe on Trent.