JOHN THOMAS PEPPER 1889–1952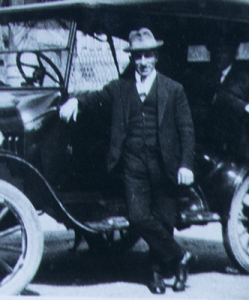 Photograph from the Cutler Collection
Born 25th December 1889 at Osbournby, Lincs
Married January 28th 1911 to Alice Marshall. Sons John Pepper Marshall and Arthur
Died 12th December 1952 and buried Radcliffe Cemetery (D128, no headstone)
1891 Census
Age 1 living at The Drove, Osbournby, Lincolnshire with father Frederick, a traction engine driver, mother Mary Ann, brothers George 4. and Arthur 2
1901 Census
Age eleven living at Ogles Yard, Radcliffe on Trent with father Frederick, stationary engine driver, mother Mary Ann and siblings George, groom,  Arthur, errand boy, Harry, seven, and Violet, nine months old.
1911 Census
Age 21 living on Palin Row, Radcliffe, with in-laws, the Marshalls (having married Alice Marshall) and son John Pepper Marshall, age seven months. John Thomas Pepper is employed as a coal carter.
Military Service
Rank: Acting Lance Corporal
Service Number: 202697 (KRR) 3602 (ASC)
Military Unit: 11th (Service) Battalion, Kings Royal Rifle Corps, 59th Brigade, 20th (Light) Division, transferred from Army Service Corps
Theatre of War: France and Flanders, date of entry 26.8.14
Enlisted 17.8.1914 in Nottingham, then on to Aldershot 18.8.1914
Occupation: labourer. Height 5ft 2¾ins, 37ins chest, weight 126lbs
26.8.14: Posted Le Havre
29.11.15: Syncope (temporary loss of consciousness)
1.12.15: returned to duty Havre
30.5.16- 8.6.16: Leave
4.10.16: Promoted to Acting Lance Corporal
8.2.17- 17.2.17: Leave
20.8.17: Compulsorily transferred to Kings Royal Rifle Corps
14.9.17: Reverted to Private
10.11.17: Appointed Acting Lance Corporal
30.11.17: Reported as missing
5.12.17: Listed as P.O.W. (Prisoner of war)
From the International Red Cross Committee Prisoners of the First World War records:
John Pepper was captured at Cambrai on 30.11.17 and taken to Le Quesnoy, east of Cambrai, France, then sent to Dülmen P.O.W. camp in North Rhine-Westphalia, Germany, a camp for private soldiers and NCOs. He was recorded as a prisoner at Dülmen on 7 January 1918 and subsequently transferred to Friedrichsfeld camp by 28 April 1918, having been in Münster 2 camp for an unknown period prior to Friedrichsfeld. At Münster 2, prisoners were housed in brick barracks and many were engaged in coal-mining. (Wikipedia) The record at Friedrichsfeld camp states that he was taken prisoner at Masnières (four miles from Cambrai), which was captured by the British on the first day of the First Battle of Cambrai, 20 November 1917, and held for twelve days. (Wikipedia).
Dulmen POW camp
19.11.18: Repatriated and posted to hospital with scabies.
Medals Awarded: 1914 Star, British War and Victory
Military Personnel Address on 1918 Electoral Register
Palin Row, Radcliffe on Trent
1921 Census
Address: Main Road, Radcliffe
Employment: Fish and Fruit Salesman
Household: wife Alice, assistant fish and fruit shop, step son John Pepper Marshall, and son Arthur
1922 Electoral Register
Address: Main Road, Radcliffe on Trent
1939 register
Address: 'The Butts', Bingham Road, Radcliffe on Trent
Occupation:  haulage contractor
Special Constable
Household: living with wife Alice and her mother Alice Marshall, an invalid.
Other Information
Left £1998 to his widow Alice Pepper in his will. Address at death 90 Bingham Road, Radcliffe on Trent
Reasons for inclusion on Radcliffe on Trent Roll of Honour
Lived, worked and died in Radcliffe on Trent.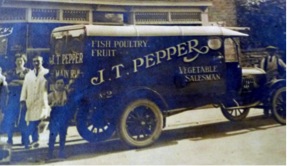 John Pepper, Fishmonger in 1920 Directory