ADA GERTRUDE NEWBURY 1894–1990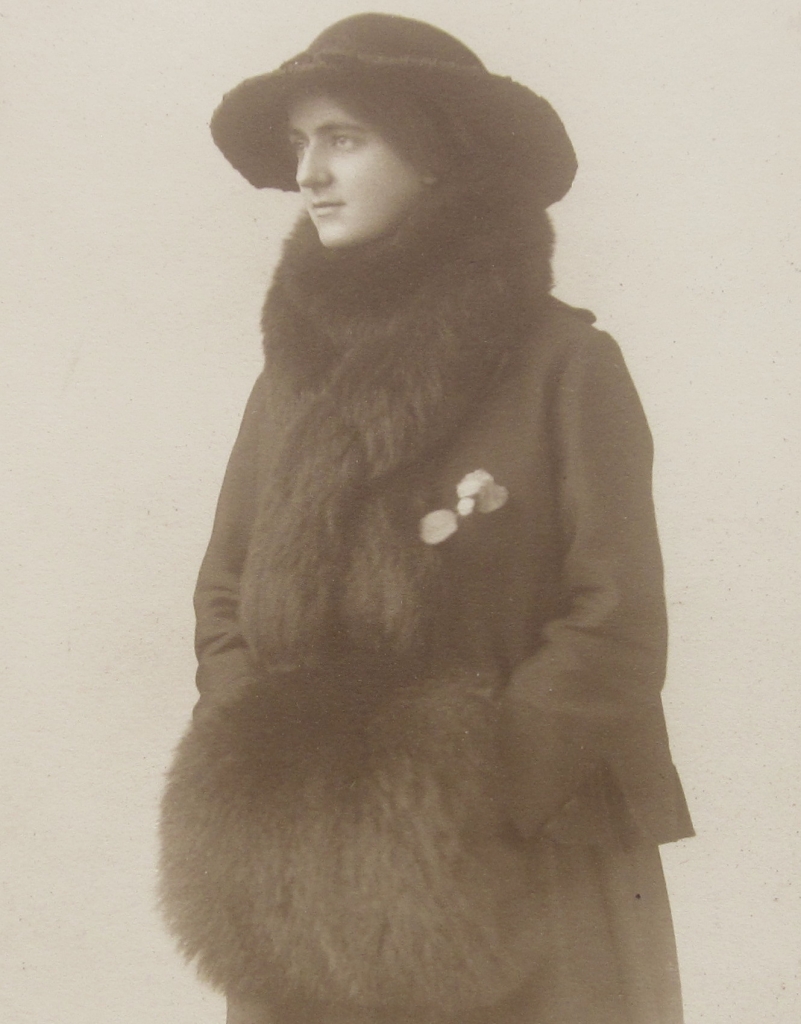 Photograph from family collection
Born 11th November 1894, Doncaster, Yorkshire
Married 6th October 1917 to William Alfred Ecob at the Methodist Chapel, Radcliffe on Trent
Sons Alvin Keith Newbury Ecob born 9th March1919, Gordon Sydney Newbury, born 1924, both named after Ada Newbury's brothers Alvin and Sydney, killed in WWI, David, born 1926 and Michael born 1930
Died 27th February 1990, age 95
Before the First World War
In 1901 Ada, age four, was living in Doncaster with her father William, a railway guard, mother Elizabeth and brothers Alvin, eleven, Sidney, seven, and sister Grace D., ten.
By the time of the 1911 census the family had moved to Radcliffe on Trent and were living at 'Tenedos', on Cropwell Road. Ada's father William was now a railway inspector, brothers Alvin a railway clerk and Sydney a clerk in a lace warehouse. Her sister Grace Daisy was a student teacher. Ada was recorded in the census as 'at school', age sixteen. According to the University College Nottingham, Day Training College records Ada applied to the Day Training College on October 31st 1912. She had already begun her teacher training: the University College records show that she was instructed at Clarendon Street Pupil Teacher centre from 1910-1913 and Mundella School from 1908-1912. She was also employed at Huntingdon Street School from 1911-1912, St Marks in 1912 and Collygate school, The Meadows, Nottingham from 1912-1913.
Ada passed the Oxford Local Examination as a senior candidate in 1912, becoming an Associate in Arts of the University of Oxford. She passed the following examinations taken at the Nottingham centre:
History, English Language and Literature including Composition, Geography, French (Written and Oral), Mathematics, Physics (Sound, Light and Heat) and Drawing. She also gained an additional pass in Arithmetic in 1913, taken at the Leicester centre.
Ada took her final examination for her Teaching Certificate in 1915, receiving a credit in Hygiene and Physical Training and was recognised by the Board of Education, London, as a Certificated teacher from 1st August 1915.
After a period of teaching practice at Collygate School Ada received a reference from the head teacher:
Trent Bridge School Infants' Department
September 1st 1915
'Miss Ada Newbury worked under me in the Collygate Council School for a period of five or six months.
I found her refined and intelligent in her methods and most painstaking in all her work.
She showed considerable skill in drawing and did some very good work in this subject for the school.
I am quite sure she will give satisfaction in any school to which she may be appointed.
N Roche
Head Teacher'
Annie F. Bird, Senior Normal Mistress at the Day Training College wrote a reference for Ada on 31st August 1915 after she completed her training there in July 1915:
Day Training College
University College Nottingham
'I have pleasure in testifying to the ability of Miss Newbury who completed her course of training at the above College in July last. She was one of our most promising Infant teachers, refined, animated and pleasing. Her lessons were carefully prepared and clearly presented and she insisted on the children making an effort to observe and think for themselves. Discipline was well maintained without harshness, the confidence and interest of the children being quickly gained. Miss Newbury excels in Drill games and Morris dancing etc. She plays the piano very well and has a good knowledge of the various forms of Handwork suitable for young children. She should prove a quite successful Class Mistress for Infants or Standard 1.'
On October 5th 1915 Ada received a letter from Nottinghamshire Education committee informing her that she had been appointed as an Assistant Teacher in the Carlton Council schools from 1st November 1915 at a salary of £75 per year.
Ada appears to have kept in touch with one of her head teachers as in 1932 she received a reference from a former head teacher of an infants' school in Netherfield, Nottinghamshire where she commenced teaching on the 1st November 1915 after she qualified: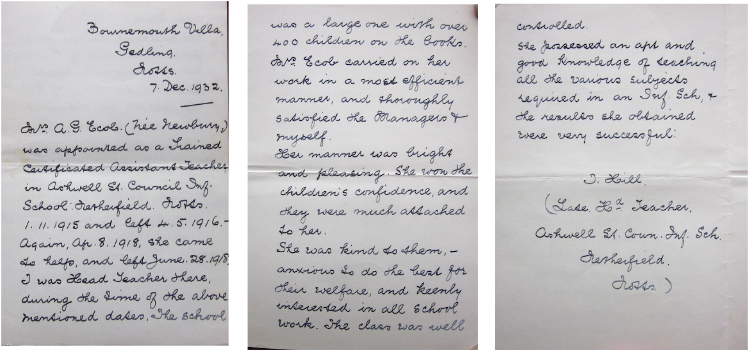 Ada met her future husband William Ecob while they were both students at University College, Nottingham. He was a student there from 1912-1914 and received a teaching qualification.
During the war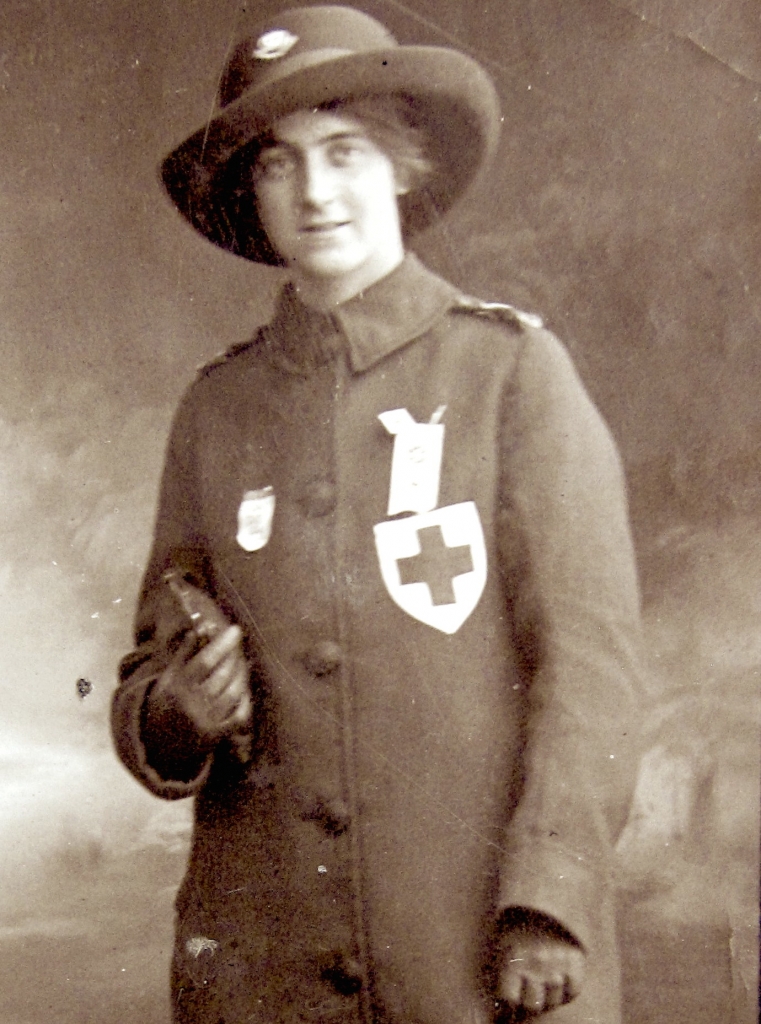 As well as continuing with her teaching during the war, Ada volunteered as a Red Cross Auxiliary Nurse from 1913-18 (source: 1939 Register entry and family photographs). It is known that the Red Cross WW1 V.A.D. records are incomplete and Ada's Red Cross record has not been found.
Captain William Ecob served with the 'Green Howards' but returned to England in September 1917 when he was declared unfit for general service abroad due to neurasthenia (see his biography in the Servicemen section of the website). William was transferred to Royal Flying Corps Cadet Wings, Hastings as an instructor and served in England from his return in 1917 to the end of the war.
Ada and William were married in October 1917 in Radcliffe on Trent. They took a house in the Hastings area while William was stationed there, living in Hythe. Ada's sister Daisy's Red Cross V.A.D. record shows that she was stationed at Hastings Auxiliary Hospital at the time William was serving in Hastings with the RFC. It is possible that Ada herself may have served at Hastings Auxiliary Hospital at the same time.
On the 5th March 1918 Ada registered as a qualified teacher with Bingham Rural District Council (of which Radcliffe was a part).
Ada lost both brothers during the war: Alvin was killed on April 30th 1916 and Sydney died of wounds on June 30th 1917.
From the 1921 Census
Address: Shelford Road, Radcliffe
Employment: home
Household: husband William,  Analytical Chemistry Student, University College, Nottingham, son Alvin
After the War
In 1921 Ada and William moved to one of the thirty new council houses built on Shelford Road, Radcliffe on Trent in 1920-1921. Ten of the houses were tenanted by ex-servicemen. In October 1921 William was awarded a B.Sc. Hons degree at University College, Nottingham. After graduating he worked for a short time as a teacher and then as a chemist for British Cellulose Lacquer at Slough until 1931 when the company was taken over by ICI. From 1932 to 1938 Ada, William and family lived at 16 Woodcroft Avenue, Hendon, Middlesex, moving to 3 Lawrence Court, Hendon by 1939. By 1964 Ada and William were living at 26 Gibbs Green, Edgware, Middlesex. In later life Ada preferred to be known as Aida.
William died on 4th January 1981 at Edgware General Hospital, age 87. Ada died on 27th February 1990 in Harpenden, age 95.
Author: Pauline Woodhouse