SYDNEY ELDRIDGE NEWBURY 1893–1917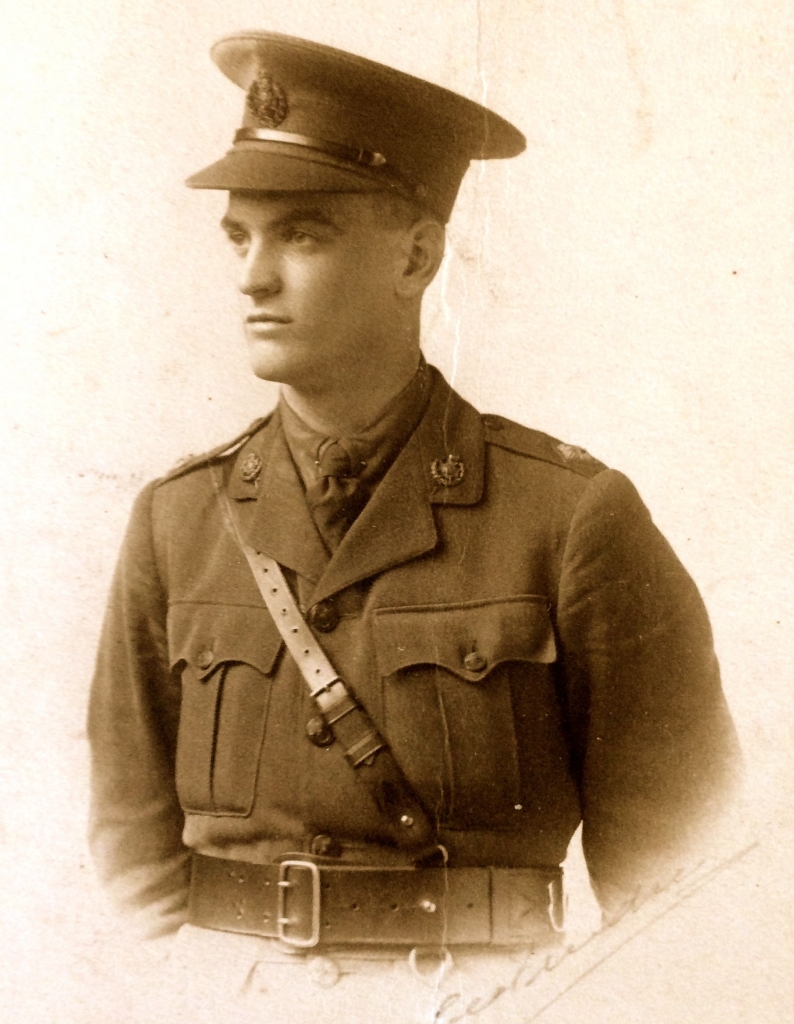 Sydney Newbury
All Photographs Courtesy of the Newbury-Ecob family
Brother of Alvin, killed 30th April 1916
Born April 16th 1893 in Doncaster
Died of wounds 30th June 1917 at Bully Grenay, France, age 24. Buried Noeux Les Mines Cemetery, France.
Commemorated on Radcliffe on Trent War Memorial and Mundella School Memorial plaque (now in St Mary's Church, Nottingham).
1901 Census
Age seven living in Doncaster with father William Henry, 39, mother Elizabeth, 37, brother Alvin, 11, and sisters Grace 10 and Ada age six.
1911 Census
Age 17, clerk in a lace warehouse, living on Cropwell Road, Radcliffe on Trent, with father William, railway inspector, mother Elizabeth Eldridge,  brother Alvin, a railway clerk and sisters Grace Daisy, 20, and Ada, 16. Daisy was studying to be a teacher at University College Nottingham and Ada was a pupil teacher at Mundella school, Nottingham. The Newbury siblings were all educated at Mundella school.
1912 London
Sydney moved to London to take a job at insurance brokers Lloyds. He lived with his aunt, Mrs. J. Summers.
Military Service
Rank: 2nd Lieut.at time of death
Service Number: 2771
Military Unit: 1st/7th Sherwood Foresters, 139th Brigade, 46th Division. Previously London Rifles
Theatre of War: France and Flanders, date of entry 17.3.15. Total war service two years three months
Enlisted into City of London Rifles on 7.9.14.
Address: 104 Sussex Road, Holloway, London
From the Sherwood Foresters Roll:
28.2.15: Transferred to 1st/6th Battalion, London Rifles
27.5.15: Promoted to Corporal
17.3.15: France
4.10.15: Promoted to Lance Sergeant
Sydney Newbury was in action at the battles of Festubert, Loos and Hohenzollern Redoubt where he was wounded.
November 1915: Invalided back to England where he underwent a major operation and a prolonged course of medical treatment.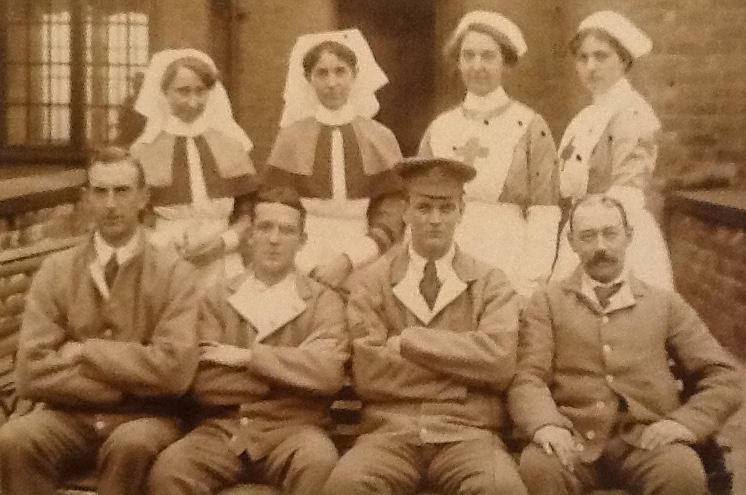 Sydney Newbury seated centre, wearing cap, while in hospital undergoing treatment
3.7.16: Attached to 6th Reserve (Officer Cadet Battalion) London Rifles.
24.10.16: Commissioned 2nd Lieutenant Sherwood Foresters, 1st/7th Robin Hood Battalion (Territorial), 139th Brigade, 46th (North Midland) Division.
13.1.17: Returned to France. Joined 1st/7th at Fonquevillers from Base Depot.
30.6.17: Dangerously wounded in the left lung with a piece of shrapnel, 2.44 a.m. when taking part in a raid on the German trenches at Bullay Grenay, France.
30.6.17: Died of his wound at 7.15. p.m. in No 7 Casualty Clearing Station.
One of his fellow officers wrote to his parents as follows:
"On June 30th at 2.44 a.m. our battalion attacked and took the German trenches at point. Within a few minutes of the attack being launched your son was leading his men through the last belt of German wire, just into the first line of German trenches, when he was dangerously wounded through the left lung with a piece of shrapnel. His servant carried him into a shell hole, when his wound was dressed immediately by our stretcher bearers. Shortly after, he was carried on a stretcher to a field dressing station, and thence by motor ambulance to the Casualty Clearing Station. About 5.30 p.m. he fell into a peaceful sleep from which he never awoke, for he gently passed away about 7.15 p.m. He was cheerful and conscious to the last and was talking of getting home again. Syd was one of the very best and was loved by his men, and was one of those who did not know what fear was."
Pension Record Card
His parents were awarded 5 shillings (25p) per week.
Medals Awarded: 1914-1915 Star, British War and Victory
For more information including family photographs go to A Tribute to Sydney Newbury 
Go to WWI Timeline to see how this man's death is part of the wider story of the war.
Other information
Educated at Mundella secondary school, Nottingham. His death was recorded in Mundella school magazine in July 1917.
Reasons for inclusion on Radcliffe Roll of Honour
Lived in Radcliffe on Trent with parents and siblings.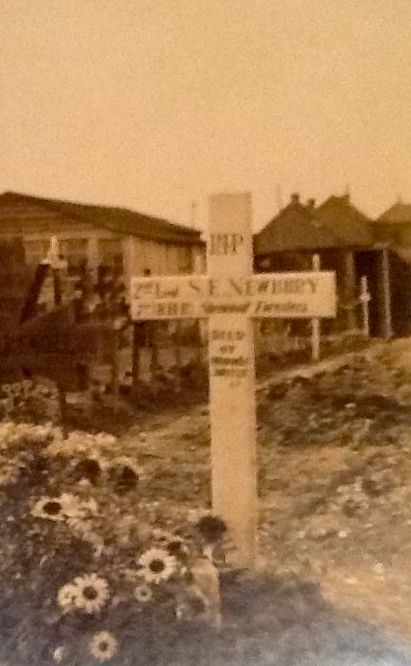 First grave at Nouix les Mines community cemetary