GRACE DAISY NEWBURY 1890–1958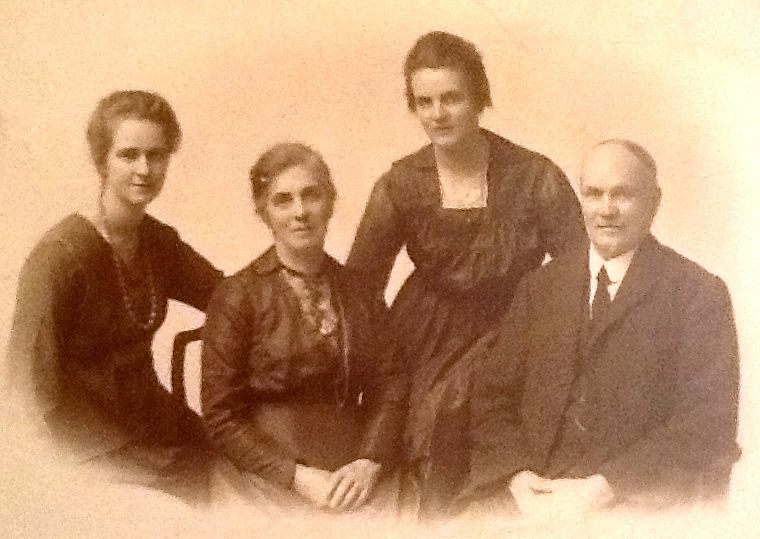 Ada, mother Elizabeth, Daisy (standing) and father William
From a family collection
Born: 29th November 1890, Colwick, Nottinghamshire
Married: 28th February 1920 to George Harry Brice Sketchley in Cape Town, South Africa
Children: daughters Joan Lucy born 1st December 1920 in Salisbury, Rhodesia and Beryl Aida born 10th November 1923, also born in Rhodesia
Died: 1958 in Birmingham
Before the First World War
Her name is given as Grace Daisy Newbury on the birth register, but by 1911 she was known as Daisy. At the time of the 1891 census she was four months old and was living in Doncaster with her father William, a railway goods guard, mother Elizabeth and brother Alvin age one. The family remained in Doncaster and in 1901 her father was  still working as a railway guard. Two more children had been born: Sydney age seven and Ada, born 11th November 1894. By 1911 the family had moved to Radcliffe on Trent and were living at 'Tenedos', on Cropwell Road. Daisy was a student, age twenty, father William a railway inspector, brother Alvin a railway clerk and Sidney a clerk in a lace warehouse. Ada was still at school, age sixteen.
As a student teacher Daisy was instructed at Mundella school and the Pupil Teacher Centre from 1907 to 1909. She was employed at St. Ann's Girls' Trust school from 1907 to 1909. Whilst there Daisy passed the Preliminary Certificate with distinction in History, English Language and Literature. On 15th January 1909 she applied to University College Nottingham Day Training College to continue her teacher training. She is listed in a University College Nottingham Day Training College Application Book for trainee teachers (document reference UCN/T/1/4/4). She received favourable reports while she was there: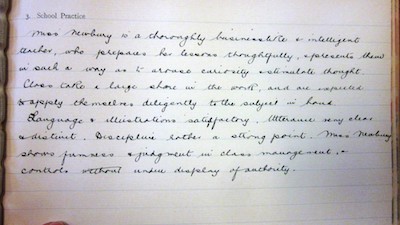 'Miss Newbury is a thoroughly businesslike and intelligent teacher, who prepares her lessons thoughtfully and presents them in such a way as to arouse curiosity and stimulate thought … .'
During the war
The following information about Daisy Newbury has been extracted from transcribed Red Cross V.A.D. records (see below), available at www.redcross.org.uk .
Daisy began her war service with the Red Cross as a V.A.D. in September 1914. Her Red Cross record (in the name of Daisy Grace Newbury) states that she was a Nottingham University College V.A.D. (96th Voluntary Aid Detachment) member and that her occupation was that of teacher. She worked part time and unpaid as a nurse, serving from January 1917 to August 1918, initially at the Pavilion Auxiliary Hospital situated at the Trent Bridge cricket ground, Nottingham. By 1916 the hospital housed 100 wounded servicemen and by the time it closed in 1919 there were around 300 beds.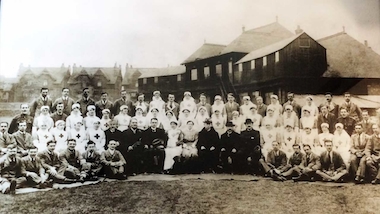 The Pavilion Hospital Trent Bridge, courtesy of Peter Wynne-Thomas
After nursing at the Pavilion Hospital Daisy transferred to Hastings Auxiliary Hospital and was still a V.A.D. when her record card was completed in 1918, having served 268 hours to date: 108 hours at the Pavilion Hospital and 160 hours at Hastings.
Daisy's sister Ada and her husband William Ecob were also in Hastings in 1918, as William had been posted to Royal Flying Corps Cadet Wings, Hastings as an instructor.
Daisy lost both brothers during the war: Alvin was killed on April 30th 1916 and Sydney died of wounds on June 30th 1917.
In 1916 either Grace or her sister Ada appears to have been the victim of an accident as the following newspaper clipping shows:

Nottingham Evening Post 27th July 1916
Other information
Daisy sailed to Capetown in 1920 where she married George Sketchley (known as Harry) who was working in Salisbury, Rhodesia as a Methodist minister. The Sketchley family lived opposite the Newbury family on Cropwell Road, Radcliffe on Trent. Daisy and Harry lived firstly in Salisbury, Southern Rhodesia (now Zimbabwe), where their daughter Joan was born. They then moved to the Methodist Mission in Epworth, near Salisbury. Epworth Mission was established by the Reverend Shimmin as a Methodist Mission Station in 1890 (Wikipedia). By the time Daisy and Harry were living there, the Mission consisted of three farms totalling around 9,000 acres. (Themes in the Christian History of Central Africa; ed. T.O. Ranger and John Wheeler, 1975)

Epworth Mission in 1908 (from Themes in the Christian History of Central Africa; ed. T.O. Ranger and John Wheeler)
From Epworth they moved to Broken Hill, a mining town in Northern Rhodesia (now named Kabwe, in Zambian central province) and then to Bulawayo in Southern Rhodesia. In 1935 Harry, age 44, suffered a heart attack and the family returned to England where he was granted a year's leave from the Methodist ministry in order to convalesce.
In 1939 Daisy was living at 30 Somerset Road, Birmingham with her husband George Sketchley, still working as a Methodist minister, and her mother-in-law Lucy Sketchley, formerly of Lenton House, Cropwell Road, Radcliffe on Trent.
Grace Daisy died in Birmingham in 1958. Her husband George died in Devon in 1971.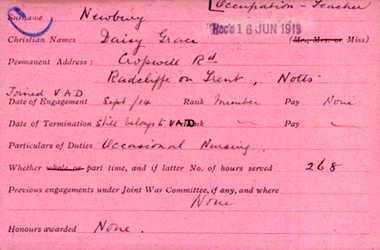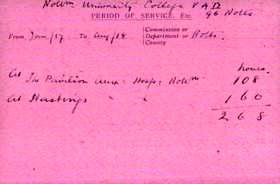 Red Cross V.A.D.Registration Card for Daisy Newbury
Author: Pauline Woodhouse