FRANK SEARLE 1883–1948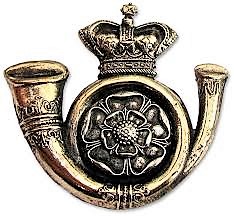 Born 13th October 1883, Sleaford, Lincs
Married Annie Sarah Kirkland, 25 July 1912, St Wilfred's Church, Screveton. Sons George born 1913 and James born 12 May 1917
Died Oct 13th 1948, age 65, buried in churchyard of St Wilfred's church, Screveton with Annie Sarah.
1891 Census
Age 7 living at 20 Argyle Street, Boston, Lincs. with father Ingle, a miller, mother Fannie, brothers Ingle Norman 21 a baker's assistant, Fred 20 a miller, James 19 a printer,  George a grocer's apprentice, sisters Augusta 17 dressmaker's assistant and Jeannie 16..
1901 Census
Age 18 an assistant hairdresser living at 27-28 Silver Street, St. Swithin, Lincs with William Welton a hairdresser.
1911 Census
Age 27 an assistant hairdresser living at 32 Derby Road, Nottingham with Archer Clement Newing a hairdresser.
Military Service
Rank: Private. Pension records Lance Corporal.
Service Number: 242750, previously, 63313
Military Unit: 2nd/5th Battalion, Kings Own Yorkshire Light Infantry, 187th Brigade, 62nd (2nd West Riding) Division,
Theatre of War: France and Flanders
Attested at Nottingham, 9 Dec 1915
Occupation: Hairdresser
10.12.15: Posted UK
10.10.16–13.1.17: Home
14.1.17: Posted to France
Wounded
June 1918: Wounded, GSW (gunshot wound) right neck, back and left arm. Dangerously ill in France.
6.7.18: Transferred from sick convoy
2.1.19: Transferred to Military S Hospital Tooting N.W., London
6.7.18: Rank Cpl; 1 year 8 months service, 1 year 6 months with Field Force 
6.9.19: Discharged – No longer physically fit for war service. Age 35 years 11 mths.
Silver War Badge no. B316913 issued. Disabilities: multiple gunshot wounds, amputation right arm, injury ulnar nerve left arm.
Pension Awarded (80%) increased to 90% for life. 39 shillings (£1.95p) plus 21 shillings 2d (£1.6p) for his wife and 2 children.
Married and living at the Harlequin, Radcliffe on Trent at date of discharge.
Medals Awarded: British War and Victory, Silver War Badge
Military Personnel Address on 1918 Electoral Register
The Harlequin, Radcliffe on Trent
Other Information
His military service record is badly damaged and hard to decipher. Key dates are missing from torn pages.
1914 Wright's Directory: Hairdresser, 13 Ilkeston Road, Nottingham.
1916 Wright's and Kelly's directories: Hairdresser, 13 Ilkeston Road, Nottingham.
1921 Census
Address: The Harlequin, Radcliffe
Employment: Army Pensioner, disabled
Household: wife Annie and sons, George and James
1922 Electoral Register
Address: The Harlequin, Radcliffe on Trent
Household: wife Annie Sarah and possibly brother George
1939 Register
Address: 'The Bungalow', Park Row, Radcliffe on Trent
Occupation: manufacturers agent
Household: living with wife Annie and son James, colliery agents managing clerk.
Reason for inclusion on Radcliffe on Trent Roll of Honour
Lived in Radcliffe on Trent.