CHARLES TYTHERLEY 1888–1916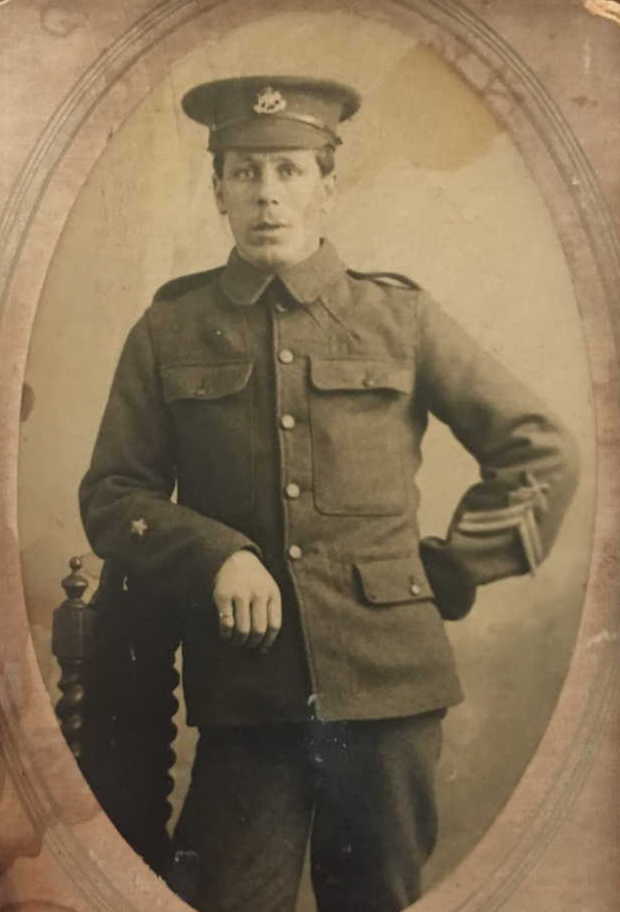 Photograph courtesy of the family
Born April-June 1888, Nottingham
Baptised 17th January 1889 at St Alban's Church, Sneinton
Killed in action 10th October 1916, age 28
Burial: Quarry Cemetery, Montauban, Bernafy Wood, Montauban (Departement de la Somme, Picardie, France), F.24. He is buried in a double grave.
Commemorated on Radcliffe on Trent War Memorial and Loggerheads War Memorial, St Mary's Church, The Lace Market, Nottingham
1891 Census
Age 3 living at 11 Union Square, Pierrepont Street, Sneinton, Nottingham with his father Jacob 27, a lace maker, mother Mary 30, and  brother Frederick, four months old. Family surname recorded as Tytherleigh.
1901 Census
Age thirteen living at 11 Union Square in the parish of St Alban, Nottingham with his father Jacob 38, a twist hand (lace), mother Mary 36, younger brothers, Frederick 10, Ernest 4 and sister Florence 7. He was a dray lad (corn).
1911 Census
The family were still living at 11 Union Square except Frederick, age 20, now married and living elsewhere. Charles's occupation was described as 'soldier, just home'. Jacob was a lace maker, Florence a lace mender and Ernest was a van lad. According to the 1911 census Jacob and Mary Tytherley were both born in Chard, Somerset. They had seven children, four of whom survived. The house had three rooms.
Jacob died in 1912, Mary died in 1913.
Charles left the army at some point between 1912 and 1913. In 1913 he is listed as a trade union member of the National Union of Railwaymen. He was working in Colwick, Nottingham as a porter.
Military Service before 1914
Rank: Private
Service Number: 9133
Military Unit: 2nd Battalion, The Sherwood Foresters, initially 18th Brigade then 71st Brigade from 27.10.15, 6th Division
Attestation January 30th 1904.
Age 18 years 10 months (according to birth date he was 15 or 16 at attestation). Height 5 ft 4¾ ins, weight 121lbs, chest 35 ins, grey eyes, brown hair
7.2.05: Passed Class of Instruction in Regimental Transport
20.10.06: Service extended for 7 years
15.2.07: Posted to India, Private, 1st Battalion
14.6.07-22.9.07: In hospital in Bangalore with enteric fever
17.1.08-13.2.09: Bangalore, spent 40 days in hospital with 'lymph glands excised'
17.3.11:  Home from India. Transferred to Army Reserve
31.3.11: Enrolled
13.3.12: Engaged for a further period of 1 year from 18.3.12
Military service from 1914
Rank: Private
Service Number: 9133
Military Unit: 2nd Battalion, The Sherwood Foresters, initially 18th Brigade then 71st Brigade from 27.10.15, 6th Division
Theatre of War, France and Flanders, date of entry 27.10.14. Total war service abroad 2 years.
5.8.14: Mobilized at Derby
August 1914: In Sheffield. 2nd battalion, The Sherwood Foresters, 6th Division, 18th Brigade.
11.9.14: Moved on mobilisation to Cambridge
27.10.14: Landed at St Nazaire,  transferred to 71st Brigade 6th Division
11.12.14: Awarded 7 days Field Punishment Number 1 for 'absence'
Note: Field Punishment Number One, often abbreviated to "F.P. No. 1″ or even just "No. 1″, consisted of the convicted man being placed in fetters and handcuffs or similar restraints and attached to a fixed object, such as a gun wheel or a fence post, for up to two hours per day. During the early part of World War I, the punishment was often applied with the arms stretched out and the legs tied together, giving rise to the nickname "crucifixion". This was applied for up to three days out of four, up to 21 days total. It was usually applied in field punishment camps set up for this purpose a few miles behind the front line, but when the unit was on the move it would be carried out by the unit itself.
Wounded
27.2.15: Wounded in action. Gun shot wound to left arm
B Company, 2nd Battalion  S F as at 27.2.15 (FWR)
2.3.15: To HMHS Asturias. Religion Wesleyan
5.3.15: Home
17.8.15: Returned to France
5.10.15:  Wounded in action. To 56 Casualty Clearing Station
12.10.15:  To Derby with Bn
23.10.15: Appointed Lance Corporal
29.12.15: Deprived of Corporal stripe and fined for … (record is illegible)
10.10.16: Died of gun shot wounds to both thighs at the Battle of the Somme. He died at the main dressing station. He was in the XIV Corps.
The 2nd Battalion Sherwood Foresters, had been doing tours of duty in trenches west of Beaumont-Hamel throughout August. In September they were in action at The Quadrilateral from the 13th-17th and then took trenches north-west of Ginchy Lesboeufs at the end of September (from Westlake, Ray (2009) Tracing British Battalions on the Somme (Barnsley: Pen & Sword) p.192)
From the War Diary of 2nd Battalion, The Sherwood Foresters October 1916 (diary held at the Worcestershire and Sherwood Foresters Regimental Museum, Nottingham):
9th. October: The C.O. and Company Commanders left Mountauban at 7 a.m. to reconnoitre the part of the line to be taken over by the Battn. The Battn. moved from Camp by Companies with intervals between each at 3.30 p.m. and took over Support line trenches from 18th I.B. at N.32.D. Battn. H.Q. at about N.32.D.8.4 .
10th. October: 40 N.C.Os and men were on fatigue at Brigade Head Qrs. during the day. 6 Officers and 290 other ranks went up and dug assembly trenches behind the Front line trench during the night and 1 Officer and 100 other ranks. carried rations etc. for the 9th Suffolk Regt. who were holding the front line trenches. Digging parties had rather a warm time from enemy machine gun fire and a few shells. 2nd. Lieut. Loveday killed.
Medals Awarded:   1914 Star, British War and Victory
Go to WWI Timeline to see how this man's death is part of the wider story of the war.
Other information
Next of kin: Frederick Tytherley (brother), 33 Kingston Street, Sneinton, Nottingham.
Total Military Service from 1904–1916: 12 years 254 days
Charles's connection with Radcliffe on Trent was found in his brother Ernest's military record. Ernest volunteered in December 1914 age nineteen and served through the war in the Field Ambulance Corps. He is described in his military record as a 'smart, active lad' who could 'drive a pair of horses'. Charles was initially given as his next of kin, address c/o Mr Scrimshaw, nurseryman, Radcliffe on Trent. The record does not give Mr Scrimshaw's street address. There are two possibile families in whose house he was lodging. Thomas Scrimshaw ran a nursery and had a son Lewis, who served in the RAF. Arthur Scrimshaw worked at a nursery and had a son Harry who was also a regular soldier and the same age as Charles. Later on, Charles's name on his brother Ernest's record was crossed out and replaced by the name of Ernest's sister Florrie (Florence) who lived in Sneinton, Nottingham.
There is a letter in the military record written by Charles' brother Frederick on 23.9.1923 complaining 'I have not received anything in the shape of his gratuity or anything else whatsoever'. The reply from the war office states that Medals were sent to him c/o R. Hallam solicitor (father of Robert Hallam, named on War Memorial), Brougham Chambers, Wheeler Gate on 7.1.1921 and 26.4.1922. There is a signed note in military record re receipt of medals by R. Hallam, solicitor. The list of soldiers' effects shows Frederick was paid £9 10s by the war office on 9th October 1919. Charles'  will, administered by Frederick.
Ernest survived the war. In 1939 Frederick was a lace machine operator and Ernest was a blacksmith's sticker. They remained in Nottingham all their lives where they both died in 1969.
Reason for inclusion on the Radcliffe on Trent Roll of Honour
Boarded in Radcliffe on Trent during the war.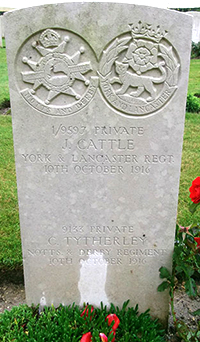 Photograph courtesy of CWGC
Quarry Cemetery, Montauban