JOSEPH WILLIAM PELL 1893–1951

Photographs courtesy of the Pell family
Born on 15th March 1893 at the family farm in Flawborough
Married in 1920 to Philippa Constance Howitt, daughter Fay Pauline and a son Peter born 1924
Died 22nd December 1951 in Flawborough and buried in Holme Pierrepont churchyard
1901 Census
Age 8 living at the Manor House, Flawborough with his father William 43, farmer, mother Sarah 43, her father William Whitt, retired tea broker, brothers Eric 6 and Harold 3, a governess Susana Barsby and a domestic servant.
Education 1904 – 1910
He was a pupil at The King's School, Grantham, Lincs, from January 1904 to December 16th 1910. Both his brothers were pupils at the school. Albert Ball, V.C. was a pupil at the school between 1906 and 1907.
1911 Census
Age 18, a civil engineer with the County Council, living at Holme House, Holme Pierrepont with parents, brothers Eric and Harold and sister Mary Elizabeth Hilary 6 (known as Hilary), who went on to marry Frederic Wodehouse, the cousin of P. G. Wodehouse, in 1940. William Whitt had died 1906.
Military Service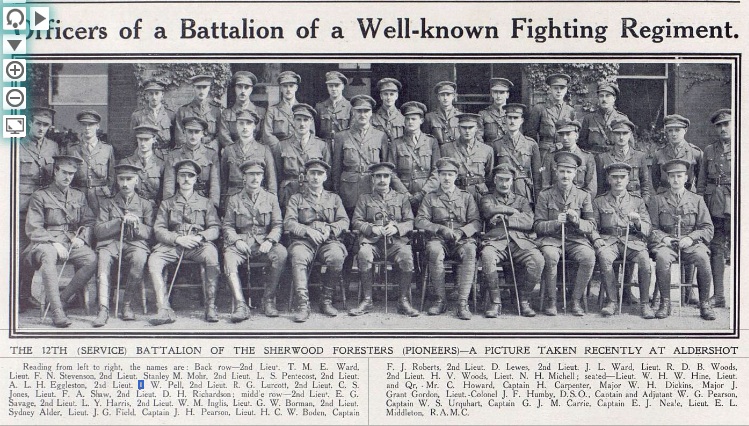 Rank: Lieutenant
Military Unit: 12th (Service) Battalion (Pioneers), The Sherwood Foresters, 24th Division
Theatre of War: France and Flanders
Enlisted in late 1915. He was listed as a lodger at Holme House in the 1915 electoral register.
Member of Notts University OTC
10.8.1916  Shrapnel wound right leg
Appointed a lieutenant on 1st July 1917.
Pioneer course at Reading 31.1.17-17.3.17
Medals Awarded
British War and Victory
Other information
The 12 Bn Sherwood Foresters were present during the Battle of the Somme, 1916 at the battles of Delville Wood and Guillemont. They were involved in major conflicts on the western front throughout 1917 and 1918.
Joseph was unable to farm after the war due to injuries and in 1920 was working for Notts County Council as an engineering assistant.
In December 1922 Joseph became an associate member of the Institution of Civil Engineers and went on to become Borough Surveyor for Maidstone in Kent.
1921 Census
Address: 112 Radcliffe Road, West Bridgford
Employment: Civil Engineer, Notts County Council
Household: wife Philippa, servant, Betsy Louth
1939 Register
Address: Bute Cottage, Hollingbourne, Kent
Occupation: highway surveyor
Household: living with wife Philippa and daughter Fay, a student
His sister, Hilary, is buried with her parents in St. Edmund's churchyard, Holme Pierrepont, Notts.