HAROLD WHITT PELL 1897–1916
Photograph courtesy of the Pell family
Born 1897 in Flawborough, Nottinghamshire
Killed in action 28th August 1916 at the Battle of the Somme
Commemorated on the Thiepval Memorial to the missing
1901 Census
Age 3 living at the Manor House, Flawborough with his father William 43, farmer, mother Sarah 42, her father William Whitt, retired tea broker, brothers Joseph 8 and Eric 6, a governess and a domestic servant.
Education 1908 – 1913
Pupil at The Kings School, Grantham, Lincs. His brothers Eric and Joseph were also at the school.
1911 Census
Age 13 living at Holme House, Holme Pierrepont with parents, brothers Eric, working on the farm, Joseph, a civil engineer with the County Council,, and  a sister Mary Elizabeth Hilary 6 (known as Hilary) who went on to marry Frederic Wodehouse, cousin of P.G.Wodehouse, in 1940. William Whitt had died in 1906.
Military Service
Rank: Trooper
Service number: 3366
Military Unit: 1st Life Guards, 7th Cavalry Brigade, 3rd Cavalry Division
Theatre of War: France and Flanders, date of entry 19.10.15.
The 3rd Cavalry Division was present during the Battle of the Somme but was not generally involved in the conflict as cavalry. The only cavalry charge of the five month battle took place at High Wood on July 14th 1916, led by by the British 7th Dragoon Guards (9th Cavalry Brigade) and the 2nd Indian Cavalry Division.  For the most part, the cavalry was close behind the lines with their horses while waiting for the break through that never came. However, some men were deployed as infantry attached to regiments in the trenches. It is possible that redeployment could be the background to Harold Pell's death when he went missing in action on August 28th. According to family relatives, his brother Eric, serving with the 1st Cavalry Division, was given two days leave to find out where his brother was buried. Both brothers were on the Somme in 1916. Joseph, in the 24th Division, would have seen action at the battles of Delville Wood and Guillemont. Eric would have seen action at the battle of Flers Courcelette. On August 28th, when Harold went missing, the major conflict was the Battle of Pozieres, south-east of Thiepval.  Harold may have lost his life during this battle but there is no evidence to confirm that this was the case. A letter addressed to Joseph Pell, residing at Holme Pierrepont,  from the War Graves Registration department of the War Office  in 1919 said
Dear Sir,
In reply to your letter 29th May, 191, I beg to say that Trooper H.W. Pell is stated to be buried at a point South East of Thiepval, which is North North East of Albert.  
It is regretted that in spite of a thorough and methodical re-search of this area made by Working Parties specifically detailed for this purpose, no trace of the grave can be found.'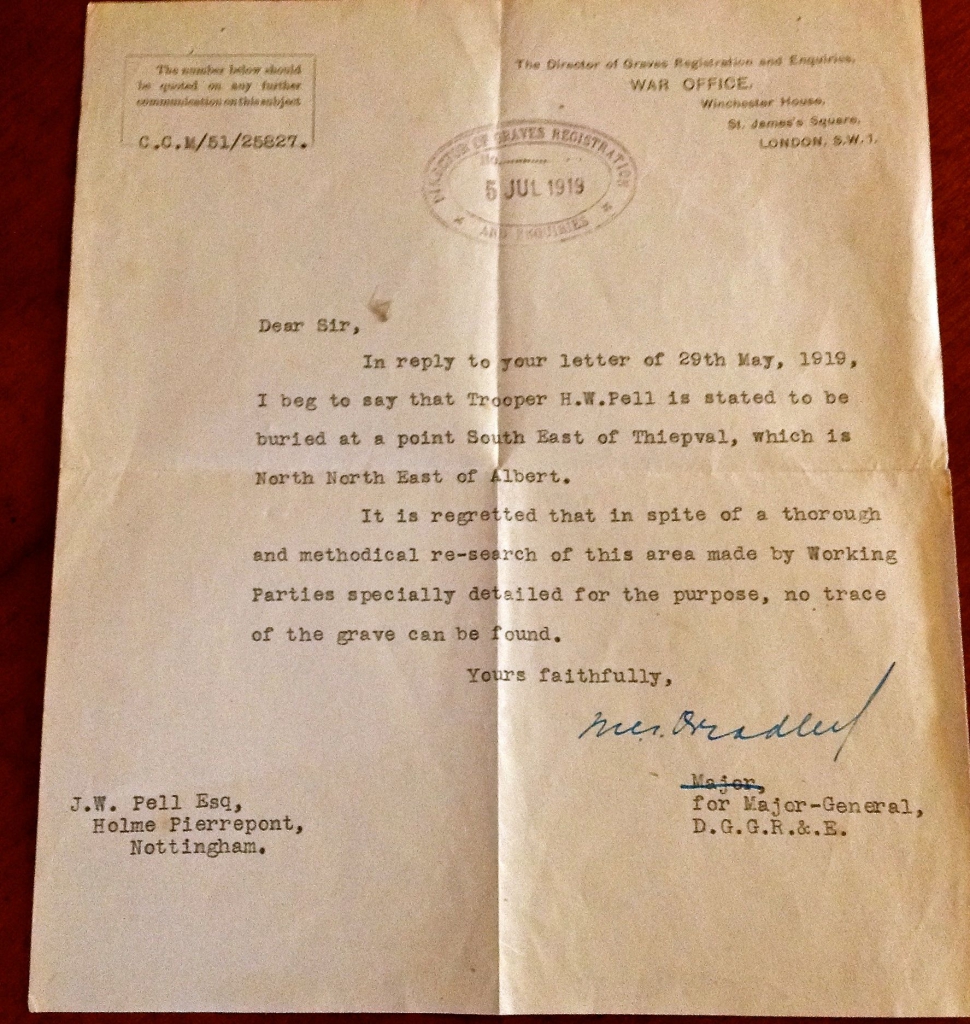 Medals Awarded
1914-1915 Star, British War and Victory
Go to WWI Timeline to see how this man's death is part of the wider story of the war.
Other information
The family farmed at Holme House, on the Corner of Cotgrave Lane, as tenant farmers to Lord Manvers and Manor Farm, Flawborough as tenant farmers to the Duke of Newcastle, totalling around 700 acres.
Thiepval Memorial