ERIC HENRY PELL 1894–1950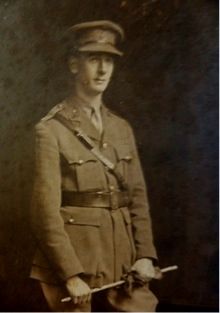 Photograph courtesy of family
Born 22nd November 1894  in Flawborough, Nottinghamshire
Married June 1920 to Adeline Elnor of Gamston, son William John Elnor born in 1923.
Died 5th November 1950 at Stonehouse Farm, Flawborough, Nottinghamshire.
1901 Census
Age six, living at the Manor House Flawborough with his father William 43, farmer, mother Sarah 42, her father William Whitt 79, retired tea broker, brothers Joseph 8 and Harold 3, a governess, Susana Barsby 16 and a domestic servant.
Education 1904 – 1910
He was a pupil at The King's School, Grantham, Lincs, from Easter 1904 to December 16th 1910. Both his brothers were pupils at the school. Albert Ball, V.C. was a pupil at the school between 1906 and 1907.
1911 Census
Age 16 working on the farm and living at Holme House, Holme Pierrepont with parents, his brothers, Harold, at school, Joseph, a civil engineer with the County Council, and a sister Mary Elizabeth Hilary 7  (known as Hilary), who went on to marry Frederic Wodehouse, the cousin of P.G. Wodehouse, in 1940. Their grandfather William Whitt died in 1906.
Military Service
Rank: Lieutenant, seniority date 30.4.17
Service numbers: 1062 then 41349 (South Notts. Hussars)
Military unit: 11th Hussars (Prince Albert's Own), 1st Cavalry Brigade, 1st Cavalry Division. Previously South Nottinghamshire Hussars
Theatres of War: Balkans; France and Flanders. Date of entry 15.11.1915
He enlisted as a private with the South Notts. Hussars, 6th September 1914, was made temporary 2nd lieutenant on 17.2.17, then commissioned into the 11th Hussars 30.4.17. His rank at the end of the war is given as Lieutenant on the Medal Rolls Index Cards.
On application for commission, character reference given by William Saward, Clerk of Holy Orders at Holme Pierrepont and father of Norman Cuthbert and John Augustus Saward. Information regarding education from C.B. Nicholl, Headmaster at his school, King School, Grantham.
Rank on application for commission: Sergeant.
Had served in OTC for 4 years.
Height: 5ft 9ins
Weight: 147 lbs
Chest: max 35ins min 33ins
Field Hospital 31.3.1915 to 1.4.1915, transferred to UK 1.4.1915 to 6.5.1915 with German measles
Invalided home from Salonica 5.9.1916 with heat stroke and malaria.
Relinquished temp commission: 23.2.1919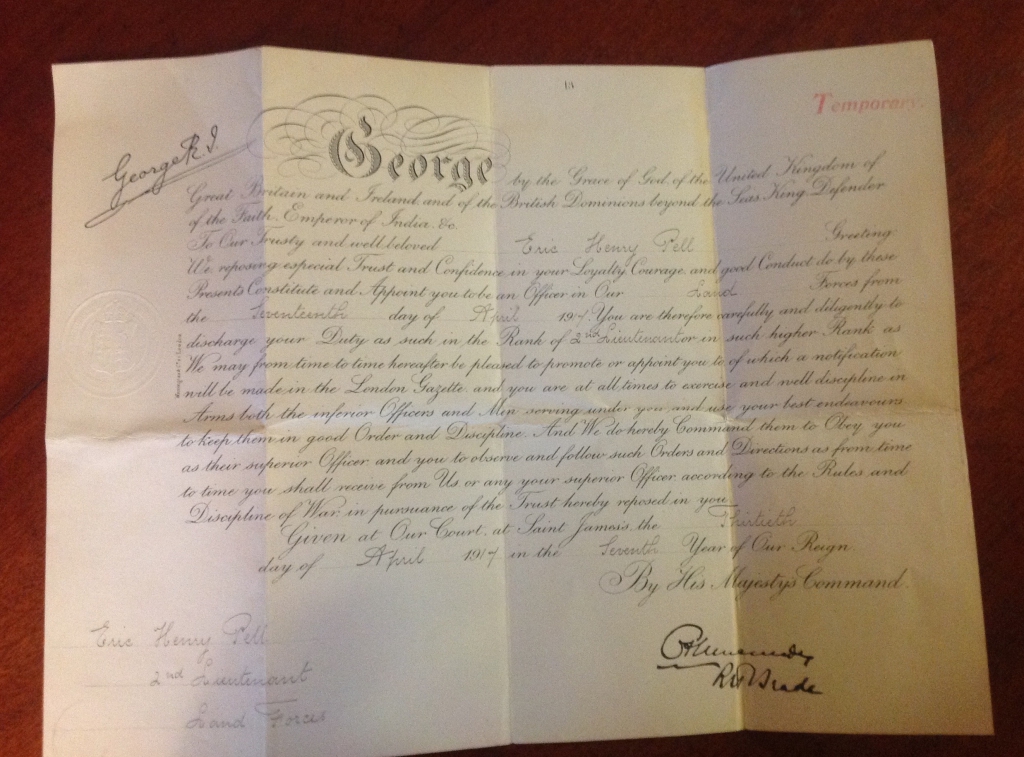 Eric Pell's Commission Paper, April 1917
Medals Awarded
1914-1915 Star, British War and Victory
Other information
The South Notts. Hussars sailed from the U.K. to Egypt on 9.4.1915. They were in Gallipoli from August – December 1915, moved to Salonica in February 1916 and returned from there to Egypt in June 1917. The above details indicates that Eric Pell was with them in Salonica. In April 1917 he joined the 11th Hussars (Prince Albert's Own) who fought on the Western Front throughout WWI, mostly in a dismounted role.
1921 Census
Address: Flawborough
Employment: Farmer
Household: wife Adelina, servant Gertrude Longman, visitor Grace Farrington, dressmaker
After the war he continued to farm at Flawborough, Orston, Notts., where his descendants still live today. He is listed in the 1939 Register as a farmer at Flawborough, living with wife Adelina and cook, Elsie Longdon.
Obituary from the Nottingham Evening Post, 7th November 1950
Notts. Farmer's Death
The death occurred at the weekend of Mr. Eric H. Pell, a well known Notts farmer, of Flawborough. Mr Pell, 55 years old, was the son of the late Mr W. H. Pell of Holme House, Holme Pierrepont.
Mr Pell was chairman of the council of Notts. Agricultural Society, president this year of the Flintham Ploughing Association, and he had been a member of Bingham Rural Council for upwards of a quarter of a century. He was a member of the South Notts branch of the N.F.U., a former member of Notts County Council.
A widow and one son are left. The funeral will take place at Flawborough on Thursday.