JOHN THOMAS PHILLIPS 1893–1918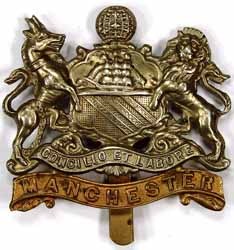 Born on 4th December 1893 in Pinchbeck, Lincolnshire
Died 31st May 1918 in  hospital of Meschede prisoner of war camp, Germany
Commonwealth War Grave Plot VH9 Niederzwehren Cemetery.
1901 Census
Age 7 living with his parents John Phillips 33, horse keeper on farm, and Elizabeth 30 née Syer, sister Bessie 5, brothers Bertie 3 years, George  1  and sister Ivy 3 months in Weston, Lincolnshire.
1911 Census
All the family, except for John, but with additions Kathleen, Walter and Frank had moved to Grange Farm, Wollaton.
John, a cow lad employed by  John Shaw, farmer, Grange Farm, Wollaton.
Military Service
Rank: Private
Service number: 42408
Military Unit: 2/7th Battalion, Manchester Regiment, 199th Brigade, 66th Division, previously Lincolnshire Regiment
Medals Awarded
British War and Victory
On 11th December 1915, John Thomas Phillips aged 22 years, then living at Holme Lane, Holme Pierrepont and employed as a horseman and cowman, enlisted with the Lincolnshire Regiment in Nottingham.
On 19th June 1917 he transferred to the 2/7th Manchester Regiment.
In February 1918 the 7th moved to Burbure near Lillers and the 21st March 1918 brought the start of the expected German Spring offensive and the date that John Phillips was reported wounded and missing.
On 31st May 1918 it was reported that John Thomas Phillips had died in a prisoner of war hospital.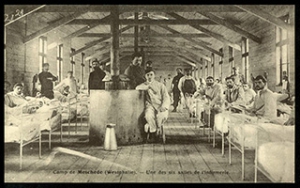 Postcard of Hospital ward Meschede POW Camp, Army Corps District Coblenz, Germany
Other information
The father's address in 1921 is given as Home Grange Cottage, Holme Pierrepont but there are a number of letters inferring there was a problem delivering mail to him. The army contacted the police to check address given. His mother's address is still given as Grange Cottage, Wollaton and his effects were sent to that address. Commonwealth War Graves give Mrs Phillip's address as Main Road, Plumtree.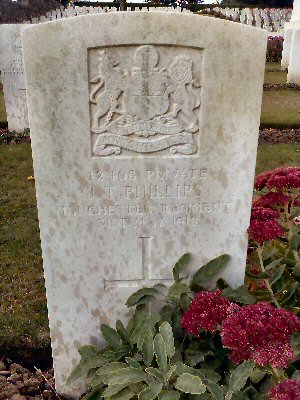 Niederzwehren Cemetery