Red Cross launches digital archive of WW1 VADs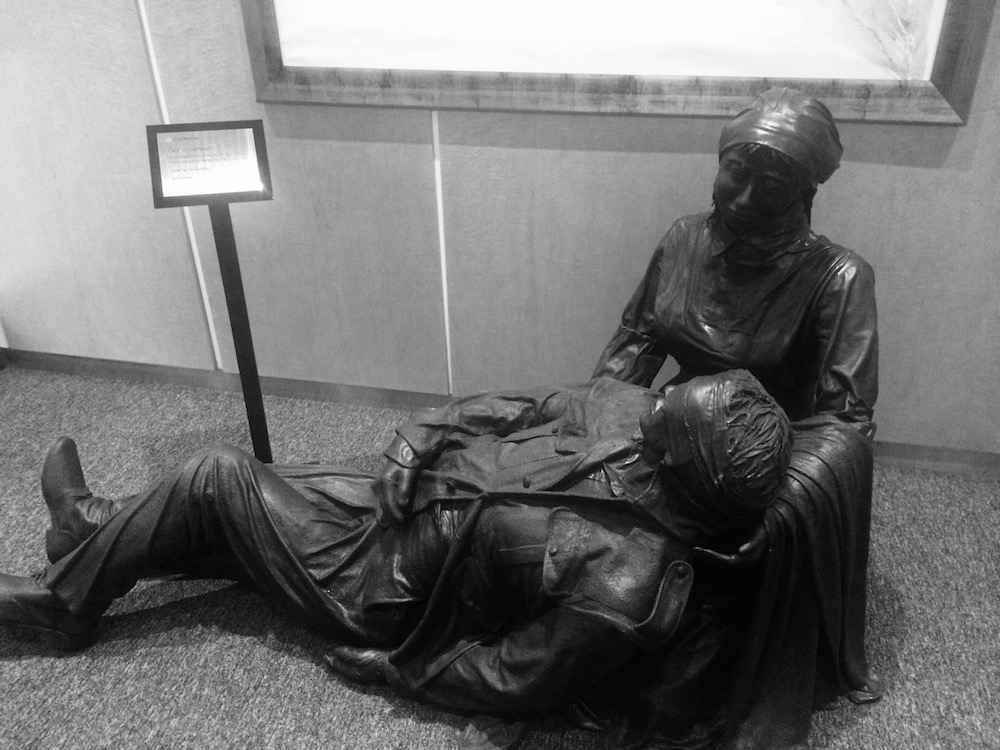 Sculpture of Red Cross nurse and soldier by Johanna Marshall nee Domke-Guyot
Photographs taken at the unveiling by Pauline Woodhouse
30th April, 2016
Over 90,000 people were Red Cross volunteers at home and abroad during WWI. For the first time, their records have been transcribed and are now available online. The records show their names and addresses, job title, where they worked and length of service.
For the past year Pauline Woodhouse, Radcliffe WWI research team member, has been one of 800 volunteer transcribers working on the British Red Cross First World War digitisation project. Volunteers have transcribed 244,000 mainly handwritten WW1 Red Cross personnel cards for wartime volunteers (VADs) so that a searchable online archive could be created. On 25th April Pauline was among a group of volunteers who attended the British Red Cross HQ in London to celebrate the completion of the digitisation of all 244,000 records. These records are now available online at redcross.org.uk/ww1. The celebration was also marked by the unveiling of a sculpture donated by artist Johanna Marshall née Domke-Guyot. The sculpture depicts a Red Cross nurse with a wounded soldier, reflecting the significant role that VADs played during WW1. The artwork was created using a technique which makes the medium look like bronze (it is not resined). To see more by this artist visit www.johannadomke-guyot.com.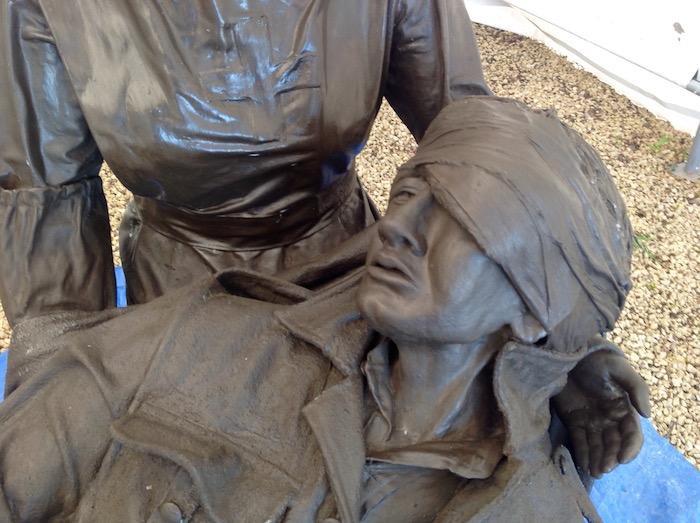 The Radcliffe WWI research team are using the online resource to find local women working for the Red Cross during the war. To date, fourteen women nursing at Lamcote Auxiliary Hospital for Officers in Radcliffe on Trent have been discovered, several of whom lived in the village:
Mary Bethune, Claire Birkin, Violet Mary Bishop, Violet Blew-Jones, Olive Violet Elnor, Aline Hold Hales, Elizabeth Herald, Katherine Doris Hickson, Philippa Constance Howitt, Helena Doris Leman, Louisa Mary Long, Muriel May Middlemass, Daisy Carolina Sharp, Lucy Elizabeth Sharp.
Eleven Radcliffe women have been discovered working in hospitals elsewhere:
Susannah Addyman, Annie Allock, Ethel Rose Bloodworth, Grace Durant, Charlotte Emma Haynes, Emma Brewster Haynes, Marie Holmes, Constance Howard, Daisy Newbury, Florence Emmeline Parr, Cissie Wesson (Ellen Leaver, whose biography is on the website was matron at Notts. County Asylum prior to, during and after the war. She was not a Red Cross Nurse).
The twenty five women identified were Voluntary Aid Detachment workers. The majority were nurses; some had roles associated with the day to day running of hospitals. Unusually, the record on this page shows Radcliffe VAD worker Marie Holmes working in a dispensary.
The Radcliffe WWI project group are continuing their research on these women, and adding biographies when completed to those already available in the 'Radcliffe Women' section of the website. Information about temporary war hospitals in Radcliffe on Trent will be added to the website later on in the year.