WILLIAM ROBERT BRICE 1885–1918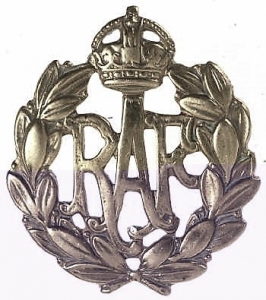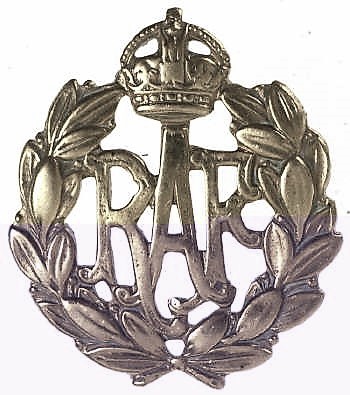 Born 9th September 1885, Radcliffe on Trent
Married 14th May 1913 to Ann Hopkinson, Nottingham
Died 7th December 1918, County Hospital, Lincoln, age 33
Buried in Radcliffe on Trent cemetery
Commemorated on Radcliffe on Trent War Memorial
Radcliffe on Trent School Register
Admitted to Radcliffe school May 1889
1891 Census
Age 5, living in Bailey Lane with his father, William, 54, a plumber, mother Mary, 42, brother John, age 1 and cousin Ada, age 16.
1901 Census
Age 15  working as a fishmonger's assistant, living with his widowed mother Mary, a grocer and shopkeeper, his brothers and two boarders in Back Lane, Radcliffe on Trent. His father William died 1898, age 62. His brothers John, 11 and Leonard,  8, were presumably at school although this is not recorded on the census. Boarders Walter Kirk, 23, and Robert Knight, 19, were plumbers. The grocer's shop was on the corner of Water Lane and Bailey Lane.
1911 Census
Age 25, working as a domestic gardener and living with his widowed mother Mary, age 62, a grocer, brother John, age 21, painter and paper hanger, and  brother Leonard, age 18, a horseman on a farm. They lived in Back Lane in a house with five rooms.
Military Service
Rank: 1st Private
Service Number: 300858
Military Unit: Royal Air Force, No.5 sub unit, General duties unit (from UK, Army Registers of Soldier's Effects and R.A.F. record)
Theatre of War: unknown, may not have served abroad
Medals Awarded: No details found
Enlisted in the army 8.6.16. Height 5ft 9ins., chest 32ins. No further information available about his army service. He transferred to the R.A.F. on 2.7.18. A note on his R.A.F. record states that his 'casualty card' was destroyed.
Death
William Brice was ill with influenza for eleven days before his death and had pneumonia for five days. He died in Lincoln County Hospital. His death was registered by his widow Ann who was present at the death together with his brother Leonard.
Article: The influenza pandemic and its impact on Radcliffe on Trent
From UK, Army Registers of Soldier's Effects:
7.11.1919  £3 17 shillings 9d to widow Ann;  16.3.20  £6 10 shillings to widow Ann
Pension
Ann received a pension of 13s 9d (69p) per week from 12 June 1919 and a £5 gratuity, her address at the time was Rushland House, 29 Bailey Lane, Radcliffe on Trent.
Burial: Radcliffe cemetery 11.12.1918, Commonwealth war graves headstone.
Epitaph: 'God will bind the broken chain, Closer when we meet again'.
Other information
William's brothers, John and Leonard, also served in the war. John survived and became a plumber. Leonard died in 1924.
It is not clear what happened to William's widow, Ann. Her address in the Commonwealth War Graves records is Walsall in Staffordshire.
For a detailed discussion of the Brice family, including Mary's shop, see p.121 Radcliffe Remembers, edited by Jean Lowe and Pamela Priestland. Information about Mary Brice can be found under 'Radcliffe Women' on the website.

From Forces War Records: address in 1918, 61 Queen Street, Walsall, Staffs.
Reasons for inclusion on Radcliffe on Trent Roll of Honour
Lived in Radcliffe on Trent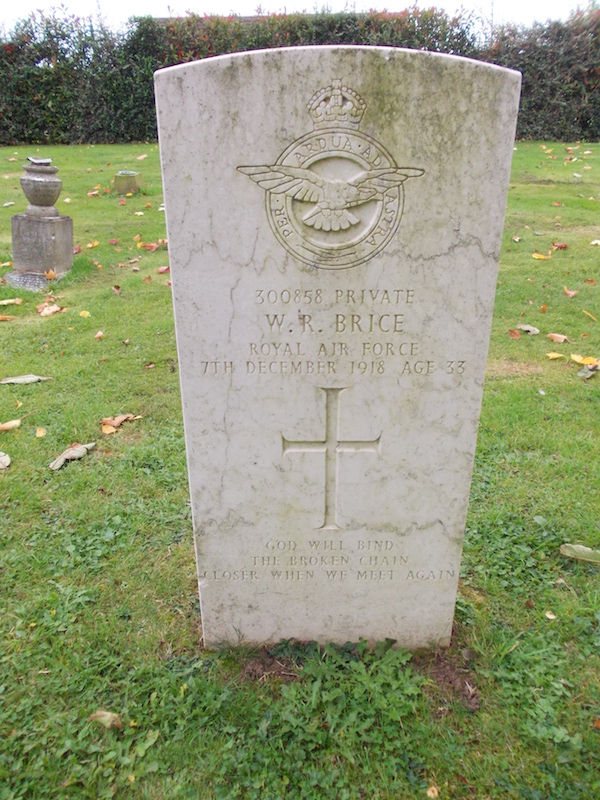 Radcliffe on Trent cemetery