JOHN EDWARD BRICE 1889-1960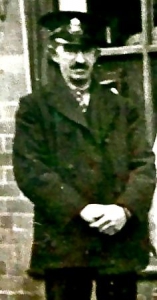 Photo from Radcliffe on Trent Local History Society
Brother of William and Leonard
Born 14th December 1889, Radcliffe on Trent
Married 6 August 1919 to Daisy Simpson
Children: Dorothy born 1920, Arthur born 1922, Leonard born 1924
Died 1960, Bingham district, age 70
1891 Census
Age 1,  living in Bailey Lane, Radcliffe on Trent with his father, William, 54, a plumber, mother Mary, 42, brother William, age 5 and cousin Ada, age 16.
1901 Census
Age 11, presumably at school, living with his widowed mother Mary, a grocer and shopkeeper, his brothers and two boarders in Back Lane, Radcliffe on Trent. His father William died 1898, age 62. His brother William, age 15, was a fishmongers assistant. His brother Leonard, age 8, was presumably at school.  Boarders Walter Kirk, 23, and Robert Knight, 19, were sharing the family home. Both boarders were plumbers. The grocer's shop was on the corner of Water Lane and Bailey Lane.
1911 Census
Age 21, was working as a painter and paperhanger and living with his widowed mother Mary, age 62, a grocer, brother William, age 25, domestic gardener and  brother Leonard, age 18, a horseman on a farm. They lived in Back Lane in a house with five rooms.
Military Service
Rank: Private
Service Number: 201285
Military Unit: 6th-7th Battalion, Royal Scots Fusiliers, 45th Brigade, 16th (Scottish) Division. Previously 1st/5th Royal Scots Fusiliers
Theatre of War: France and Flanders
Medals Awarded: British War and Victory
Military Personnel Address on 1918 Electoral Roll
Water Lane, Radcliffe on Trent
Royal Scots Fusiliers
It is not known when John Brice joined the Royal Scots Fusiliers or why he was placed in a Scottish regiment. The 1/5th Battalion was a territorial unit serving at Gallipoli and then in Gaza. The battalion embarked for France in April 1918 from the Middle East and was involved in various conflicts there until the end of the war. The 6th and 7th Battalions were service battalions serving on the Western Front throughout the war. The 6th arrived in France in May 1915 and the 7th arrived in July 1915. The 7th amalgamated with the 6th in May 1916.
10 October 1918 reported wounded War Office Daily List no 5692
Other information
The Brice family had a long tradition of being plumbers; they are listed as such in Wright's Directories for 1877. John built up the painting and decorating side of the business after the war. The business struggled in the 1930s and John became a postman. John's advice to his son Arthur about following him into painting and decorating was as follows: 'You're not coming into this business; it's too much like hard work for no pay' ('Radcliffe Remembers', edited by Jean Lowe and Pamela Priestland).
1921 Census
Address: Rushland House, Water Lane, Radcliffe
Employment: Painter and paper hanger and assistant postman
Household: wife Daisy, daughter Dorothy, mother Mary, retired shopkeeper, brother Leonard, widowed sister in law Annie
1922 Electoral Register
Address: Water Lane, Radcliffe on Trent
1939 Register
Address: Water Lane, Radcliffe on Trent (no house number on register)
Occupation: postman, Special Constable
Household: living with wife Daisy
Reasons for inclusion on Radcliffe on Trent Roll of Honour
Lived and worked in Radcliffe on Trent