MARY BRICE 1849–1921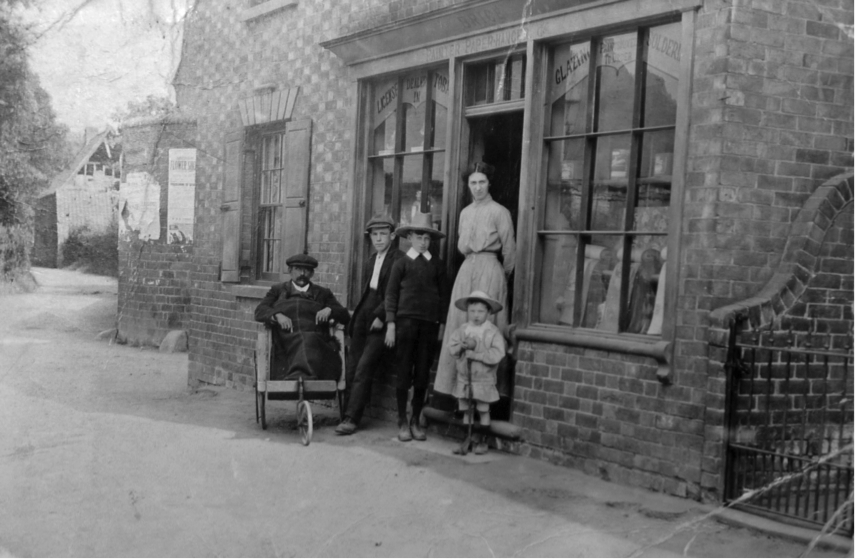 Mary Brice's shop in the early 1920s
Photograph from Cutler collection
Born: 1849, Hints, Staffordshire
Married: 1871 to Arthur Brice in Nottingham, second marriage 1885 to William Brice
Died: 1921 in Radcliffe on Trent
Before the First World War
Mary was born in 1849 in Hints, Staffordshire and in the 1851 census she was living with her father John age 33, a shepherd born in Amington, Warwickshire and mother Ellen (née Newbold) age 38, born in Lullington, Derbyshire. They had three other children: Charles age five, Elizabeth age four and John age three months. A servant, Ellen Watson, age fourteen, was also living with them. Their address is Hints, Staffordshire.
In 1861 Mary was twelve and at school. Her brother Charles was now employed as a farmer's boy. John was also at school. They had three more siblings: Arthur, age eight, Ellen age six and Jane, age four. They were living in an agricultural labourer's cottage in Hints, Staffordshire.
Mary, age 22, married Arthur Brice, age 33, in 1871 in Nottingham. Arthur was baptised at St. Mary's church, Radcliffe on Trent on March 11th 1838. His parents were John, a glazier and Mary (née Rushland). In the 1871 census, Mary was living with her husband Arthur who was a plumber, her mother in law Elizabeth, a widower, and Arthur's unmarried brother, William, age 27.
In 1881 she was living with Arthur on Bailey Lane, Radcliffe on Trent. Her mother in law Elizabeth and brother in law William were next door. Arthur died on 27th November 1882 at the age of 44 and left Mary £112.172.8d in his will. Mary then married Arthur's elder brother William in 1885 in Nottingham when she was 36 and he was 49. (William was baptised at St. Mary's church on 2nd October 1836. He was also a plumber). Mary and William had three sons, William Robert born in 1886, John Edward born in 1890 and Leonard Rushland in 1893. After thirteen years of marriage, William died on 17th October 1898, age 61, leaving Mary to bring the three children up alone.
In 1901 she was recorded in the census as head of household, age fifty-two. Her occupation was grocer and shopkeeper. Her son William was a fishmonger's assistant and her other two sons were at school. She also took in lodgers at her house on the corner of Bailey Lane and Back Lane: Walter H Kirk and Robert Knight, both plumbers from Berkshire. She would have had no choice but to continue with the shop to support her family.
In 1911, she was sixty-two years old still working in the shop as a grocer. Originally the shop was a retail outlet for the family business selling wallpaper and paint, but later on Mary began selling general groceries, such as confectionery, household cleansers and polishes. Her three sons were still with her. William was working as a domestic gardener, John as a painter and paperhanger and Leonard as a horseman on a farm.
During and after the First World War
Mary had to maintain the family business when her three sons enlisted. William served with the R.A.F., John with the Royal Scots Fusiliers and Leonard with the Sherwood Foresters. During the war years she would have had to cope with the anxiety of having her sons abroad, as well as the general difficulties faced by retailers in war conditions. The above photograph, taken in 1920, shows she was a licensed tobacconist and by then the shop was also providing glazing and soldering services. William died as a result of war service on 26th December 1918, age thirty-four; he was buried in Radcliffe on Trent cemetery and remembered on the Radcliffe War Memorial. Leonard Rushland died from tuberculosis in 1924, at the age of thirty-one. John, the middle son, was left to carry on the family business after Mary died in 1921, age seventy-three. She was buried in Radcliffe on Trent cemetery.
1921 Census
Address: Rushland House, Water Lane, Radcliffe
Employment: Retired shopkeeper
Household: son John and his wife Daisy, Leonard and his wife Annie, granddaughter Dorothy
Author: Marion Caunt