FREDERICK BROWN 1883–1918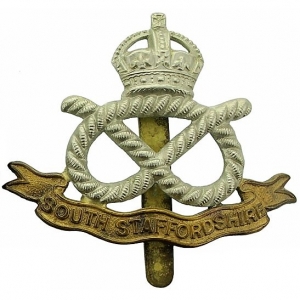 Born 5th November 1883 in Hogsthorpe, Lincolnshire
Baptised 25th November 1883 at the parish church, Hogsthorpe
Married 1st February 1908 to Rosa Bell of Radcliffe on Trent. Children: sons Charles born 1909, Thomas born 1914 and George born 1911, stepson Fred born 1904, daughter Grace born 12th April 1918
Killed 25th June 1918
Buried Bienvillers Military Cemetery X1X.D.10
Commemorated on Radcliffe on Trent War Memorial
1891 Census
Age 7 and living with father George 42 a general labourer, mother Susan 38, sisters Matilda 12, Eliza 10, Fanny 3 and brothers John 8, George 5 and Charley 1.  They lived at Finsbury Square, Hogsthorpe, Lincolnshire.
1901 Census
Living in London as a boarder with William Norris, a carpenter.
Military service before 1902
Frederick Brown enlisted in the Royal Navy on May 30th 1902, age sixteen (?). Height 5ft 4½inches, hair dark brown, eyes dark blue, complexion fresh. He served on the Duke of Wellington from 30th May-7th December that year, list 14C, number 352. It appears from his record that he was discharged to shore by his own request on 7th December. There are no further records of his naval service; it is not clear whether he continued to serve after 1902.
1911 Census
Age 27 employed as a corn merchant's labourer and living in Radcliffe on Trent with wife Rosa 24, born in Radcliffe, step-son Fred 6 and son Charles 2. Fred was born July 24th 1904 (no father listed).
Military Service
Rank: Private
Service Number: 3290
Military Unit: 2nd Battalion, South Staffordshire Regiment, 6th Brigade, 7th Division
Theatre of War: France and Flanders
Medals Awarded: British War and Victory
Go to WWI Timeline to see how this man's death is part of the wider story of the war.
Frederick Brown was killed near Bienvillers, France, a couple of weeks after the Battle of the Aisne. The extract below show the battalion were in the vicinity of Moncy-le-Preux, Nord Pas du Calais when he was killed.
From the War diary of 2nd Battalion, South Staffordshire Regiment, June 1918
AYETTE       
23:  Fine.  Normal Trench Warfare.
24:
25: Fine.  Very cold. Raid on right by 23rd RF. Heavy barrage,  unsuccessful. During hour(ly) patrols tried to obtain identifications but were unsuccessful. 3 officers went down with trench fever.
26:  Fine.  Cold. Last night 14th RHA relieved 165 RHA as artillery.
27:  Fine. Relieved by 17th RF and moved into reserve at MONCHY.  Bn cleaning up and resting.
MONCHY     
28:   Fine.   Inspections, musketry exercises, specialist training
29:      
30:   Tactical schemes, specialist training. 9.45 pm left Reserve trenches to go into support.
Monthly General Remarks
Max.Trench Strength: 30 officers 701 O.R. (other ranks)
Min. Trench Strength: 19 officers 579 O.R.      
Max. Ration: 33 Officers 789 O.R.
Min: 22  Officers 677 O.R.
Casualties:
Killed: 9 O.R.             
Wounded: 25 O.R.                
Missing                 
To Hospital Sick: 8 Officers and 105 O.R.                
From Hospital: 2 Officers and 6 O.R.                    
Reinforcements: 1 Officer and 137 O.R.
View the above extract in the original War Diary
Pension record
Pension form 104-88 was received on 24.7.18 citing Rosa, widow of Water Lane, Radcliffe-on-Trent as widow. Four children were listed as dependants: Frederick Bell, born 24.5.04, Charles Brown, born 4.12.08, George Henry Brown born 11.9.11.and Thomas Edley Brown born 13.1.1914. A £9 grant was paid on 25.7.18. Pensions of 15 shillings 10d (79p) were awarded to the children from 13.1.19 up to their sixteenth birthdays. Mrs E Flower is listed as the guardian of Frederick Brown. She was awarded 4 shillings 2d (21p) a week. Rosa Brown was not eligible for a widow's pension because she 'remarried a civilian on 30.12.18'.  However, she was awarded a gratuity of £35 15 shillings (£35.75p) less £1 5 shillings (£1.25p) over-issue of allowance.
Other information
Frederick Brown was a Wesleyan Methodist. The family lived on Mount Pleasant, Radcliffe on Trent.
Rosa was the niece of Clara Bell, widow of James Harris. Rosa and Clara had been brought up in the same household, she was only 3 years younger than Clara.
She married (William Ernest White) listed as formerly Sunny Lane, Radcliffe on Trent. They had a son Ernest and in 1939 were living at 3 Council Houses, Main Road, Radcliffe.
Reasons for inclusion on Radcliffe on Trent Roll of Honour
Married a woman from Radcliffe on Trent and then lived in the village.
Bienvillers Military Cemetery, France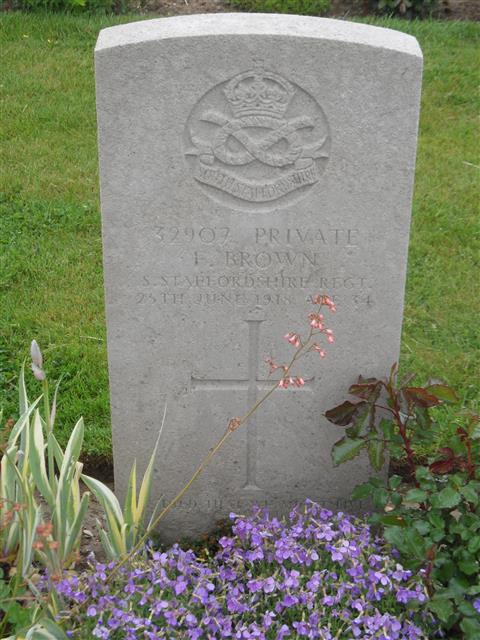 Photograph courtesy of Murray Biddle