WALTER HAWORTH WHITWORTH
1882–1918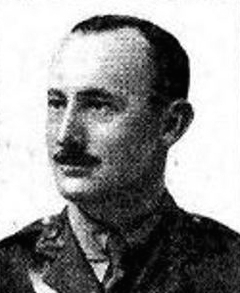 Photo from De Ruvigny's Roll of Honour
Born 21st May 1882 in Bowdon, Cheshire
Married 20th December 1910 to Eliza Constance Whitworth in Buenos Aires
Sons John Nicholas Haworth, born 10 January 1912, Buenos Aires, and Richard Haworth born 29 July 1913 and baptised 8th September 1913 in Radcliffe on Trent.  Father recorded on baptismal roll as a farmer living in the Argentine Republic.
Died of wounds 14th September 1918 in France, age 36
Buried at Heath Cemetery, Harbonnieres, France. He is not commemorated on Radcliffe on Trent War Memorial. Remembered on Bowdon Down Church Memorial Porch, together with his brother John.
Family background
Walter Haworth Whitworth, born 1882, was the son of John Whitworth, born 1846 and Marian Haworth born 1849. His father was born in Cheshire and his mother in Lancashire. John was a cotton merchant. John's father, Benjamin Whitworth, born 26th January 1818 in Manchester, became an Irish politician. He lived in Drogheda, Ireland, as a child but was educated in England. He returned to Drogheda in 1865 and founded Greenmount and Boyne Mills, employing over 1000 people. The company exported linen to many countries, including Argentina. This country became a focal point for the inter-related Whitworth and Warren families, some of whom settled there (see Edward Warren's biography). Benjamin Whitworth became an MP for Kilkenny City in 1875 then resigned in 1880 to contest the Drogheda constituency as a Home Rule candidate. He was the Drogheda MP from 1880–1885 and a major benefactor of the town. He died in 1893.
1881 Census
John Whitworth, cotton merchant, was living with his wife Marion, daughter Mary, age two and son John, age one, in Bowdon, Cheshire.
1880s, emigration to America
The family emigrated to Kansas City during the 1880s; their home in America was accidentally burned down in 1887 (source: Ancestry Public Member Tree). Walter was educated in Kansas before returning to England for further study. His mother Marion died in Kansas in 1894 and his father died (date unknown) at some point before his sons were killed in WWI.
1896
Walter Whitworth was admitted to Bowdon College, Cheshire. He continued his education at the Royal Agricultural College, Cirencester.
1901 Census
Walter Whitworth, age eighteen, was living on his own means with his brother John Haworth 21, an undergraduate at Oxford, and sisters Mary 22, Cecily 20, and two servants. They lived in Bowdon, Cheshire.
Travel to Argentina
He travelled to Buenos Aires on 13th September 1906 on the SS Oronsa then again on 29th May 1909, travelling first class on the ship Raphael. He married Eliza Whitworth, daughter of Nicholas Whitworth, in 1910, Buenos Aires. Eliza (born 1878) was the younger sister of Annie Warren, mother of Edward Warren. Walter travelled from Argentina to London on 6th December 1913. He returned to Argentina at some point; his son John was born there in 1912. He then appears on the passenger list of the SS Deseado, dated 6th August 1917, travelling from Argentina to London. His occupation is given as farmer. Eliza travelled from Buenos Aires with her two sons on 10th May 1918, arriving in Southampton on 15th May 1918. Their address on the passenger list is given as Cliffe House, Radcliffe on Trent. She died in Liverpool on 8th June 1942.
Military Service
Rank: 2nd Lieutenant
Military Unit: 1st/7th Battalion, Lancashire Fusiliers (Territorials), 125th Brigade, 42nd (East Lancashire) Division. Formerly Cadet 766738, 2nd Battalion, Artists Rifles.
22.8.17: Joined the Artists Rifles
29.5.18: Gazetted 2nd Lt, Lancashire Fusiliers
August 1918: Disembarked in France with the British Expeditionary Force
14.9.18: Died of wounds
Death
Walter Whitworth died of wounds at No. 41 Casualty Clearing Station, near Holnon Wood, France, on 14th September 1918. A war diary has not been found for his regiment but The History of the Lancashire Fusiliers 1914-18 Volume 2 confirms 16th Battalion on the eastern edge of Holnon Wood, near St Quentin, France, between 12th and 14th September 1918. Holnon village and wood were the scenes of heavy fighting between 14–19 September, 1918.
Medals Awarded: No details found for medals awarded. Entitled to British War and Victory
Go to WWI Timeline to see how this man's death is part of the wider story of the war.
Military personnel address on 1918 Electoral Register: Cliff House
Before embarking for France in 1918, Walter Whitworth was sharing an address in Radcliffe on Trent with his nephew by marriage, Edward Warren, who also fought in WWI and had a permanent home in Argentina. The address was Cliffe House, Radcliffe on Trent. Edward Warren was using this address from September 1916 when he enlisted; Walter Whitworth arrived in England to enlist in August 1917. Cliffe House was built around 1862 and was located off Shelford Road, overlooking the river. It was bought around 1914 by Henry Wilkin Roberts, Walter's wife's brother-in-law. Henry Wilkin Roberts, born in Lancashire in 1869, married Walter's wife's sister Kathleen. He is listed as living there in 1918 with his wife Kathleen, in 1922 with Kathleen and son Donald and in 1930 with Kathleen. He was a merchant who spent most of his life in Argentina. Passenger lists for four trips he made from England to New York (in 1917, 1919, 1922 and 1939) give his address in England as Cliffe House, Radcliffe on Trent. The three men who used the address are linked by their relationship to the Whitworth sisters: Annie (Edward's mother), Eliza (Walter's wife) and Kathleen (Henry's wife). The house was demolished in the 1960s and replaced by Oak Tree Avenue and several new houses. All that remains today of the former house is Cliff Lodge on Shelford Road.
The name of the house appears on various documents either as Cliffe House or Cliff House, sometimes preceded by 'The'.
Will – Probate was delayed for several years. Administration to Richard Haworth, timber salesman.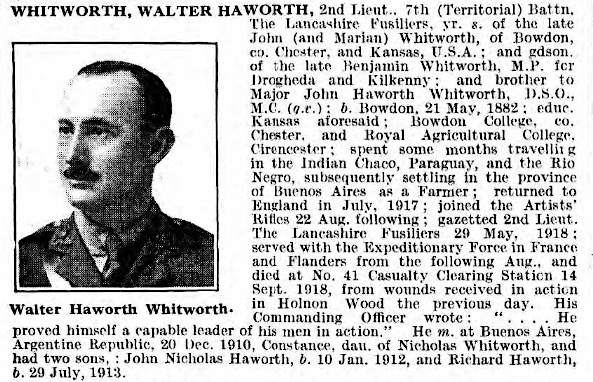 From De Ruvigny's Roll of Honour
Other information
Walter Whitworth's brother, Major John Haworth Whitworth, D.S.O., M.C., 2/6th (Territorial) Battalion, The Manchester Regiment, died of wounds on 31st March 1918.
Walter Whitworth's son, John Nicholas Haworth, CB, DSO, DFC and Bar (1912–1974), was an Air Commodore in the R.A.F. in WWII. He was a pilot in the 1930s, became a squadron leader in February 1939 and then flight commander of No. 10 Squadron, flying Whitleys. Subsequently he became commanding officer of No. 78 Squadron, flying Halifaxes. In 1943 he became station commander at RAF Scampton, the operational base for 617 Squadron and 'Operation Chastise'. He was portrayed in the film The Dam Busters by Derek Farr. He became Chief of Staff of the Ghana Air Force (1961–1962) and A.O.C. RAF Hong Kong (1962–1964).
On 30th July, 1940, the engagement was announced between Captain Richard Haworth Whitworth, second son of the late Walter Howarth and Mrs Whitworth of Saxonbury, Blundellsands and Phylliis Frances Teague, daughter of the late Mr and Mrs Teague, Sandown, Isle of Wight (Liverpool Daily Post). The couple were married later that year on November 30th 1940 at St. Mary's Church, Radcliffe on Trent. Richard Haworth, 27, was described as a bachelor, occupation HM forces residing at Cliff House. Phyllis F. Teague, spinster age 25, was also residing at Cliff House.  W.K. Roberts and one other person were witnesses.
Major Richard Haworth died in 1994, Ashford, Kent.
Reason for inclusion on the Radcliffe on Trent Roll of Honour
Walter Whitworth lived in Radcliffe on Trent at various times before and during the war. His son Richard was baptised and married in the village.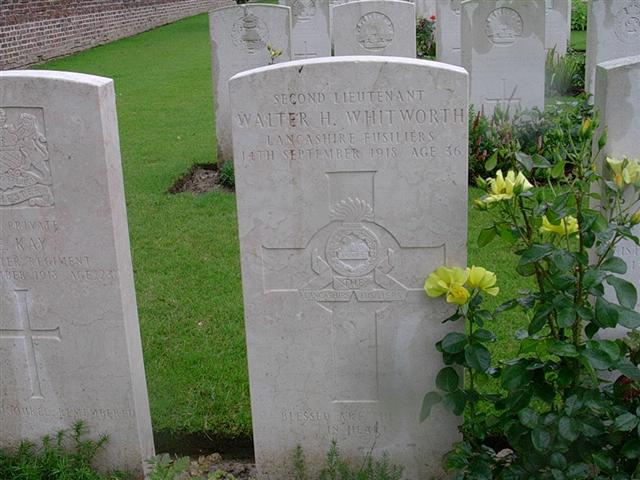 Photograph courtesy of CWGC
Heath Cemetery, Harbonnieres, France