WILLIAM ALFRED WILLIAMSON 1878–1982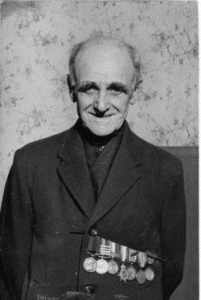 Born 19th October 1878 in Radcliffe on Trent
Baptised 14th November 1878 at the Wesleyan Methodist Church, Radcliffe on Trent
Married  1909 to Phoebe Fretwell, at Eastwood Parish Church, Notts.
Six children: Phoebe Grace born 1910 and Walter born 1913, William A. born 1920, Dolly born 1921, Jack born 1924, Fred born 1926.
Died 1982, age 103
Buried Marlpool Cemetery, Heanor, Derbyshire
1881 Census
Age two living on Mount Pleasant, Radcliffe on Trent, with father Walter, forty-five, born in Cotgrave, a butcher, mother Ann, half sister Ann, twenty-two, and brother Walter, one.
In 1883 William's mother died after the birth of Fred.
1891 Census
Age twelve living on Back Lane, Radcliffe on Trent with father Walter, a widower and butcher, Mary A. Williamson, housekeeper, brother Walter A and sister Grace Emily, nine.
1901 Census
No census record found – he was on active service.
He enlisted in The Leicestershire Regiment in 1896 and served in 1st Battalion from 31.12.1896 to 30.12.1908 with Service Number: 4877. He served in South Africa during the second Boer War 1899-1902 and was trapped inside Ladysmith during the siege (source findagrave.com).
His memoir of the Boer War can be found on notjacobitescots.blogspot.com
Medals awarded: Queen's South Africa with clasps: Talana (Oct 1899), Defence of Ladysmith (Nov 1899-Feb 1900), Laing's Neck (Jun 1900), Belfast (Aug 1900).
King's South Africa with clasps 1901 and 1902.
1911 Census
Aged 32 employed as a town postman living with wife Phoebe 26 born in Eastwood and daughter Phoebe Grace 7 months.  They lived at 23 Dunstead Road, Langley Mill in a house with 5 rooms
Military Service from 1914
Rank: Private on enlistment, R.Q.M. Sergeant at completion of service
Service Number: 12248 (Leics), 52217 (Lincs)
Military Unit: 9th (Service) Battalion, The Leicestershire Regiment, 110th Brigade, 37th Division. Transferred to 2nd Bn, The Lincolnshire Regiment, 25th Brigade, 8th Division
Theatre of War: France and Flanders, date of entry 29.7.15. Total war service abroad 3 years 4 months.
Re-enlisted 31st August 1914 at Nottingham and served in 9th Battalion up to the rank of Warrant Officer 2 Regimental Quarter Master Sergeant with Service Number: 12248.
Age on enlistment: 37 years 298 days.
Occupation: postman. Religion: Wesleyan Height 5ft 5¾ins, weight 130lbs, chest 35ins, eyes blue, hair black
Married with 2 children. Address: 23 Dunstan Road, Langley Mill, Notts
25.9.14: Promoted to Acting Corporal, Bourley Camp
2.12.14: Promoted to Acting Sergeant then Transport Sergeant, Aldershot
19.6.15: Appointed to Acting Company Quartermaster Sergeant, Perham Down
27.7.15: Left with the British Expeditionary Force to France
Appointed to Acting Company Sergeant Major
4.9.15: Confirmed in rank of Company Sergeant Major in the Field
15.6.16: The London Gazette 15 June 1916 – mentioned in dispatches for gallant and distinguished conduct in the field
23.6.16: Promoted to Regimental Quarter Master Sergeant
15.7.18: Transferred to 2nd Battalion, The Lincolnshire Regiment. Allotted ne Regimantal number 52217
21.10.18: London Gazette – Awarded the Distinguished Conduct Medal
22.3.19: Admitted to hospital in the field with DAH (Disordered action of the heart)
16.4.19: Hospitalised at No. 3 Australian General Hospital, Abbeville with debility
Distinguished Conduct Medal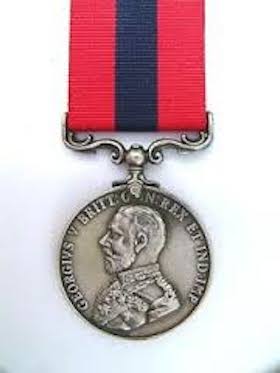 'For conspicuous gallantry and devotion to duty during operations. On one occasion, when the forward ration dump was being heavily shelled, the ration parties were unable to reach the dump owing to the heavy barrage; he remained with the rations at the dump for several hours until it was possible for the parties to reach the dump and carry away the rations. At all times he has carried out his duties in an exemplary manner.'
Home town given as Langley Mill.
At some later point he served with number 52217 as RQMS 2nd Battalion The Lincolnshire Regiment
Source for information on William Williamson: www.royalleicestershireregiment.org.uk
Medals Awarded: DCM, M.I.D. 1914-1915 Star, British War and Victory
1921 Census
Address: 23 Dunstead Road, Langley Mill
Employment: postman
Household: wife Phoebe, daughter Phoebe, sons Walter and William, and niece Phoebe Fones, ball making pottery works
1939 Register
Address: 19 Station Road, Heanor, Derbys.
Occupation: window cleaner, Air Raid Precautions part time
Household: living with wife Phoebe, born 29 September 1884, sons William, a plumber, Jack, a grocer's assistant and Fred at school.  His widowed daughter Phoebe Grace Hickey, a shop assistant, his son Walter and wife June were living next door. Walter was a laundry transport driver.
Other information
He resumed his job as a postman in 1919, retired in October 1938 and was presented with the Imperial Service Medal for his 33 years of service at Langley Mill.  He went with the British Legion to meet Prince Charles at the age of 99 (source findagrave.com).
Reason for inclusion on the Radcliffe on Trent Roll of Honour
Born and lived in Radcliffe on Trent as a child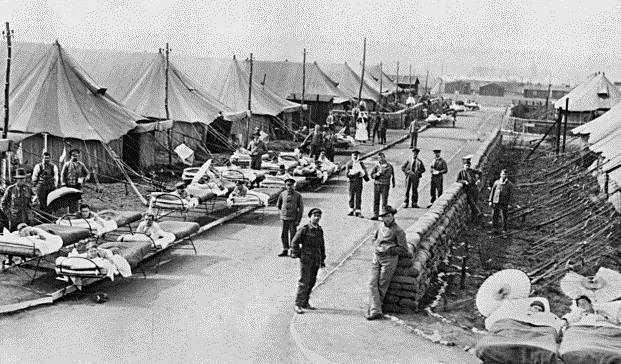 Australian Hospital no 3 Abbeville