EDWARD McLANDSBOROUGH MERVYN WARREN
1898–1950
 Photograph by kind permission of family
Born 27th March 1898, Duleek County Meath, Ireland. British subject by birth, nationality Irish.
Married 1930 in Argentina to Violet Elizabeth Burnett. They had two sons, Robert de Warren and Michael and three daughters, Sheila, Careen and Patricia.
Died 1950.
Edward Mclandsborough Mervyn Warren was the son of Edward Atkinson Warren and Annie Martha Whitworth. His parents were married on June 4th, 1889 at Beaulieu in the parish of Termonfeckin, Co. Louth, Ireland. Edward was the paternal grandson of Henry Warren and maternal grandson of Nicholas Whitworth (1845-1921), a cotton merchant who worked for Benjamin Whitworth & Bros in Ireland. Nicholas returned to live in Cheshire with his family around 1890. His younger daughter, Eliza Constance Whitworth, married Walter Whitworth in 1910, Buenos Aires (see Walter Whitworth's biography).
Educated Winchester and Marlborough schools.
Left Argentina for England in June 1916. A letter was sent on 4th June 1916 from Estancia Norumbega, 9 de Julio, in support of his application to join the army. The signature is almost illegible – possibly Arthur Tenuaus:
This is to certify that Mr. Edward M. Mervyn Warren came to me as assistant manager after my late manager Mr. Leonard left to join the Army. Mr. Warren now leaves for the same purpose and I have great pleasure in recommending him for any position he is able to take. He has been with me nearly twelve months and has given me every satisfaction.
Military Service
Rank: Lieutenant
Service Number: 175103
Military Unit: Royal Garrison Artillery, previously Royal Horse Artillery
Theatre of War: France and Flanders
15.8.16: Examined by Medical Board, found physically fit for active service
21.9.16: Attested
Address on enlistment form: The Cliffe House, Radcliffe on Trent. Permanent address: Estancia Norumbega 9 de Julio F.C.C., Buenos Aires. Address for correspondence: 6 Florence Terrace, Bray, Ireland.
Admitted to an Officer Cadet Artillery Brigade , to join 'B' Reserve Brigade, Royal Horse Artillery, St John's Wood, London on the 23rd September 1916.
Age 18 years, six months. Height 5ft8ins. Next of kin: father Edward Atkinson Warren, Buenos Aires
Occupation: assistant farm manager
21.1.17: Commissioned 2nd Lt. Royal Garrison Artillery.
13.9.18: Promoted Lieutenant
20.1.19: Demobilised at No.1 Dispersal Unit, Oswestry. permanent address: 6 Florence Terrace, Bray, Co. Wicklow.
30.3.19: Relinquished commission with entitlement to retain the rank of Lieutenant.
Military Cross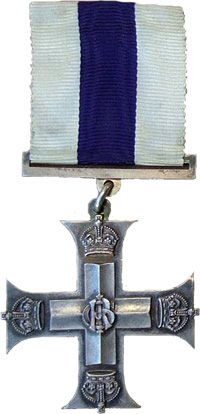 Awarded for "acts of exemplary gallantry during active operations against the enemy"
Gazette Issue 30901 13.9.18: M.C "His Majesty the King has been graciously pleased to approve the following award to the undermentioned, in recognition of their gallantry and devotion to duty in the Field. Medals Awarded: the Military Cross. For conspicuous gallantry and devotion to duty
This officer was acting as liaison officer with the artillery, but in addition to this duty he took a prominent part in guiding and assisting the troops he was with throughout nine hours of shell fire, sharing their risks and inspiring them by his courage and coolness. At the end of the day, when the enemy was approaching, he went out with a gunner to disable the guns which were in front of a strong point, accomplishing this under heavy fire."
Medals Awarded: Military Cross, British War and Victory. Campaign medals were sent to his uncle Robert Gibson Warren, 9 Eustace St, Dublin 2.6.1922. Edward's address on the medal card was given as "Estancia San Miguel", Roberts FCO, Buenos Aires, Argentina.
Other information: Cliffe House, Radcliffe on Trent and the Argentinian connection
Edward lived in Argentina for much of his life. His estancia San Miguel comprised 70,000 acres. The family lost most of their property in the 1940s under the Peron regime. He died in 1950, possibly from cancer, exacerbated by war wounds.
Edward's son, Robert de Warren, an internationally renowned choreographer, has written a memoir entitled Destiny's Waltz – In Step with Giants (2009). The book includes an exploration of his childhood in Argentina and provides information about his father, known locally as 'Don Eduardo'.  The book outlines his father's links with England. According to Robert de Warren,  Edward's relatives on his mother's side, the Roberts family, lived in Nottinghamshire 'in great splendour. Their mills produced some of the best British cloth from the wool imported from Argentina'. His cousin Donald Wilkin Roberts, son of Kathleen (Edward's aunt) and Henry Wilkin Roberts  was engaged to Violet Burnett and jilted her on her wedding day; she began dating Edward soon afterwards. Robert de Warren infers that she married his father on the rebound and 'relentlessly undermined my father's position' for the rest of his life.
During the war Edward shared the address of Cliffe House, Radcliffe on Trent with Walter Whitworth, his uncle by marriage, who was later killed on active service (see his biography). The same address is given for both men on the military personnel Electoral Register for 1918. Cliffe House was built around 1862 and was located off Shelford Road, overlooking the river. It had eight bedrooms, three reception rooms and five acres of grounds. It was built for William Sanday and his family. After he died in 1897 it was occupied by Frances Whitty, a lace manufacturer and then by Charles Hingston and his family. It was bought around 1914 by Henry Wilkin Roberts, Edward's uncle (see above). Henry Wilkin Roberts, born in Lancashire in 1869, married Edward's mother's sister Kathleen.  They are listed as living together at the house in the Electoral Registers for 1918, 1922 and 1930. Henry was a merchant who spent most of his life in Argentina. Passenger lists for four trips he made from England to New York (in 1917,1919, 1922 and 1939) give his address in England as Cliffe House, Radcliffe on Trent. The three men who used the address are linked by their relationship to the Whitworth sisters: Annie (Edward's mother), Eliza (Walter's wife) and Kathleen (Henry's wife). The house was demolished in the 1960s and replaced by Oak Tree Avenue and several new houses. All that remains of the former house is Cliffe Lodge on Shelford Road.
The name of the house appears on various documents either as Cliffe House or Cliff House, sometimes preceded by 'The'.
Edward's Irish mother, maiden name Annie Martha Whitworth, was a suffragette. She left her husband Edward Atkinson Warren and lived in Taunton with her daughter Aileen in her later years. His aunt Kathleen (born 5th May 1875) was living in Argentina in the 1920s. She left Henry Roberts at some point and in 1939 was living with her son Donald and wife Engracia in Cheshire. Donald was still using Cliff House as an address in 1934 and in 1939 continued to be an exporter to Argentina. By the 1950s Kathleen was living in a Bournemouth hotel. Her private apartment was, according to Robert De Warren, furnished with beautiful antiques and ornaments from the house in Nottinghamshire.
Reason for inclusion on the Radcliffe on Trent Roll of Honour
Edward Warren had an address in Radcliffe on Trent during the war.