PERCY BEMROSE 1893–1915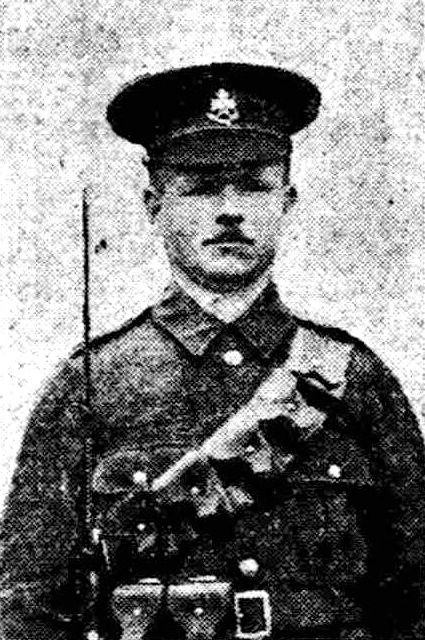 Photo from The Nottingham Evening Post, 1st April 1915
Brother of Bertie Bemrose who was also a soldier and served in the same battalion. He was killed 29th May 1918.
Born 1893 in Radcliffe on Trent.
Baptised 25th June 1893 at St Mary's Church, Radcliffe on Trent
Killed in action 12th March 1915, age 22 (date given on Commonwealth War Graves website is 12th March and on obituaries, see below, is 10th March)
Commemorated on Le Touret Memorial, Panels 26 and 27
Commemorated on Radcliffe on Trent War Memorial
1901 Census
Age 7, living at Thraves Yard, Radcliffe on Trent with father Sam 36 who was a general labourer, mother Mary Ann née Spencer 34, brother William 12, a cow boy on farm, brother Percy 11, sisters Mildred 5, Eugenie 4 and Elsie 2.
1911 Census
Age 18 a private stationed at Plympton, Crownhill Barracks, Crownhill, Devon and serving with the 2nd Battalion, Sherwood Foresters. His parents and siblings are still living in Radcliffe.
Military Service before 1914
Rank: Private
Service Number: 11500
Military Unit: 1st Battalion, The Sherwood Foresters, 24th Brigade, 8th Division
Army service from 5 Dec 1910
Age: 18 years 6 months, occupation farm labourer
Height 5ft 4⅞ins, weight 124 lbs. Pulse rate 88. Scar in centre of back. Girth when fully expanded 35ins, range of expansion 3ins
Fit for service: 5 December 1910
On war record: father Samuel, mother Mary Ann, brother William, sisters Eugenie and Elsie
5 December 1910-17 October 1912: Home
18 October 1912-2 September 1914: India
Military Service from August 4th, 1914
Rank: Private
Service Number: 11500
Military Unit: 1st Battalion, The Sherwood Foresters, 24th Brigade, 8th Division
Theatre of War: France and Flanders, date of entry 4.11.14. Total war service abroad 4 months
13 September-3 November 1914: Home
4 November 1914-12 March 1915: British Expeditionary Force
23 November 1914: Joined Battalion and served with 'D' Company
Killed at the Battle of Neuve Chapelle, France (March 10-13 1915) during the German counter attack. Bertie Todd and Charles Cherry, also regular soldiers from Radcliffe, fought in the same battle.
Total military service 4 years 98 days of which four months were his service in WWI
Effects despatched to Mr Samuel Bemrose. His father enquired specially for a small kit bag.
Medals Awarded: 1914 Star, British War and Victory.
Pension Record Card
A pension of 10 shillings  (50p) a week was granted to Mary Bemrose, mother, in respect of the deaths of her two sons, Bertie and Percy.
Go to WWI Timeline to see how this man's death is part of the wider story of the war.
From the War Diary of 1st Battalion, The Sherwood Foresters March 1915 (diary held by the Worcestershire and Sherwood Foresters Regimental Museum, Nottingham):
NEUVE CHAPELLE 12th.  5 a.m. Germans suddenly shell Battn Hd Qrs. and advance in overwhelming numbers to the attack. Our right is forced to retire through fear of being outflanked, and Battn after inflicting heavy losses on the enemy, retire to the support trench about 150 yards in rear. Enemy continue to advance massing on our right and right centre, but thrown into disorder by company bomber Pte. RIVERS and through counter attacks by our left and left centre retire being decimated by our fire, and Battn. regains its former trenches by charges, the enemy again suffering very heavily from our fire whilst retiring.
Weather fine but dull with a heavy mist in early morning .
7 a.m. Battn in complete possession of its former line. During this action Capt. DIXON, 2nd Lts. SHACKLOCK and WALKER were killed and Lt. and Adjt STRANGER and 2nd Lt. BINNEY wounded.
3 p.m. Battn suffer a few casualties from own artillery fire. Lieutenant O'DWYER wounded about this time.
9 p.m. Battn withdrawn to support trench and a new defensive line is taken up.
Casualties:                
Officers: Killed 6, Wounded 10, Total to date 17
Other Ranks: Killed 90, total to date 161; Wounded 265, total to date 556; Missing 87, total to date 87
Obituaries
From the Nottingham Evening Post Friday, 10th March 1916:
BEMROSE – In loving memory of Percy, the dearly-loved son of S. and M. A. Bemrose, killed in action, March 10th 1915, of Radcliffe-on-Trent. He died that we might live. – Father, mother, sisters, brother (in France).
BEMROSE – In loving memory of Private Percy Bemrose killed in action March 10th, 1915. A sad day to recall. – Bill and Harriett.
BEMROSE – In loving memory of Private Percy Bemrose, 1st Sherwood Foresters, killed in action March 10th, 1915. He did his duty. – Mildred and Billie.
Other information
The Le Touret Memorial, where Percy Bemrose is commemorated, lists the names of over 13,400 British soldiers who were killed in northern France between August 1914 and September 1915. These men have no known graves; almost all served with regular or territorial regiments and were killed in actions along sections of the front line stretching from Estaires in the north to Grenay in the south. The discrepancy in the date of his death (12th March according to the CWGC and 10th March according to his family) may have arisen if he was one of the many men listed as missing in action during the Battle of Neuve Chapelle.
Reasons for inclusion on Radcliffe on Trent Roll of Honour
Born and lived in Radcliffe on Trent.