JOHN THOMAS BEMROSE 1898–1958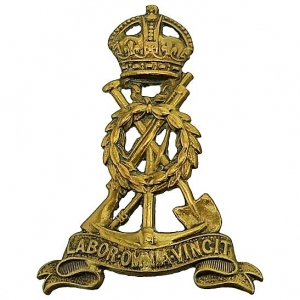 Born Oct-Dec 1898, Radcliffe on Trent.
Baptised 21st December 1898 where his mother's name is given as Harriet
Died 18th June 1958, age 59
1901 Census
Age 2, living at Ogles Yard, Radcliffe on Trent, with father Thomas, a general labourer, age 54 and mother Jane, age 52.  It is probable that Thomas and Jane were John's grandparents rather than parents as in 1911 Jane is recorded as his grandmother. John's birthplace is given as Radcliffe on Trent.
1911 Census
He was living at Wright's Yard, Radcliffe with grandmother Jane, a widow and charwoman. He was at school and working as a newsboy.
Military Service
Rank: Private
Service Number: 281328
Military Unit: 360 Company, Labour Corps
Theatre of War: Military record indicates he remained in the U.K. and therefore did not enter a theatre of war.
From British Army WW1 Service and Pension records:
Enlisted  2.3.16, age 18 years 7 months.
Height 5ft 4ins, chest 31½ins
Occupation: farm hand
Service reckons from 24.5.17.
Next of kin: father, Frank Cooper, 15 Main St, Bulwell on Service records.
On Pension records next of kin is Mr Cook, 29 Middle Orchard Street, Stapleford. This is also John's address.
24.5.17: Joined depot at Derby
27.5.17: Posted Sherwood Foresters, 2nd Training Reserve Bn
22.6.17: Transferred to No.1 Agricultural Company
29.6.17: Transferred to 360 Reserve Employment Company, Labour Corps
24.5.17 – 12.10.17: Home 142 days
10.8.17: Report of Medical board:
'Physically unfit: Kyphosis.  Date of origin: from childhood/infancy.  Place of origin: Stapleford.  Not result of, nor aggravated by ordinary military service.  He says his back has been as it is since he remembers. He says about the age of 10 yrs he fell over the edge of a cliff about 20 ft and he thinks it did not improve matters.  Present condition: a boy of very poor physique.  Very marked kyphosis in the upper dorsal region.  He also has lordosis.  He complains of dizziness and headaches – this has been present since his fall over the cliff.  Permanently unfit'.
(Note – 'kyphosis' and 'lordosis' both refer to curvature of the spine)
Date of discharge 12.10.17. Discharged no longer physically fit for war service.
Description at time of discharge: age 19, height 5ft 4ins, chest when fully expanded 31½ins
Trade: farmhand
Address 29 Middle Orchard Street, Stapleford, Nottingham
Next of kin: Uncle, Mr Cook, of same address.
Military character: Good.
Medals Awarded: ineligible for campaign medals as he did not enter a theatre of war
Other Information
It is probable that John's mother was Harriet Bemrose, born 1878, the daughter of Thomas and Jane Bemrose. In Jan-Mar 1900 a Harriet Bemrose married Francis Cooper in Nottingham.  Frank Cooper is given as John's next of kin in his military service records. In the 1901 census, Harriet(t), born in Radcliffe on Trent, is recorded as the wife of Francis Cooper.  They were living in Old Basford, Nottingham
Reasons for inclusion on Radcliffe on Trent Roll of Honour
Born and lived in Radcliffe on Trent