TOM BEMROSE 1897–1959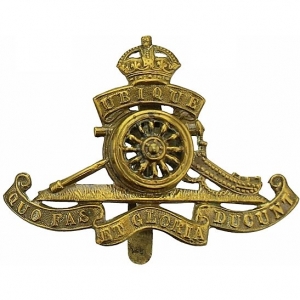 Brother of William
Born 21st October 1897 in Radcliffe on Trent.
Baptised 21st November 1897 at St Mary's Church, Radcliffe on Trent
Died March 1959, age 61
1901 Census
Age 2 (according to census recorder but inconsistent with national birth register) and known as Tommy.  Living with his father Walter 40, general labourer, mother Elizabeth 40, two brothers: Harry 17, engine cleaner and William 15, and four sisters: Hannah 11, Cissy 8, Ethel 5, and May 4. They lived in Royal Oak Cottages, Radcliffe on Trent.
1911 Census
Age 13 at school living with father Walter 50, the parish sexton, mother Elizabeth, sisters Cissy 18, assistant to a draper, Ethel 16, a lace finisher and May 14, a cigar maker. All living in a 5 roomed house on Richmond Terrace, (Royal Oak Yard), Radcliffe on Trent.
Military Service
Rank: Driver
Service Number: 612391
Military Unit: 1072 Battery, Royal Field Artillery,  215 Brigade
Theatre of War: Asia (Mesopotamia), date of entry 23.6.17
Enlisted Nottingham 22 March 1915 in Notts. (reserves) Royal Horse Artillery
Apparent age: 19 years 4 months
Occupation: baker. Height 5ft 5ins, weight 113lbs, girth 34 ins. Range of expansion 3½ ins
Next of kin: Walter Bemrose, father, Richmond Terrace, Radcliffe on Trent
Military conduct in the U.K. prior to entering theatre of war:
22.12.1915: Downham: Absent from 20th-22nd December 1915. Punishment 6 days detention and 2 days loss of pay
20.1.1916: Downham: Continually late on parade. Punishment 72 hours detention.
14.2.1917: Woodbridge: Non-compliance with an order. Punishment 14 days detention.
23.6.1917: Posted to Ambala and Royal Artillery depot, Burbhar as a Driver
7.3.1919: Posted and joined 1072 Battery, Royal Field Artillery
1.6.1919: Proceeded to RFA depot at Ambala and taken on No. 34 Special Bn (Elephanta)
(Elephanta was a hired troopship. It appears that men on the troopship en route for England were temporarily detained in India where they were described as No. 34 Special Bn. before embarking for the U.K.)
20.6.1919: Posted to the depot from Bangalore
21.7.1919: Posted to the military base depot, Durban
23.9.1919: Embarked for U.K. from Bombay for demobilisation
14.10.1919: Demobilised
2.3.1921: Discharge approved at Woolwich
Total service in Territorial Force: 5 years 10 days
Medals Awarded: British War and Victory
Military Personnel Address on 1918 Electoral Register
Royal Oak Cottages, Main Road, Radcliffe on Trent
1922 Electoral Register
Address: Royal Oak Cottages, Main Road, Radcliffe on Trent
Household: Living with father Walter, and grandparents George and Emma.
1939 Register
Address: Richmond Terrace, Radcliffe on Trent
Occupation: lorry driver and haulage contractor.
Household: father Walter. Also living here are Charles V Toms, grocer, and his wife Frances née Bemrose.
Reasons for inclusion on Radcliffe on Trent Roll of Honour
Born and lived in Radcliffe on Trent.