BERTIE BEMROSE 1890–1918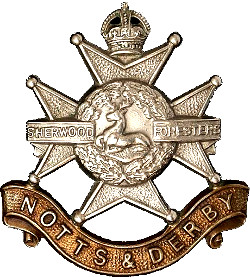 Brother of Percy who was killed 15th May 1915
Born 1890 in Radcliffe on Trent
Baptised 26th February 1890 at St Mary's Church, Radcliffe on Trent
Killed in action 29th May 1918, age 28
Final resting place unknown. Commemorated on the Soissons Memorial, France. Remembered on Radcliffe on Trent War Memorial
1891 Census
Age 1 living with father Samuel 26, a railway labourer and mother Mary Ann (neé Spencer), Robert Spencer 15, a milk seller (brother in law) and Sam's nephew John H Lamb age 6.
1901 Census
Age 11 years living Thraves Yard, Radcliffe on Trent, with father Sam 36 who was a general labourer, mother Mary Ann 34, brother William, 12, a cow boy on farm, brother Percy, 7, sisters Mildred 5, Eugenie 4 and Elsie 2.
1911 Census
Age 21 stationed with the 2nd Battalion Sherwood Foresters at Crownhill Fort, Devon
Military Service 
Rank: Lance Corporal (at death)
Service Number: 11249
Military Unit: 1st Battalion, Sherwood Foresters, 24th Brigade, 8th Division.
Theatre of War: France and Flanders, date of entry 4.11.14. Total war service abroad 3 years 6 months
Military service before 1914
Attestation 1909:
Age: 19 years 11 months
Occupation: farm labourer
Height 5ft 6⅞ ins, weight 133 lbs, pulse rate 90, complexion fresh, eyes grey, hair brown. Girth when fully expanded 36½ins, range of expansion 3½ins. Distinguishing marks – has a large wart on back of left hand
Religion: Church of England
Certified fit for service in the Sherwood Foresters 20th December 1909
Father's address: Samuel Bemrose, Bingham Road, Radcliffe on Trent
20 Dec 1909-12 Dec 1911: Home
12 Dec 1911-2 Sept 1914: India- served in India 2 years 7 months
5 May 1914: Malaria, admitted to Station Hospital Colaba, blood tests, quinine treatment
24 May 1914: Discharged from hospital
Military service during WWI
3 Sept-3 Nov 1914: Home
4 Nov 1914: disembarked France
18-24 Sept 1915: Leave
18 May 1916: Suffering from scabies
24 May 1916: Re-joined battalion
14 June 1916: Suffered with a knee injury admitted to hospital
27 June 1916: Discharged
 30 June 1916: Admitted again to hospital
2 July 1916: Discharged for duty
5-16 July 1917: Leave
28 June 1917: Appointed Lance Corporal
27 Dec 1917-10 Jan 1918: Granted leave
He was killed at the Battle of the Aisne, France (May 29th– June 6th 1918)
Total military service: 7 years of which war service was 3 years 7 months
Medals Awarded: 1914 Star, British War and Victory. His father, Samuel acknowledged receipt of the British War and Victory medals in respect of L.Cpl B Bemrose on November 21st 1921.
Pension Record Card
A pension of 10 shillings (50p) a week was granted to Mary Bemrose on the deaths of her two sons, Bertie and Percy.
Go to WWI Timeline to see how this man's death is part of the wider story of the war.
From the War Diary of the 1st Battalion, The Sherwood Foresters May 1918 (diary held by the Worcestershire and Sherwood Foresters Regimental Museum, Nottingham):
PC HENRY  
22nd Quiet. Officers of 2nd Northants Regt reconnoitred the line – which they are to take over from us.  Enemy artillery rather active during night.
23rd Weather thundery. Some rain in afternoon.  Orders received for relief on 24th.
24th Much cooler & dull. Battalion relieved on Front line by 2nd Northants.
VENTELAY  
25th Regt reached reserve billets in the early morning.  Remainder of  day spent in cleaning up.
26th Sunday services.  In the afternoon received warning of likely enemy attack.
ROUCY   
9.20 pm Batt moved up to ROUCY.  Details remained at VENTELAY ROUCY        
27th 1 am.  Enemy barrage opened.   VENTELAY neighbourhood transport lines gassed.
GUYENCOURT   About 4.30 am battalion ordered forward to AISNE line.  Retiring (?) fight to MONTAGNE de GUYENCOURT. Casualties heavy & details ordered under 2nd Lt Greaves to move up to VENTELAY about 9.30 pm. Transport moved to wood S. of MONTIGNY & later about 11.30 pm to VENDEUIL.
TRESLON    
28th  Transport to PRIN, S.W. of SAVIGNY & then to LIFERY & thence JONQUERY. Batt retired to heights near JONCHERY & thence to high ground N. of TRESLON.
BOULEUSE 
29th All Odds & Ends in Transport lines ordered to Div HQ at SARCY. Proposed counter attack on CHERY? cancelled.  Ordered up to reinforce ridge N. of BOULEUSE under Major J. Edwards. Lt. Col. R. F. Moore O. C. 1st Sherwoods killed & buried near Western Spur of ridge.  Lt. Tutin attended at the burial.  Ridge held throughout the night under heavy fire & attempts of enemy in Western portion to obtain a footing.
30th   Still on ridge till 2.45 pm.  When whole of forces on W. Spur & in the valley of the NAURON retired on the left they took up positions on POILLY – MERYPREMECY road & on heights W. of AUBILLY.  Batt. Retired on to latter positions later.
31st Ordered to take up positions in front of BLIGNY.  Advanced & partially restored situation when troops were driven out of forward slopes of AUBILLY ridge.  Later – 11.30 pm – ordered to take up line W. of ARDRE – this done. 
Estimated casualties 27th May to 31st May 1918 – 550 all ranks.
Reasons for inclusion on Radcliffe on Trent Roll of Honour
Born and lived in Radcliffe on Trent.