HARRIETT PIKE  1887–1973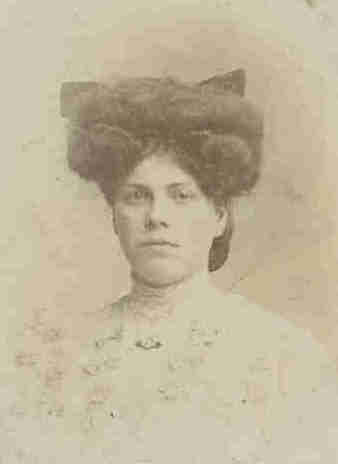 Harriett Pike Photograph from family collection
Born: 24th May, 1887 * maiden name Kirkham, in Loughborough
Married: 24th August 1910 to Fred Wightman Pike
Children: Kathleen born 1911, Joan born 1913, Samuel Edward born 1920
Died: 1973 Radcliffe on Trent
Before the First World War
Harriett Kirkham was born in Loughborough in 1887. Her parents were Henry and Eliza Kirkham and she had three sisters Eliza born 1876, Emma born 1889 and Mary. Soon after the birth of her sister Mary in 1891, her mother died of "milk fever". Her father, a framework knitter, died in 1894.
In 1901 Harriett and her sister Mary were in the Nottingham Training Institution for Pauper Children (this fact was unknown even to her daughter Joan who only died in 2022). She was sent to Oxford to a Mrs Burrows who trained young women to be Ladies maids and returned to Nottingham where she went to work at Radcliffe Hall for Helena Smith. Howard Smith was born in 1905 and she certainly cared for him as a baby because when he was killed in a cycle accident in 1923, she was extremely distressed.
On 24.8.1910 she married Fred Wightman Pike, a joiner in the building trade. They had two children before the war: Kathleen born Aug 1911 and Joan born May 1913. They lived at 15 Albert Street.
During the War
Fred was called up in January 1917 to the Royal Naval Air Service as an air mechanic; there was a requirement for large number of joiners to repair aircraft. He was initially sent to Crystal Palace and then to Chingford for training. In May 1917 he was transferred to Eastbourne and Harriett and their two daughters were allowed to accompany him. Initially their "digs" were just one room in a boarding house but then they moved into a flat over a greengrocers shop.
Charles Pike, Fred's brother, was killed in action in 1917. He and his wife Agnes had two children the same ages as Fred and Harriet's daughters. When Agnes too died in the flu epidemic, Fred and Harriett wanted to apply to adopt their children, Mary and Dick. Because of her own experiences as a child, Harriett was probably aware of the likely effect on the children of being orphaned. Unfortunately adoption didn't happen.
After the War
Harriett and Fred had another child, Ted (Samuel Edward) born in January 1920. The family business continued after the war and 'the Pike brothers' were building houses in various locations in Radcliffe and West Bridgford. Fred built his own home and two others close to the school on Bingham Road. He named his house Brielen and the road Brielen Road in remembrance of his brother Charles, whose grave was at Solferino Farm, Brielen. Harriett had twenty extremely happy years, Brielen being a magnet for children, but tragedy struck again when her son Ted, now in the RAF, was killed in 1942. Her husband Fred died of Motor Neurone disease in 1953.
Note: * Date of Birth is incorrect. She celebrated her birthday on 24th May because it was Empire Day and therefore a holiday. She never knew her correct date of birth which was 13th March 1887.