BETSY TODD (NEE BINGE) 1880-1966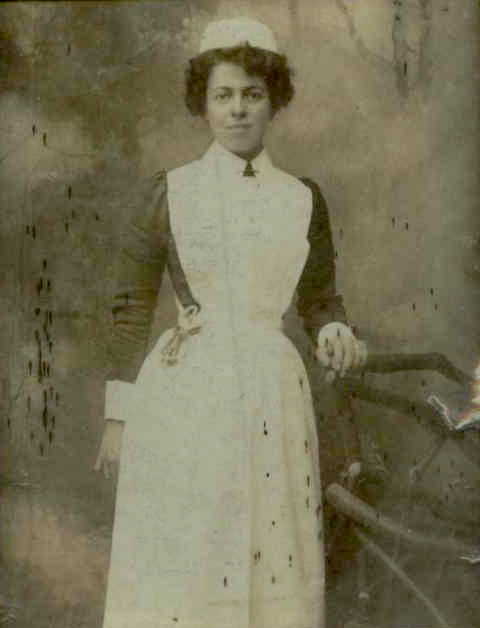 Betsy Todd, photograph courtesy of the family
Wife of Alfred Lawrence Todd
Before the War
Betsy was born on 12th September 1880 in Rampton, Nottinghamshire. In 1881, age 6 months, she was living on Green Side, Rampton with father John, 37, mother Elizabeth, 23, and servant Alice Wheat.  John was a farmer of 94 acres employing 2 men.
By 1891 Betsy, 10, was living at Torksey Road, Rampton with her father, farmer, mother, sisters Helen 9, Barbara 7, Alice 3, brothers John 4, Jervis 10 months, Margaret Goodwin, (sister-in-law), ladies help, and Robert Rose, agricultural servant. In 1901 Betsy was a domestic servant in the household of William Taylor and family, commercial traveller (lime and cement) at 40 Cobwell Road, Ordsall, Notts.
On 7th October 1908 she married Alfred Lawrence Todd in Laneham, East Retford, Nottinghamshire. Their daughter Barbara Mary was born on 26th May 1910 in Radcliffe on Trent. According to family information the couple met while they were both working at Notts County Asylum, Radcliffe, where they worked together for some years. The new Notts County Asylum at Radcliffe was opened in 1902, having been located previously in Nottingham, so Betsy would have taken employment there at some time between 1902 and 1908. In 1911 Betsy and Alfred, asylum attendant, were living on Cropwell Road, Radcliffe with daughter Barbara Mary age 10 months, in a house with four rooms. The family were still living on Cropwell Road in the 1914 Electoral Register.
During the War
As the war progressed there was a growing acknowledgement that specialised provision was needed for servicemen suffering from war trauma. Accordingly, a number of asylums were converted into military hospitals for traumatised servicemen and those suffering from chronic mental illnesses, Notts County Asylum being one of them. In July 1918 the asylum opened as Notts County War Hospital, having dispersed its civilian patients to other institutions. It was decided to take no more than 300 military patients at any one time.  The War Hospital closed in August 1919, was re-converted to an asylum and welcomed back its former civilian patients.
Betsy's  husband Alfred enlisted in the Army on 10th December 1915. At this time the family were living at 6 Asylum Cottages, Radcliffe on Trent and Alfred was an attendant at the Asylum.  He was mobilised in Nottingham on 7th August 1918 and served with the Royal Army Medical Corps. Notts County War Hospital records show that eighty RAMC orderlies were employed  by the War Office, including twelve of the existing male nursing staff from the Asylum. They enlisted into the RAMC for home and local service and were demobilised on the closing of the hospital. Betsy's husband Alfred is likely to have been one of them as his demobilisation papers are stamped Notts County War Hospital 21.7.19, which was shortly before the war hospital closed in August 1919.
Betsy became a nursing Sister at Notts County War Hospital. Seventeen of the asylum female nursing staff were retained by the War Office when it became a military hospital.  Those nurses who held or were studying for the Medico-Psychological certificate were appointed Sisters in charge of wards. A further thirty-one nurses were employed by the War Office, bringing the total female nursing staff to forty-eight. The hospital records note that Betsy, having passed her Medico-Psychological Examination, was appointed Sister and was paid £45 per annum inclusive from 1st July 1919. The registers of the Medico-Psychological Association, held at the Royal College of Psychiatry, reveal that Betsy was awarded her certificate in 1919. Betsy would have worked with Mary Jollie (née Clark), whose  recollections of serving at the War Hospital can be found in her biography.
On 14th August 1919 Betsy gave evidence at an inquiry by the County Coroner into the suicide of patient Private Harry Smith, as reported in the Nottingham Evening Post.
Betsy was one of a number of nurses who resigned on 13th September 1919 after the War Hospital had closed and reverted to an Asylum. Other nurses who left at the same time include Mary Clark (later Jollie) and Jane Simpson, Assistant Matron (see their biographies).
1921 Census
Address: Henson Lane, Radcliffe
Employment: home
Household: husband Alfred Lawrence, daughter Barbara and mother Ellen
After the War
Betsy's sister Mary Binge married William Fielding Johnson in 1922 at St Mary's Church, Radcliffe on Trent.
Alfred continued to work at the hospital and in the 1930 electoral register he and Betsy are recorded as living at the County Mental Hospital, Radcliffe. Alfred died suddenly on 4th February 1934. At the time of his death he and Betsy were living at Lower Lodge (part of the hospital), Bingham Road, Radcliffe.
By the time of the 1939 register Betsy, unpaid domestic pensioner, was living at 29 Lincoln Grove, Radcliffe on Trent
Betsy died on 17th December 1966 in Nottingham City Hospital, age 86.