MARY ANNA JOLLIE (née Clark) 1894–1998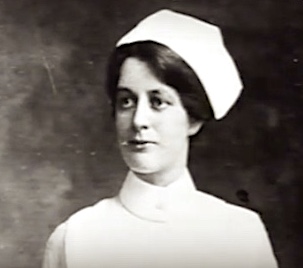 Mary Anna Clark
Before the War
Mary was born in a farm cottage near Edinburgh, Scotland in 1894, to parents Michael and Mary Clark.  Her father was a ploughman.  By 1901 Mary, 6, was living at 33 Deans Rows with her father Michael, 36, now a retortman in the Scottish shale oil industry, mother Mary, 29, sisters Jessie, 8, Jeanie, 2, Lizzie, 1, brothers John, 5, and Michael, 4.  Boarding in the household were four other retortmen: John Ferrick, Patrick Mcdonnell and Patrick and Michael MacNamarra. Mary's mother died in 1902. We have been unable to find 1911 census information for Mary.
During the War
The following information about Mary Jollie has been extracted from the UK & Ireland Nursing Registers 1898-1968, from an interview by Blakeway Associates held at the Imperial War Museum and from an interview published in The Herald (Scotland) 16th April 1997:
According to her interview for the Herald (Scotland), Mary's childhood role model was the district nurse who came to the house to treat an aunt suffering from pleurisy.
Mary commenced her career as a psychiatric nurse on 1st September 1914 when she was 20. She trained at Stirling District Asylum (later Stirling Mental Hospital), Larbert, Scotland, working there from 1914 to 1917, gaining a Certificate of the Medico-Psychological Association. During this time the hospital was requisitioned by the naval authorities and the civilian patients were moved to other hospitals.  She remembers that she had eight nurses and a Red Cross train to take them to their destinations. While she was at Larbert she was appointed sister and served for a year in a new wing.
She also worked in Glasgow, then served at Notts County War Hospital, Radcliffe on Trent. In July 1918, the Asylum was requisitioned by the War Office and converted to Notts County War Hospital. The War Hospital provided care for patients suffering from 'shell shock'. As she had passed her Medico-Psychological examination Mary was paid £45 per annum from 1st July 1919.
Mary looked after a ward of forty nine shell-shocked men who were being prepared for discharge. Working on the ward with her were a staff nurse with the same qualifications, two orderlies and a probationer.  In her interview with Blakeway Associates (IWM 20676) Mary recalls that there was a glass partition between the ward and the day room where the men had their meals.  She was on duty from 7 a.m. to 7 p.m. and describes how the men were often most distressed at night.  There were no female nurses on duty at night, only male orderlies.
The men were given a shilling a day and many of them had passes to go out into Radcliffe village during the day.  Mary recalls how one man used to sit at the station all day and watch the trains go by.  She describes how the nurses used to do their best to distract the men from their worries and there were games such as cricket and tennis.  Men were encouraged to go for walks together in groups, occasionally accompanied by the nurses.  Sometimes the men couldn't go out as they had only slippers, having sold their strong army boots for a few pence or shillings to get money to go to the pub.  Mary says: 'Many of them weren't interested in entertainments, they would much rather sit and talk to nurse or a sister who would ….try to divert them from their worries'.
She recounts how the psychiatrist would probe deeper and deeper while trying to get to the root cause of a man's problem, causing much distress.  She gives an example of a man who had great difficulty in talking about having seen tanks go into battle, and lying in their path were wounded men whom they were unable to avoid as they had to go on. Mary recalls: 'That distressed many of them. Your emotions were disturbed too, because they disturbed you. It was a painful thing to see…a man quite out of control.' Many of the men were tearful and feared to go back home as they worried that things had changed so much and their wives may have found someone else. 'They were not well; the hospital ward was a place of shelter. They were looked after and had no responsibilities while they were there but they had to face up to them when they went out.'
Photograph extracted from Channel 4 film showing nurses at Notts County War Hospital
with Ellen Leaver, matron, centre and Mary Jollie top row 2nd from left
The War Hospital closed in August 1919, reverting to an asylum. Mary resigned from her post on 13th September 1919.
After the War
Mary continued with her nursing career after the war, returning to Larbert and registering as a mental nurse on 21st September 1923 (UK & Ireland Nursing Registers 1898-1968).  She was living at 4 Helenslee Cottages, Bathgate, Scotland at the time. The Nursing Registers show that she continued to renew her mental nurse registration every three years through to 1943. The register records that she had moved to 16 Strathearn Road, Edinburgh by 1937.
In her interview with Marian Pallister of The Herald, Mary says that she took up private nursing some time after the war, where she met stars such as Alastair Sim and Fred Astaire. Eventually she left the profession to run an establishment for paying guests, possibly around 1937 when she moved to Strathearn Road.  There she met Andrew Jollie whom she married in 1939 in Morningside district, Edinburgh. The couple continued to live at 16 Strathearn Road.
Andrew Jollie died in 1953, age 77, in Morningside district, Edinburgh.
Mary died in 1998 age 104. She was living in a home for the elderly at Martha Street, Glasgow and was interviewed there for the Channel 4 film 'Shell shock', 1998.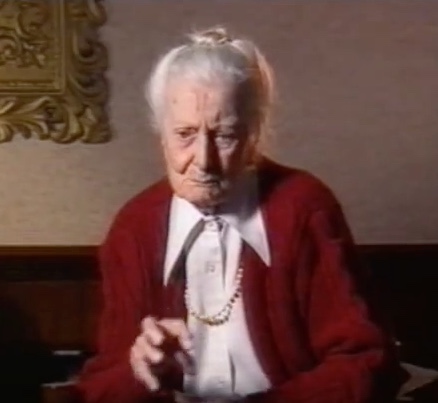 Mary Jollie 1998, Channel 4 film 'Shell shock'
Author: Pauline Woodhouse
Watch Part 2 of the Channel 4 film. Mary Jollie appears from 7:34 minutes to 9:29 minutes and 11:20 minutes to 14:30 minutes
Watch Part 3 of the Channel 4 film 8.45 minutes to 11.18 minutes