BERTIE FRANCIS TODD 1891–1915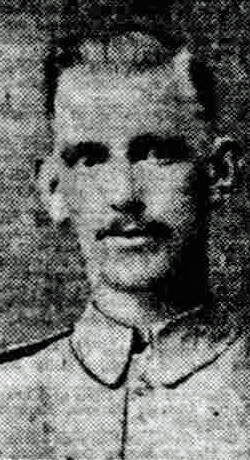 Lance Sergeant Bertie Todd
Nottingham Evening Post 9th June 1915
Brother of Albert, Arthur, George and Percy
Born September 1891, Radcliffe on Trent
Baptised 29th November 1891 St Mary's Church, Radcliffe on Trent
Killed in action May 9th 1915, France. Age 23
Commemorated on Ploegsteert Memorial panel 1, Belgium, Radcliffe on Trent War Memorial and his sister's grave in Radcliffe on Trent cemetery.
Radcliffe on Trent School Register
Admitted to school on 29.4.1895
1901 Census
Age 9 at school and lived at Fern Leigh, The Harlequin, Radcliffe on Trent with his father William, a railway signalman, mother Harriet and nine brothers and sisters: Sabina, age 22, Walter 19, George 17, Percy 15, Albert 13, Dorothy 7, Emma 5, Annie 3 and Arthur 2. His father was. The house had six rooms.
1911 Census
Regular soldier in the 2nd Battalion Sherwood Foresters, stationed at Crownhill Fort, Plympton St Mary and Egg Buckland, Devon. His parents were still living at the Harlequin, Radcliffe on Trent with seven of their children Sabina, age 32, George 27, married and a law clerk, Albert 23, a plumber's labourer, Dorothy Mary 17, Emma Ada 15, Florence Annie 13 (all three were dressmakers apprentices) and Arthur Edward 11.
Military Service
Rank: Private, later Lance Sergeant
Service Number: 11259
Military Unit: 1st Battalion, The Sherwood Foresters, 24th Brigade, 8th Division
Theatre of War: France and Flanders, date of entry 4.11.14. Total war service abroad 6 months
War service prior to 1914
Joined army reserves, 21.9.1909, Private 4025,  and posted to 4th Battalion, The Sherwood Foresters.
Joined Regular forces January 1910, Derby (1st Battalion, The Sherwood Foresters)
Private 11259
Age: 18 years, 4 months. Height: 5ft 4ins.
Weight 121 lbs. Chest 35½ ins. Eyes blue. Hair light brown.
Occupation: farm labourer. Religion: Church of England
Examined and found fit for service in India in 1911
27.9.1911: Embarked at Southampton for India
29.9.11–2.9.14: India
3.9.14–3.11.14: Home
1st Battalion was in Bombay, India August 1914, returning to England, landing Plymouth 2 October 1914 and moved to Hursley Park coming under orders of 24th Brigade, 8th Division. Landed at Le Havre 5 November 1914. "Brigade attached for purposes of giving instruction to 23rd Division, 18 October 1915 to 15 January 1916".
Military Service from August 1914
4.11.14: Posted, served with 'B' Company, 1st Bn The Sherwood Foresters
27.1.15: Appointed Acting Corporal
18.3.15: Appointed acting Lance Sergeant
18.4.15: Appointed paid Lance Sergeant
March 15: fought in and survived the Battle of Neuve Chapelle
9.5.15: Killed in action in the attack on Rouge Bancs, France during the Second Battle of Artois
Initially claimant for pension was his mother Harriet and when she died payment continued to his father William.
Go to WWI Timeline to see how this man's death is part of the wider story of the war.
The following summary, written by John Morse and available on the Nottinghamshire Great War Roll of Honour, entry for Charles Dean, records what happened on that day to the men of the 1st Battalion, The Sherwood Foresters:
From the War diaries of the 1st Battalion Sherwood Foresters, 8th to 10th May 1915
"On 9 May 1915 the battalion attacked Rouge Blancs, going over the top at 6.10 am. The British artillery barrage had been totally inadequate and the enemy positions had hardly been touched. Eight machine guns faced the men as they went forward. 'B' Company managed to get within 40 yards of the enemy wire but found it uncut, except for one four yard gap. An order came to 'stop advance' and Major Morley ordered 'B' and 'D' companies to fall back behind the breastwork and reorganize. At 7.35 am, 'A' and 'C' companies advanced in support of the East Lancashire's, with 'B' and 'D' companies following, but once again machine gun fire checked the move and the men lay in the open at whatever point they had reached. At 1.15pm the enemy brought enfilade fire to bear and the men were ordered back to the breastwork again. At 7.30,pm, the enemy opened up with High Explosive artillery and caused many casualties. At 10 pm, the battalion was relieved and moved back to Rouge de Bout." (note: Rouge de Bout is a misspelling of Rue de Bois)
View a copy of the original War Diary showing action at the time of Bertie Todd's death
Letter written by Bertie Todd from the Western Front
Copy of a letter written by Bertie Todd eight days before his death. An extract from the letter was published in the Nottingham Evening Post and the full letter is courtesy of the Radcliffe on Trent Local History Society.
My dear Brother and Sister,
Just a few lines to say how pleased I was to receive the nice and fine long letter from you. I cannot tell you how delighted I was to hear you are all well at home as I am in the pink and proper sun burned, my word Walter, its warm here just now what with the weather and the old coal boxes of the Germans we are having a warm time, it makes us pull our coats off in the trenches they keep shouting across to us and asking us when we are going to charge them again, I don't know if any of them was at Neuve-Chapelle but they will know when we get over the parapet this time. Well Walter, we have got some good fat stock from Germany in front of us now, I was out the other night in front and when I got up to their wire they looked like telegraph poles on top of the trench I should liked to have had a shot but you know when we go out on listening patrol we are not allowed to fire but I am pleased I have seen a few off before they have me I don't care if I get one now. I shall always do my share in a charge and I mean to get a V.C. or a bullet in this next lot if I get half a chance, but you know we are stone mad in a charge, but it's a happy time. Well, dear brother, I have had a fine parcel from home today and I am just going to enjoy a cucumber that they have sent me, Mrs. Sharpe sent me some woodbines in it so I am going to write her a P.C. but you would not believe how we delight in a bit of a parcel from home, it bucks us up 10 holes, it's a fine change from Pickles, Jam & Bacon. Well, Walter, I am sorry to hear Mr Ritty is ill, tell him I will write him a line some time. Don't forget to remember me to Mrs. Ritty when you see her. We came out of the trenches last night for 3 days, we did not get out till 12 o'clock, the dirty old Germans shelled our old barn we was sleeping in at 4 a.m. this morning it's a dirty trick to play on us when we are in the trenches they are not satisfied with trying to shoot us they are trying to poison us, but we have found a remedy to stop it so we don't trouble much. Well, Walter, tell Gladys to have these forget-me-nots from a little garden behind the trenches. Well, dear brother I don't think there is much more I can tell you, only give my best respect to all inquiring friends at Radcliffe. I knew Cherry was wounded he got hit in the same battle that I was in. I don't know whether Ada has forgot me tell her I am looking for a letter from her. Give my love to all at home and the little ones.
I remain,
Your loving Brother
B.TODD, Sgt.
Total Military Service: 5 years 115 days
Initially, claimant for pension was his mother Harriet and when she died payment  was transferred to his father William.
Medals Awarded: 1914 Star, British War and Victory Medals (signed for by father 13.11.21 who also signed for his effects)
Other information
Effects sent home included photos, letter, Gospel of St John, army book. Bertie Todd's death is recorded on his sister Maisie's grave in Radcliffe on Trent cemetery.
The Ploegsteert Memorial commemorates over 11,000 servicemen who have no known grave. Most were killed in day to day trench warfare or in small scale attacks.
Reasons for inclusion on Radcliffe on Trent Roll of Honour
Lived in Radcliffe on Trent with parents and siblings.
Ploegsteert Memorial, Belgium