WILLIAM WILLATT 1890–1945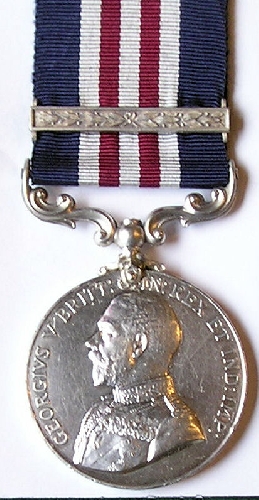 Born 6 December 1890 in Papplewick, Notts.
Married  on 27 October 1915 to Edith Annie Hodgkinson at the Primitive Methodist Church, Hucknall Torkard.
Died 6 June 1945 at City Hospital, Nottingham.
1901 Census
Age ten living at Papplewick with his father Edward Job Willatt 33,  a farm waggoner, mother Annie 32, née Allcock, three sisters, Ellen 13, Rose 2, Jessie 1, and brother Job 7.
1911 Census
Age 20 stationery engine driver on the farm living at Holme Pierrepont, Notts., with parents, two brothers, Job and Frederick, and two sisters, Ellen and Jessie.
Emigration
12 May 1913 he arrived in Quebec en route to Windthorst, Saskatchewan with brother Job.
30 November 1914 Job and William Willatt of Holme Pierrepont returned to UK.
Military Service
Rank: Driver
Service Number: 185398
Military Unit: Royal Field Artillery, 168 (Huddersfield) Brigade
Enlisted 11 December 1915, height 5ft 5ins
When he enlisted he was working as a drayman for corn merchant, and he gave his address as Chatsworth Avenue, New Basford.
Military Medal awarded November 1917 (Gazette 23.2.18)
There are letters from the Nottingham Town Clerk on 21st March 1918 requesting that the Military Medal be forwarded quickly in order that it can be presented  in 'as public a manner as possible'  before William Willatt has to return to the front, then on 6th April stating that it had not arrived before Willatt's leave expired.  It was finally presented on 22nd March 1919 by the Mayor of Nottingham Alderman J.E. Pendleton 'for taking ammunition to the front line under heavy fire'.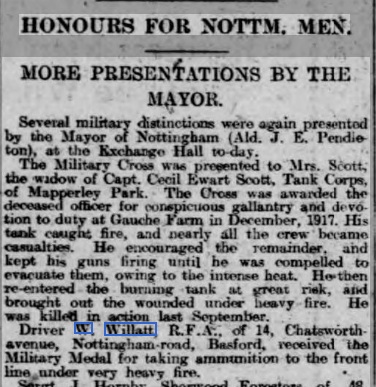 Medals Awarded
Military Medal, British War and Victory
1921 Census
Address: Chatsworth Avenue, Basford
Employment: coal miner, Digby Colliery
Household: wife Edith, step daughter Jennie Hodgkinson
1939 Register
Address: 19 Bedale Road, Nottingham
Occupation: totally incapacitated for any form of employment owing to back injury
Household: living with wife Edith and step-daughter Jennie, a civil servant working in the clerical office and an air raid precaution warden.
Other information
His wife, Edith Hodgkinson, was a widow with a 14 year old daughter, Jennie Annie H Hodgkinson, when he married her.
Living on Bedale Road, Sherwood, Nottingham, when he died in June 1945.