SUSANNA MARY ADDYMAN 1871–1936
Notts. County War Hospital (formerly Notts. County Asylum)
Postcard courtesy of Radcliffe on Trent Local History Society
Born: 1871 in Saddleworth, Lancashire
Marriage: remained single
Died: 10 November 1936, age 65
Before the war:
Susanna Mary was born to Rev Thomas and Elizabeth Addyman. In the 1881 census she was aged 9 and living at 116 Whitham Road, Sheffield with her parents and brothers Joseph Blackburn aged 12 and John Ernest aged 8. Her elder brother Frank Thornton was at boarding school in Staffordshire.
Her parents Thomas and Elizabeth had married at the Salem Chapel in Manchester on 15 June 1856 and in the 1871 census Thomas is recorded as a minister of the Zion Chapel, Methodist New Connexion, a branch of methodism formed in 1791. Thomas was born in Quebec, Canada on 11 December 1840 as were two of his sisters. His father, John, was a superintendant of the Canadian Mission, but they were back in Yorkshire by 1846 as another daughter is recorded on the 1851 census as being born in Sheffield.
Her father Rev Thomas Addyman died 10 December 1887 in Nottingham where he had been the superintendant of the Nottingham Circuit of the Methodist New Connexion Church. His will is as follows-
Thomas Addyman, late of 17 Tennyson Street, Nottingham, a Dissenting Minister died on 10 December 1887. The will was proved at Nottingham by Elizabeth Addyman, widow, the relict, Frank Thornton Addyman, Analyst, the son of both of 17 Tennyson Street. 
Susanna's family travelled around within the methodist circuit as their oldest son, Frank Thornton was born in Alnwick, Northumberland, Susanna and her brother Joseph Blackburn were born in Saddleworth and the youngest son John Ernest in Guernsey, Channel Islands.
In the 1891 census there is no record of Susanna Mary but her family had now moved to 53 Bentinck Road in Nottingham. Her elder brother Frank Thornton, a science teacher and her brother John E, who was studying at the University of Nottingham as an Electrical Engineering student, were recorded as living with their widowed mother Elizabeth.
By 1901, age 29, Susanna Mary had moved to 83 Burford Road, Hyson Green with her mother who was living on her own means and by 1908 they had moved to 68 Cropwell Road, Radcliffe.
In the 1911 census she was recorded as age 36 and living with her mother age 67 (the age recorded in the census is inconsistent with her date of birth).
Susanna's younger brother John Ernest completed his degree and travelled to India as an Electrical Engineer in 1903 and he married Muriel Rae in Calcutta on 9 January 1909. John died aged 39 on 7 June 1912 in Bombay.
During the war
The following information about Susanna Mary Addyman has been extracted from the transcribed Red Cross V.A.D. Records available as www.redcross.org.uk. The record shows she began her war service for the Red Cross on April 3rd 1916. She was a member of the Notts. 94th Voluntary Aid Detachment which was the Radcliffe on Trent branch of the Red Cross organised by Claire Birkin. She was employed initially as a storekeeper  at the Pavilion Hospital, Trent Bridge cricket ground and then at the Trent Bridge Military Hospital. She was paid £1 a week. She then became a linen store keeper at Notts. County War Hospital, formerly Nottinghamshire County Asylum in the parish of Radcliffe on Trent. She was still working there in June 1919 and was paid £1.16s. for  48 hours per week.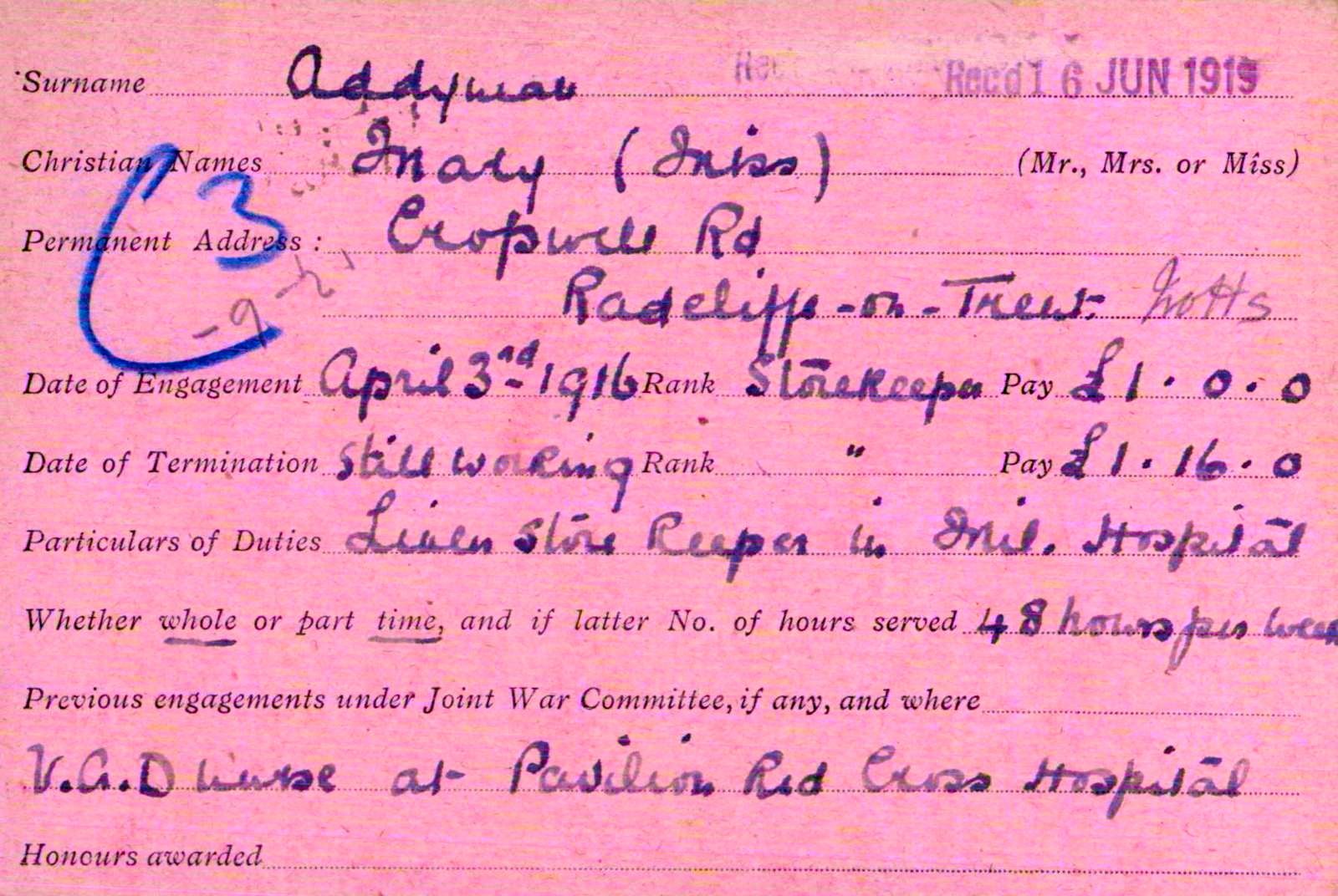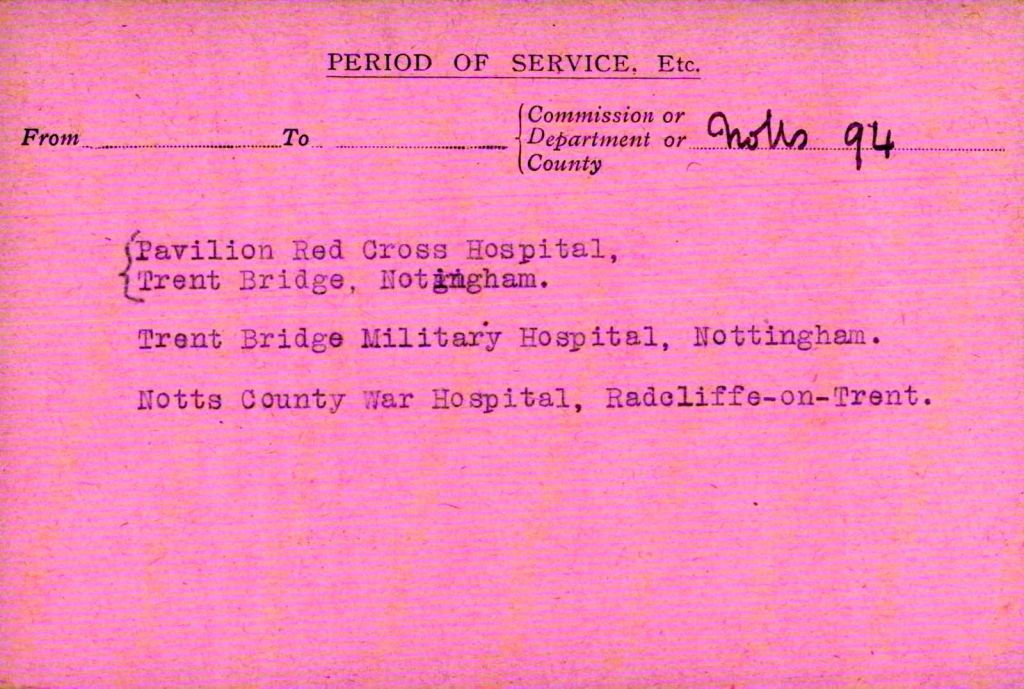 1921 Census
Address: Cropwell Road, Radcliffe
Employment: Secretary, National Council of Women, Park Row, Notts
Household: mother Elizabeth and nieces Margaret and Elizabeth Addyman
Note: NCW founded 1895 and originally called the National Union of Women's workers, campaigned for equal pay for equal work.
After the war
Susanna Mary and her mother are recorded as still living in Radcliffe on Cropwell Road until 1925.
Her elder brother Joseph Blackburn Addyman died on 4 June 1925 whilst living in Beeston, Nottingham. In his will he leaves Susanna Mary and Thomas E Gardner, chartered accountant effects of £1689.14s.4d.
She then moved in 1927 to Lytham St Anns, Lancashire where her mother died 9 December 1930. In her will she leaves her effects of £154.5s.2d to Susanna Mary Addyman, spinster and Frank Thornton Addyman, a school master.
Susanna Mary died 10 November 1936 in Fylde, Lancashire aged 65 and her will is as follows-
Susanna Mary Addyman of 5 Derby Road, Lytham St Anns, Lancs, spinster died 10 November 1936, probate Nottingham 31 May to Ernest Edward Eccleston, solicitor, effects of £3031.13s.11d.
Author: Marion Caunt