WILFRED*ARTHUR MADELEY 1888–1947

Photo from the Derbyshire Mercury, 1916
Born Wilfred Arthur Madeley 17 May 1888 in Danbury Lees, Derbys.
Baptised 17 June 1888 at All Saints Church, Dalbury Lees, Derbyshire
*used name William on military records and 1939 Register. He is Wilfred on national birth and death indexes.
Married 30th April 1917 to Mary Jane Wood in Over Penver, St Lawrence, Knutsford, Cheshire.
Died 15th December 1947, age 59, at 16 Brough Street, Derby. Funeral 17th December 1947 at St Barnabas Church, Derby. Buried Nottingham Road Cemetery.
1891 Census
Age 2, the youngest child of James Madeley and his wife Harriet (née Brookes). He had seven siblings: Esther born 1872, Alfred born 1875, Rose born 1877, Sidney born 1879, Roland born 1880, Beatrice born 1883 and Edith born 1885. His mother Harriet died in the December quarter of 1889. In 1891 he was living in Dalbury Lees with his now widowed father James, a forty-five year old bricklayer's labourer, sister Esther who was nineteen and the family housekeeper, and brother Roland, age ten.
1901 Census
Aged thirteen and a live-in farmworker for William Bainbridge at Dalbury Woodhouse. His father was now living with his sister Edith, age fifteen.
Military service before 1914
Wilfred Madeley joined the army on 23rd March 1905 when he was approaching his 17th birthday (source: www.forces-war-records.co.uk).
The 1911 Census shows that he was in India, age 24, serving with the 4th Kings Royal Rifle Corps (KRRC). On December 12th 1911 he was awarded the 'Delhi Durbar 1911' medal from the Adjutant General in India. The award was from the Army allotment (source: www.forces-war-records.co.uk). He is listed as 'William Madeley' on the army record. His older brother Sidney Madeley, born 1878, was also serving with the 4th KRRC and his wife Alice was with him in India. Sidney had served in the Boer War with the KRRC and was slightly wounded in 1902 at Vryheld (source: www.forces-war-records.co.uk).
Wilfred/William Madeley took employment at Notts County Asylum (Saxondale) as an attendant after he had completed his time with the colours. Fellow reservists from the KRRC, Sam Haines and Henry Voce, were also employed at the asylum. When war broke out, he was required to join up immediately in August 2014 and left the asylum for the army along with twenty-six other male staff members.
Military Service
Rank: Sergeant
Service Number: 6893
Military Unit: 2nd Battalion, Kings Royal Rifle Corps, 2nd Brigade, 1st Division (note: he is also listed as serving in the 1st, 3rd and 4th battalions of the KRRC on various military records)
Theatre of War: France and Flanders, date of entry 13.8.14
Wounded
War Office list 5.9.16. Entitled to wear a wound stripe
For more information, description of the Wound Stripe click here.
Other information
The '41st Annual Report on the state of the Lunatic Asylum for the county of Nottinghamshire  for the year ending December 31st 1915′ listed him as wounded. The War Office listed him as wounded and serving with the 2nd KRRC on the casualty list they issued on 8th October 1915. He was entitled to wear a 'wound stripe' on his uniform because he was on the official list. His battalion saw action at the Battle of the Marne at the beginning of September 1915 and the Battle of the Aisne towards the end of that month. He may have been wounded in one of those conflicts. Wilfred/William must have recovered from his wounds sufficiently to re-join the 2nd KRRC. In September 1916 he was with his unit at the Battle of the Somme where he was wounded at the Battle of Morval on September 25th 1916. the battle had a successful outcome for the Allies but saw many casualties. He sent the following letter describing the conflict from hospital to Mr. R.W. Greensmith, a friend in Dalbury Lees :
I am in hospital wounded; I got shot through the thigh on the morning of the big advance, September 25th. It was all bayonet work, but our lads went over the parapet like young deer, all of them eager to have a go at them. But I am afraid we lost heavily in wounded, as the enemy had so many machine guns hid in all sorts of places. Still, the boys got through alright. It was like being in a living hell; what with bullets whizzing past your head, and shrapnel and smoke and rain, you could not see where you were. When we reached the Germans' barbed wire and got through to their trenches we had a fine time; they threw up their arms and begged for mercy.
On 23rd March 1917 he was discharged from military service under Paragraph 392, Kings Regulations (xvi) as no longer physically fit for active service. He was awarded a Silver War Badge, issued in Winchester on 5th May 1917. He was awarded a Military Medal for gallantry in January 1917.
Permanent disability assessed 50%. From 7 March 1917 he received 16 shillings 6d (82p) per week which was increased to £1 3s 4d. (£1.16)
WWI Medals Awarded: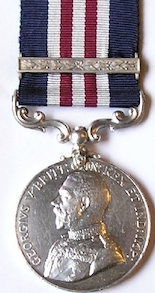 Military Medal, London Gazette supplement 29893, 05.01.1917, page 346
    1914 Star with Clasp and Roses
    British War, Victory and Silver War Badge no 172860
Wilfred/William's story is intertwined with what happened to his brothers, Sidney and Roland, during the Great War. All the brothers served with the Kings Royal Rifle Corps. On March 11th 1915, 2nd Lieutenant Sidney Madeley, 3rd Bn, Kings Royal Rifle Corps, died of wounds, age 36. Sidney is buried at Dickebusch New Military Cemetery, Belgium and is remembered on Dalbury Lees Memorial to the Fallen. His brother Roland was commissioned as 2nd Lieutenant in the KRRC on 20th December 1916. He was captured near Neuport Bains on 10th July 1917 and taken prisoner of war. He was repatriated on 12th December 1918.
Further information
In October 1918 Wilfred/William was employed as a clerk.
He did not return to Notts County Asylum after the war, possibly because of his injuries, but his job was kept open for him, as was the case for all the permanent attendants who served in the military (source: Notts Asylum Annual Reports 1917-1919, held at Nottinghamshire Archives, Nottingham).
He was admitted to Ward XI Derbyshire Royal Infirmary on 10th January 1927 with peritoneal adhesions. He was discharged 3rd February 1927.
1921 Census
Address: 16 Brough Street, Derby
Employment: Postman. Post Office, St James Street, Derby
Household: wife Mary Jane, son John Wilfred, born 1918
1939 Register
Address; 16 Brough Street, Derby
Occupation: Postman
Household: living with wife Mary Jane
Wilfred/William retired from the civil service in 1941.
Reason for inclusion on Radcliffe on Trent Roll of Honour
He worked in Radcliffe on Trent as an attendant at Notts. County Asylum. The dates of his employment are unknown but are likely to have been 1912/13-1914. He did not return to the hospital after the war, possibly because of his injuries, but his job was kept open for him. All bar two of the surviving attendants who served in the military returned to work at the hospital after the war was over (source: Notts Asylum Annual Reports 1917-1919, held at the Nottinghamshire Archives in Nottingham).