WILLIAM HENRY HALLAM 1895–1967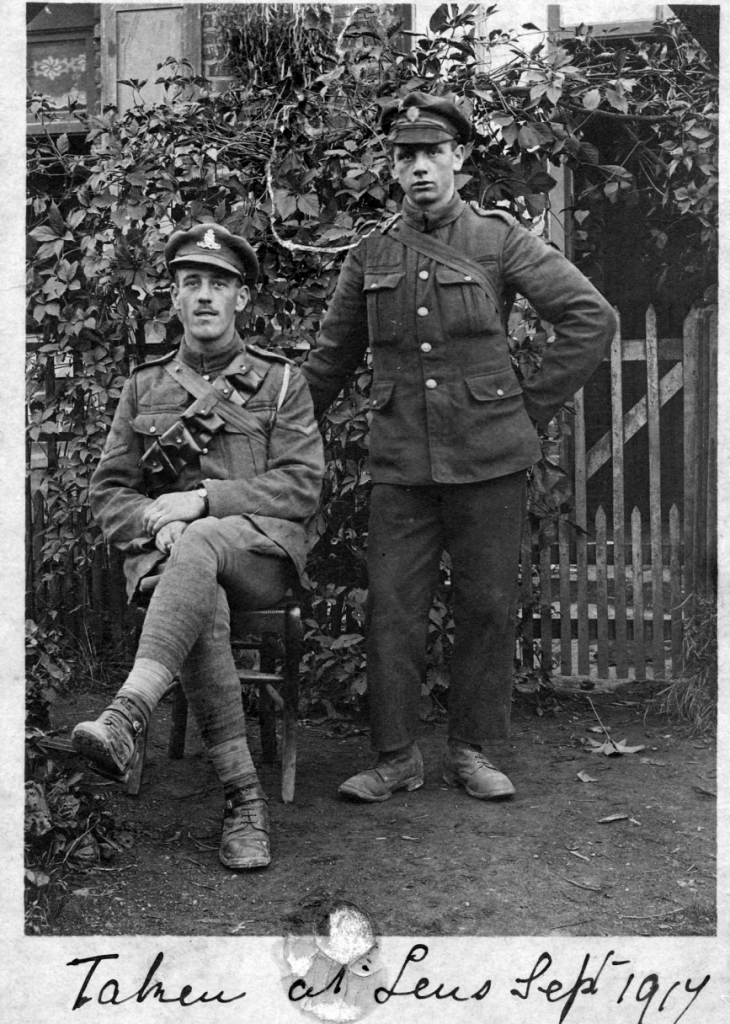 William Henry Hallam seated, brother Alfred Edward Hallam standing. Photograph from family collection.
Known as Harry. Brother to Alfred Edward Hallam
Born 8th January 1895, Radcliffe on Trent
Baptised 24th February 1895 at St Mary's Church, Radcliffe on Trent
Married 1: 28th August 1918 at St Mary's Church, Radcliffe to Florence Ethel Stevenson, daughter Gwendoline L.K. born January quarter 1923 in Woolwich district.
Married 2: Ethel Christina May nee Thoms, known as Bobby. Son Nicholas Henry born 1944 in Hounslow.
Died 25th March 1967 age 72
1901 Census
Age 6 living on Albert Street, Radcliffe on Trent, age 6, with father Henry, blacksmith, mother Kate (née Priestley), sister Lottie, 4, brothers Alfred E., 3, Jack, 1, and sister Annie L., 1 month.  Jack died in April quarter 1901.
1911 Census
Age sixteen, railway clerk, living on Main Road, Radcliffe on Trent, father Henry, blacksmith, mother Kate, brother of Alfred Edward who also served in the military, sisters Lottie, Annie, Grace and Mary Beatrix.
Military Service
Rank: Lance Bombardier
Service Number: 69667
Military Unit: Royal Horse Artillery, 3rd Brigade,
Theatre of War: France and Flanders, date of entry 15.8.14
26.9.15: Myalgia; transferred to No 10 Stationary Hospital, St Omer
12.10.15: Discharged back to duty
On this date his years of service recorded as 3 years 6 months with 1 year 1 month with Field Force and that he was with Royal Horse Artillery, 'J' Battery
The photograph above shows that William Hallam was at Lens in September 1917. The 3rd Brigade of the RHA served with the 1st  Cavalry Division up to 17th September 1914 and then transferred to the 2nd Cavalry Division for the remainder of the war. William Hallam's division was involved in the following actions:
Battle of Mons, August 1914 and subsequent retreat
Battles of Messines, Armentieres and First Battle of Ypres, 1914
Battles of Neuve Chapelle and 2nd Battle of Ypres, 1915
No notable actions in 1916
Battles of Arras and Cambrai, 1917
A large number of actions in 1918, culminating in the capture of Mons, November 1918.
Medals Awarded:  1914 Star with Clasp, British War and Victory
It is likely that he was in the army before the outbreak of war either as a regular soldier or reservist because he entered a theatre of war in August 1914 but we have no official confirmation.
Military Personnel Address on 1918 Electoral Register
Water Lane, Radcliffe on Trent
Other information: William Hallam sent a letter from the Front in 1914 to the Nottingham Evening Post:
LETTERS FROM THE FRONT
THANKS AND GOOD WISHES FOR "POST" READERS
Gunner W.H.Hallam of the R.H.A., writing to the editor on November 30th, says:-
The following is an extract from the Nottingham Evening Post on 14th inst. :
The Rev. M. Maher, S.J., Stoneyhurst College, has received from a Belgian Jesuit, M. Mol–, a list of wounded British soldiers in the military hospital at Namur. The list includes "Hallam, Nottingham".
I am very pleased to be able to inform you that the above does not refer to me, although I don't suppose I am the only Hallam from Nottingham who is serving his country at the present time.
I am a native of Radcliffe-on-Trent and always look forward to receiving the Guardian and Post, and, needless to say, I read with great interest the noble part the citizens of the town and county are playing in this great war. I have come across several men from Nottingham, and every time we meet we have a chat, and exchange reminiscences about the good old town.
Things are very quiet here just now. Our guns and also the Germans' have been silent for this last week. Winter seems to have disappeared from France, the snow cleared off about five days ago, and since then it has been mild and showery. No doubt Christmas will be spent rather quietly by the population of England, but nevertheless I will conclude by wishing you and all your kind readers a merry Christmas.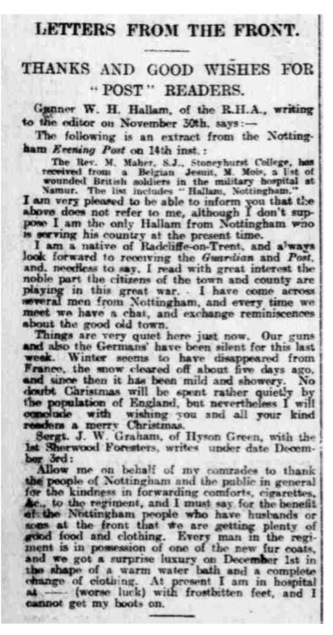 After the War
From the 1939 Register
Address: 106, Bath Road, Hounslow, Heston and Isleworth Metropolitan Borough. Occupation: Director and secretary of public works contractors. Special constable no. 8, BA Division, Scotland Yard.
Household: Living with wife Bobbette C. and Daisy M. Stratton, maid. There is one other person in the household whose record is officially closed, possibly William Henry's daughter Gwen.
The following information has been provided by a family member:
In the 1940s William Henry was the licensee of a pub in Hounslow called 'The Bulstrode'.  In about 1947 the family moved to a house in Kew, then to Brighton in 1949, where William Henry became the licensee of the 'Royal Standard'. The family then moved to the 'Clayton Park Hotel' in Hassocks, and in 1954 William Henry took over as licensee of 'The Ship' in Worthing.   He eventually retired from the pub business in 1964 but as he was a qualified accountant he kept his hand in by doing the occasional audit for one of his business friends. William Henry died in Southlands Nursing Home on 25th March 1967.
Reasons for inclusion on the Radcliffe on Trent Roll of Honour
Lived in Radcliffe on Trent