ROBERT SAMUEL HALLAM 1898–1916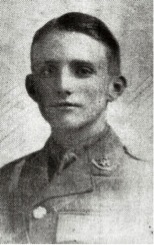 Photo from De Astonian school magazine
Born September 3rd 1898, Radcliffe on Trent
Baptised 6th October 1898 at St Mary's Church, Radcliffe on Trent
Killed in action France and Flanders 20 July 1916, Battle of the Somme, age 17
Commemorated on the Thiepval Memorial Pier and Face 10c 10d and 11A, Radcliffe on Trent War memorial, De Aston School memorial and University College Nottingham Officer Training Corps War Memorial. He is also remembered on his parents' grave in Radcliffe on Trent cemetery.
1901 Census
Age 2 living with father Robert 28, solicitor and mother Emma 27 on Lorne Grove, Radcliffe on Trent.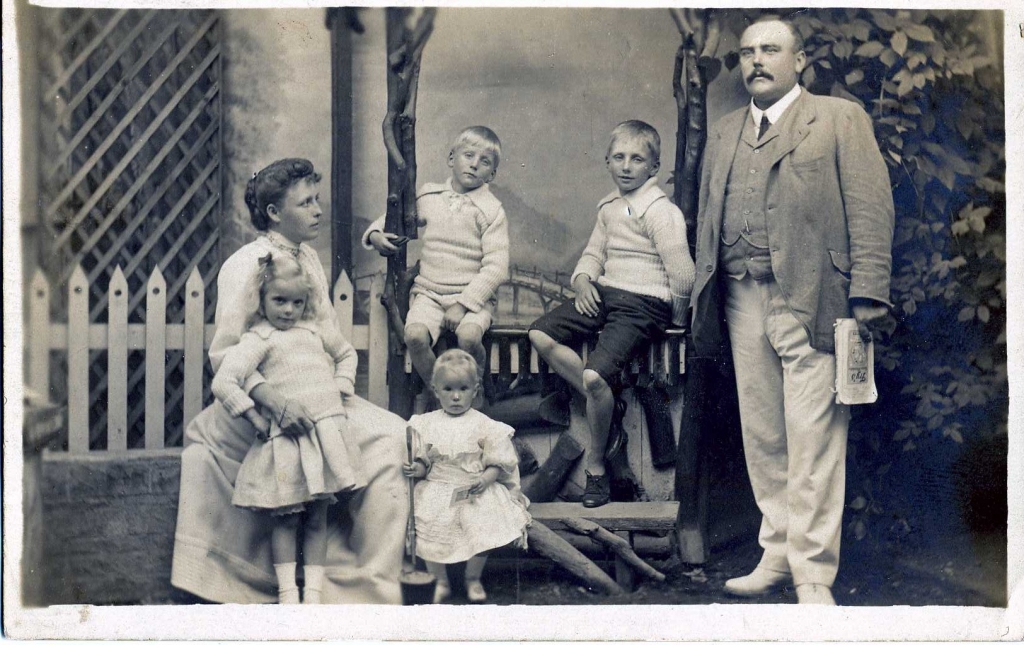 The Hallam family at home around 1909-1910
1911 Census
He was a boarder at De Aston School, Market Rasen. Family living on Chestnut Grove, Radcliffe on Trent. Father Robert, 38, solicitor, mother Emma, 38, brother Henry John, 9, sisters Mary Adelaide 7 and Frances Edith, 3. The family had a live-in servant, Alice Hewins, age 27.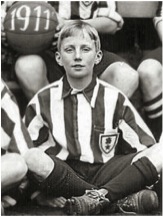 Military Service
Rank: 2nd Lieutenant
Military Unit: 15th (Service) Battalion, The Sherwood Foresters, 105th Brigade, 35th Division
Theatre of War: France and Flanders, date of entry 29.5.1916
Special Reserves
In September 1915 Robert Hallam was a cadet serving in Nottingham University College Senior Division, Officer Training Corps. His application for appointment to a Commission in the Special Reserve of Officers is signed 7.9.1915 and stamped 10.9.1915. He was seventeen years old. Robert Hallam states that he was 'about to be articled to father (Solicitor)' and that he wanted to be in the Infantry, no particular unit desired. The certification of his 'good moral character' is signed by C. Elliot, Head Teacher, Grammar School, Ashby de la Zouch.
No details of Robert Hallam's service in France prior to his death are recorded in his file held at the National Archives, Kew. He was in France for just over seven weeks before he was killed.
Death
Robert Hallam was killed on 20.7.16. following the capture of Trones Wood on 14th July during the Battle of the Somme. Trones Wood is on the northern slope of Montauban ridge, east of Bernafy Wood and west of Guillemont, France. The 15th Sherwoods arrived in Trones Wood on July 16th two days after it had been captured by the British. July 20th was their first day in action on the Somme. They mounted attacks from Trones Wood on positions between Maltz Horn Farm and Arrow Head Copse but failed to achieve their objectives; Robert Hallam lost his life during the attack and his body was not recovered.
According to Andrew Rawson, the 15th Sherwoods suffered as follows on July 20th:
Zero hour was 5 a.m. and the batteries fired blindly into the thick mist for thirty minutes. Gas shells incapacitated half the 15th Sherwoods and the sun had risen by the time the rest advanced from Trones Wood. They could not capture the trenches south of Arrow Head Copse or Maltz Horn Farm.
Source: Rawson, Andrew (2016, p.71) Ancestor's Footsteps. The Somme 1916 (Barnsley: Pen and Sword).
The family were sent a telegram informing them on his death on July 31st, eleven days after he was killed.
"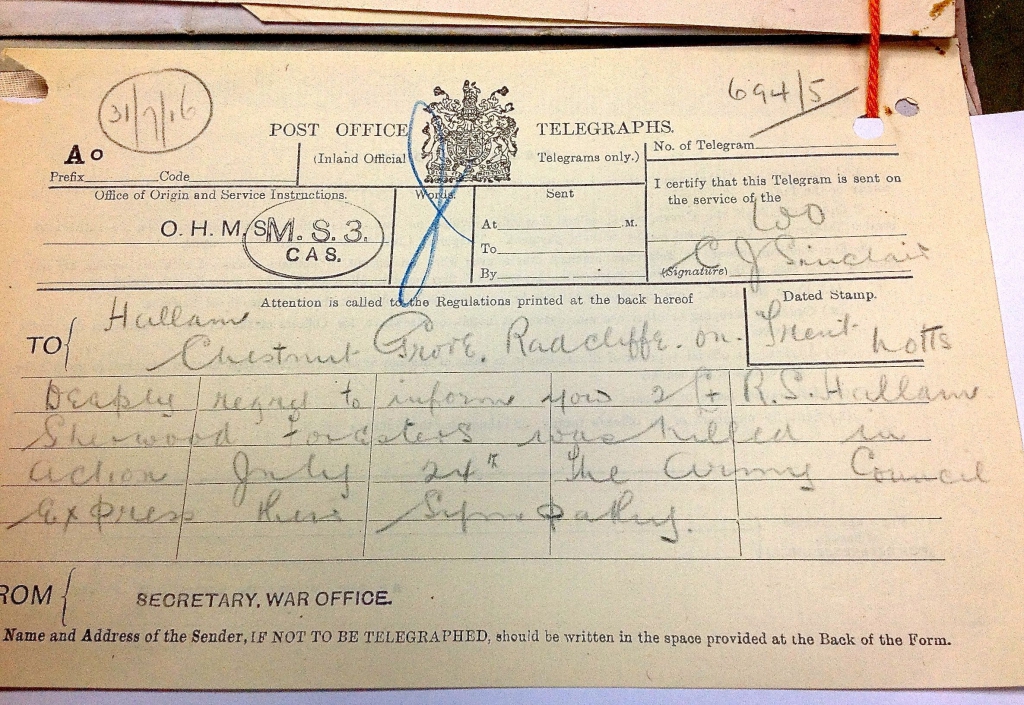 Telegram sent to his parents reporting his death
In August 1916 his father wrote to the War Office as follows:
The boy who was killed July 20 1916 wrote to us shortly before his death that he had sent home the greater part of his kit and that we should get it through you. Since his death we have heard from the major of his company that his personal belongings would be sent on to us but we have not yet received them. Could these be sent on through you also. These could of course include everything that was on him at the time he was killed and we are most anxious to get them. Yours truly, Robert Hallam
Obituary
Obituary from De Astonian, school magazine, Christmas 1916, p. 98:
"Hallam, Robert S. Born 3 September 1898, admitted 16th September 1909, son of R. Hallam, Solicitor of Chestnut Grove, Radcliffe on Trent. Left Easter 1912. Killed July 1916.
Robert Samuel Hallam, the son of a well-known Nottingham solicitor, entered De Aston in September, 1909, and remained here until Easter 1912. He possessed undoubted talents, and was useful on both cricket and football fields, and was much missed when he accompanied Mr. Elliott to Ashby-de-la-Zouch. There he distinguished himself both as a scholar and as an athlete. He was about to enter the legal profession when war broke out, and he promptly volunteered his services. As he was only 16 years of age the recruiting authorities would not accept him, so he joined the Nottingham University O.T.C., and after a year's training was granted a commission in the special reserve, Sherwood Foresters, shortly after his 17th birthday in September 1915. He proceeded to the front with a draft in the early summer 1916 and was killed in action in July 1916."
The above account was also printed as an obituary in the Nottingham Evening Post on Sat. July 29 1916.
Medals Awarded: A medal rolls index card listing his medals has not yet been found. Robert Hallam was entitled to the British War and Victory Medals.
Go to WWI Timeline to see how this man's death is part of the wider story of the war.
Robert Hallam's father, also called Robert Hallam, died in 1930 age 58. His mother Emma died in 1947, age 69. His brother Henry John, known as Jack, became a village solicitor and practised for many years.  He received the Croix De Guerre in WW2.
Reasons for inclusion on Radcliffe on Trent Roll of Honour
Lived in Radcliffe on Trent.
Thiepval Memorial to the Missing of the Somme, France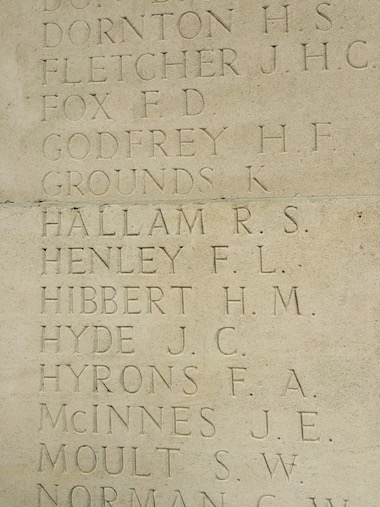 Panel of Thiepval Memorial commemorating Robert Hallam.
Photo taken by a member of the Radcliffe WWI research and website team.