WILLIAM COSTALL 1881–1946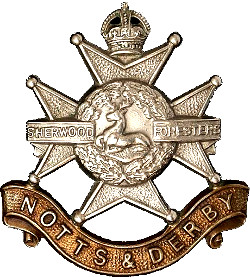 Brother of Frank died 13th May 1915
Born 24th December 1881 in Shelford, Notts
Baptised 2nd April 1882 at St Peter and St Paul, Shelford
Married 1908 to Mabel Buckland in Bingham District. She died January 1944.
Children: Mabel born in 1909, William S. born 1914, Arthur L. born 1918.
Died 1946 Nottingham, living at Wysall
1891 Census
Age 9 living in Edwalton with father William, a farm labourer, mother Ellen, brothers George 13, John 11, Robert 6 and sisters Lucy 3 and Ellen 7 months.
1901 Census
Age 19 living with father William, a farm labourer, mother Ellen, brothers John 21, Robert 15, Frank 8 and sisters Lucy 13, Ellen 10 and Mary 4. He was employed as a carter on a farm in Main Street, Edwalton.
1911 Census
Age 28 living with wife Mabel and daughter Mabel 2 in Clipstone, Tollerton. He was employed as a cowman on a farm.
Military Service
Rank: Private
Service Number: 23876
Military Unit: 10th Battalion, The Sherwood Foresters, 51st Brigade, 17th (Northern) Division. Previously of 1st Bn, The Sherwood Foresters
Theatre of War: France and Flanders
From Sherwood Foresters records:
Posted to 1st Battalion 18th April 1916 and served with D Company
From Military Hospital Admissions and Discharge Register No 17/102
26th May 1917 wounded. Gun shot wounds in thigh and back. Serving with 10th Battalion, The Sherwood Foresters
7.3.18: Listed as wounded on the War Office Daily List no. 5510. Entitled to wear a wound stripe
16.05.18: Reported missing on War Office Daily List no. 5567
1.10.18: Shown in Red Cross Enquiry lists of 21st to 23rd March 1918 as missing but no entry in Prisoner Of War lists
22.11.18: Previously reported missing, now reported Prisoner of War in lists received from the German government.
26.11.18: Released POW, arrived back in England
According to the POW records of the International Committee of the Red Cross William was taken prisoner at Lagnicourt on 21.3.18 and was not wounded.  He was serving with D Company, 2nd Bn, The Sherwood Foresters when captured and was held in Parchim POW camp, Mecklenburg, Germany.
William's pension record card shows that his wife Mabel applied for a widow's pension, having been notified of his death on 23.4.18:
From the pension record card:
William's wife Mabel would have been notified of his presumed death by Army Form B 104-82B sent to her on 23.4.18 by the Regional Record Office dealing with his regiment. Form B 104-88 (Death notification of married man), giving details of the soldier and his date of death, was sent from the Regional Record Office to the War Office. This form was received by the War Office on 28.6.18, the Pension Record Card was then created and a case number 2924 was allocated. Meanwhile the Regional Record Office sent Form B 104-76 (Declaration to be made by the widow of a soldier in support of claim to pension for herself and children) to Mabel. This required her to give details of herself and children, enclosing birth and marriage certificates. These were then forwarded to the Widows and Dependants Office of the Ministry of Pensions, the pension card indicating that they were received there on 20.7.18. Further entries on the pension card state 'P.O.W. C2 Cas 2.9.18' (C2 Casualty Branch of the War Office) and 'Certs returned 9.9.18', followed finally by 'Man Alive (C2 Cas)'. During the First World War, part of C2 Casualty Branch's work included correspondence with enemy countries and eventually incorporated the Prisoners of War Information Bureau.
(https://discovery.nationalarchives.gov.uk/details/r/C14500)
Age given at discharge as 38 with 2 years 2 months service (from Pension records card)
Medals Awarded: British War and Victory.
Military Personnel Address on 1918 Electoral Register
Back Street, Radcliffe on Trent
1921 Census
Address: Holme Lane, Holme Pierrepont
Employment:  Farm Labourer, Mr Hourd, farmer Holme Pierrepont
Household: wife Mabel, daughter Mabel, sons William and Arthur
1939 Register
Address: Main Street, Basford, Nottingham
Occupation: Night watchman
Household: living with wife Mabel born 18.7.1883
Reasons for inclusion on the Radcliffe on Trent Roll of Honour
Radcliffe on Trent  address when on active service